Nyonya Fried Chicken Recipe (Inchi Kabin)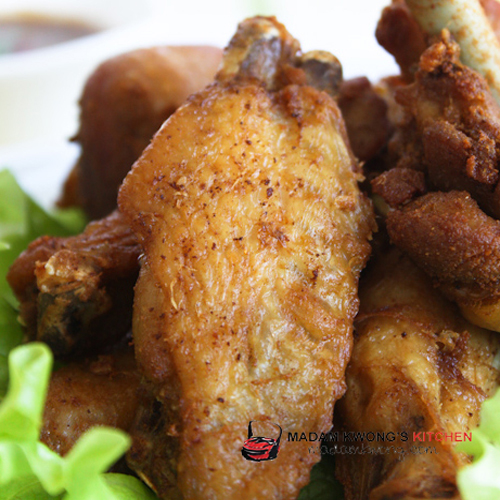 http://rasamalaysia.com/nyonya-fried-chicken-recipe-inchi-kabin/
Nyonya Fried Chicken Recipe (Inchi Kabin)
Inchi Kabin is the Nyonya version of deep-fried chicken. It was one of my late father's favorites. I remember countless occasions when we were dining out at restaurants in Penang and he would always ask for Inchi Kabin, which was not always on the menu…
The main difference of Inchi Kabin compared to other fried chicken is that the chicken is usually twice-fried, so they are extremely crispy. Also, there is a special dipping sauce that goes with it, which is tangy, appetizing, and complements the crispy fried chicken perfectly. For an authentic Inchi Kabin recipe, I referred to my friend Madam Kwong, who used to be Nyonya food chef in Penang. Madam Kwong is so kind to share her Inchi Kabin recipe (including the dipping sauce) and photos with us. Do try it out the next time you make some fried chicken at home. Enjoy!
Sign Up for Email Updates
Enter your email for new updates: recipes, giveaways, and more!