Nyonya Perut Ikan (Stewed Fish Stomach with Vegetables)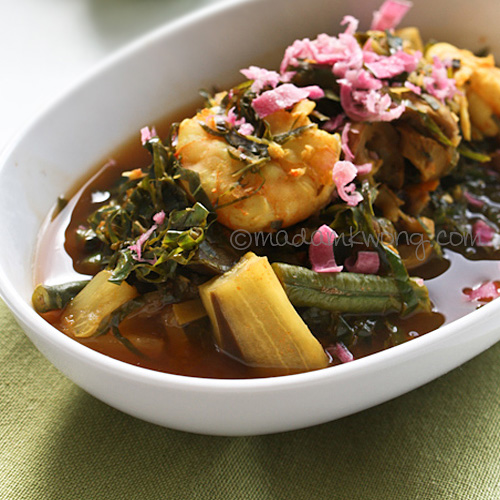 http://rasamalaysia.com/nyonya-perut-ikan-stewed-fish-stomach-with-vegetables/
Nyonya Perut Ikan (Stewed Fish Stomach with Vegetables)
Click "Like" to Get New Recipes
and Updates on Facebook Daily!
Perut Ikan Recipe
Recipe by: Madam Kwong's Kitchen
Ingredients:
Curry Paste Stock
2 tbsp chilli powder
10 shallots (minced)
2 tbsp minced lemongrass
1 tsp turmeric powder
1 tsp blue ginger powder
2 tsp belacan powder
100 grams tamarind juice
1.5 litres water
60g pickled fish stomach
600 grams peeled fresh prawns
1 can diced pineapple (400g)
2 eggplant/aubergine (cut 2.5cm)
10 snake beans or 500 grams french beans (cut 2.5 cm length ways)
1 ginger flower/bunga kantan
Finely Shredded Vegetables
20 Vietnamese mint (polygonum leaves/daun kesom/daun laksa)
30 beatle leaves (daun kadok)
2 turmeric leaves
5 kaffir lime leave
Salt and sugar to taste
Click Images Below for Similar Recipes:
LOVE THE RECIPE & PHOTOS? PLEASE SHARE:
Sign Up for Email Updates
Enter your email for new updates: recipes, giveaways, and more!