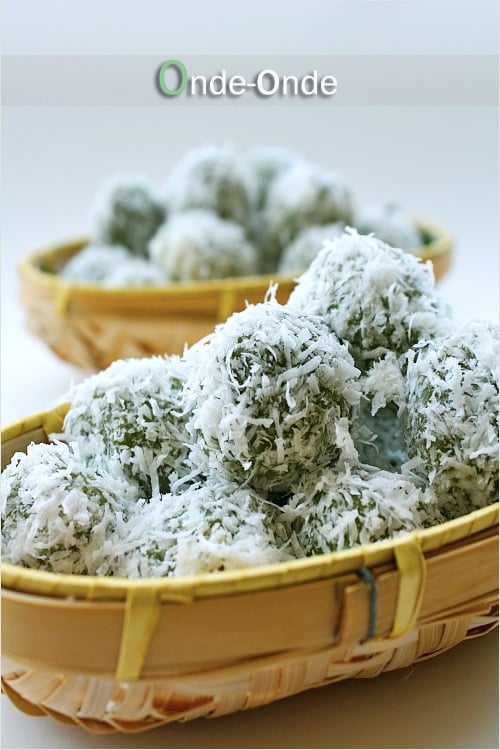 Today, I would like to introduce another Malaysian blogger to you—Angie at Sea Salt with Food. Based in Vancouver, BC, Sea Salt with Food is a fairly new site but it's already packed full with many delicious and droolsome recipes. Much like many Malaysians abroad, when we miss home, we cook Malaysian food furiously to ease our cravings. Let's welcome the talented Sea Salt with Food to Rasa Malaysia as she shares her onde-onde (ondeh-ondeh) recipe with us. Enjoy!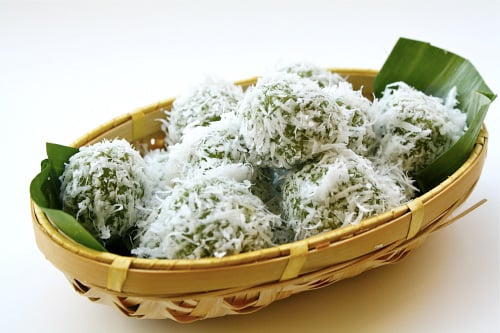 Onde-onde (Ondeh-ondeh)
Guest Writer: Sea Salt with Food
Recently I received an email from Rasa Malaysia to be her guest writer. Well, my first thought was, what a timely invitation. I was thinking to post something special to celebrate my 7-month old blog. Hence, this is a special post for Sea Salt with Food and being a guest writer on Rasa Malaysia!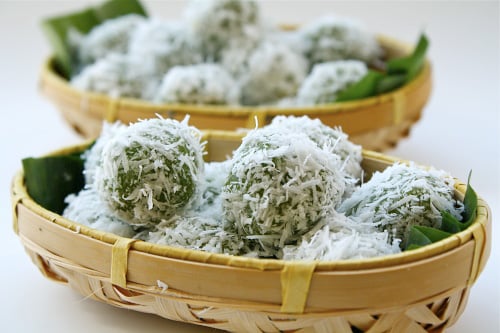 Onde-Onde is one of the traditional kuih in Malaysia (kuih is term for Malaysian cakes, pastries if you will). They are either made from sweet potato or glutinous rice flour.
The cute little onde-onde–also spelled as ondeh-obdeh–are infused with pandan (screwpine leaf) juice and filled with "Gula Melaka" or palm sugar and then rolled in with some fresh grated coconut. The palm sugar that's in it literally bursts in your mouth when you take a bite. They are sweet and delicious.(You can learn more about onde-onde/ondeh-ondeh here.)
I hope you will try this onde-onde (ondeh-ondeh) recipe. They taste great!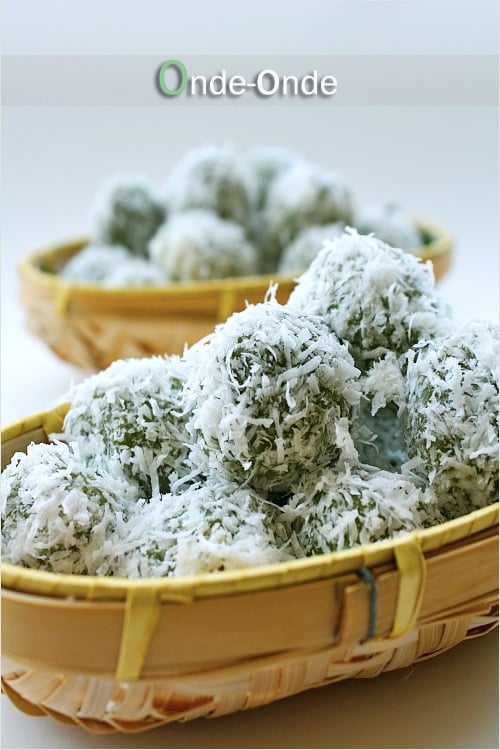 Onde-onde (Ondeh-ondeh) Recipe
Contributor: Sea Salt with Food
Ingredients:
250 g Glutinous Rice Flour
200 ml Pandan Juice
150 g  Gula Melaka (Palm Sugar), finely chopped
100 g Grated Coconut
A Pinch Of Sea Salt
Method:
In a large bowl, combine the glutinous rice flour with Pandan juice and knead lightly. Pinch a small piece of the dough (about 40 g) and drop it into boiling water. When the dough rises up the surface, remove it with a slotted spoon and shake off the excess water. Mix it back into the main dough and knead well to form smooth dough. Cover the dough and set aside for about 15 minutes.
Mix the grated coconut with a pinch of salt and steam for about 2 – 3 minutes and let it cool completely.
Bring a pot of water to boil. Pinch a small piece of dough (about 15 g each) and flatten lightly. Fill the center of the dough with palm sugar. Roll them in your palm to form a smooth ball and cook the glutinous rice balls in the boiling water. When the rice balls float to the surface, remove them with a slotted spoon and shake off the excess water.
Coat the rice balls with grated coconut and serve immediately.
Cook's Note:
To make the Pandan Juice. Blend 10 Pandan leaves with 220 ml water.
Note from Rasa Malaysia:
Gula Melaka is available at AsianSupermarket365.com.
Most-Pinned Recipes
Ginger Garlic Baked Chicken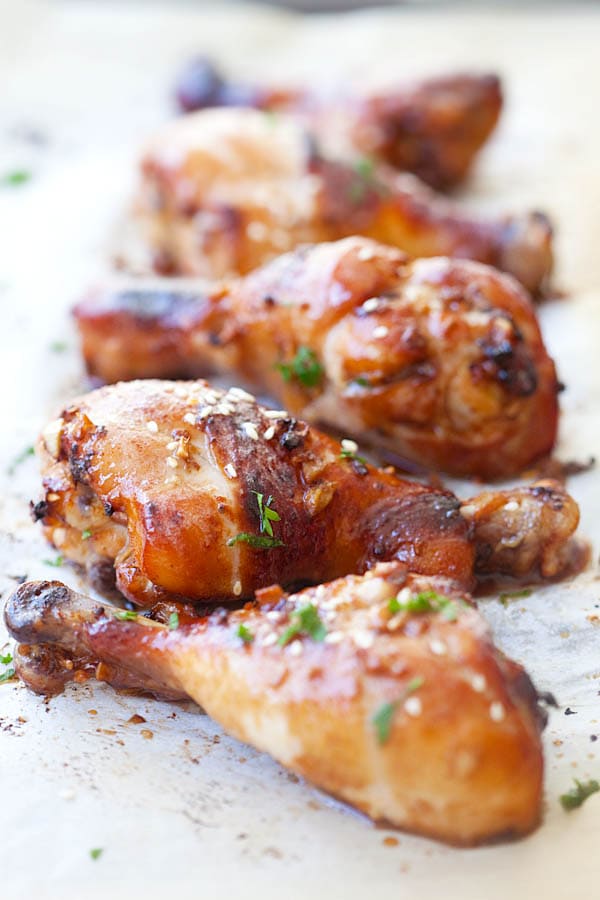 Crab Rangoon (Cream Cheese Wontons)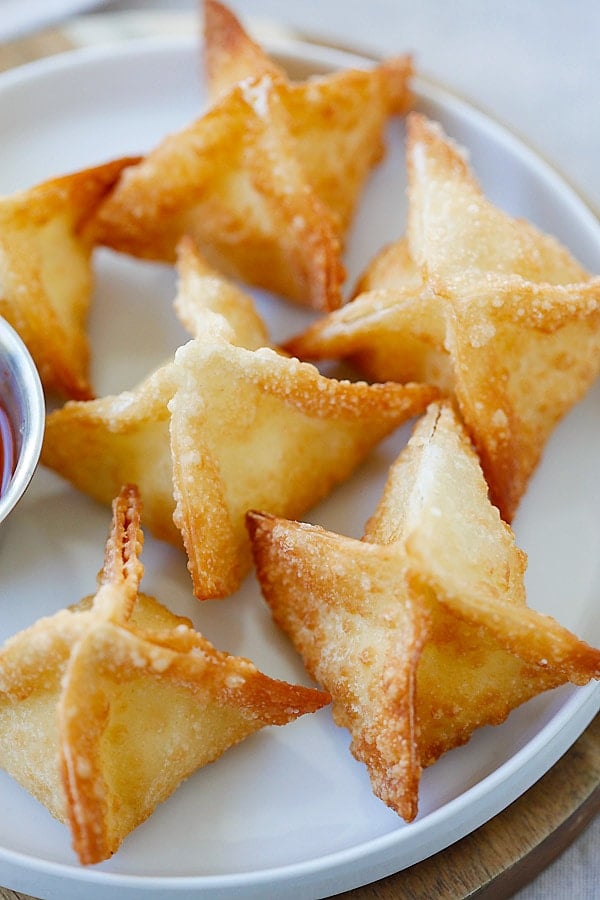 Chicken Wontons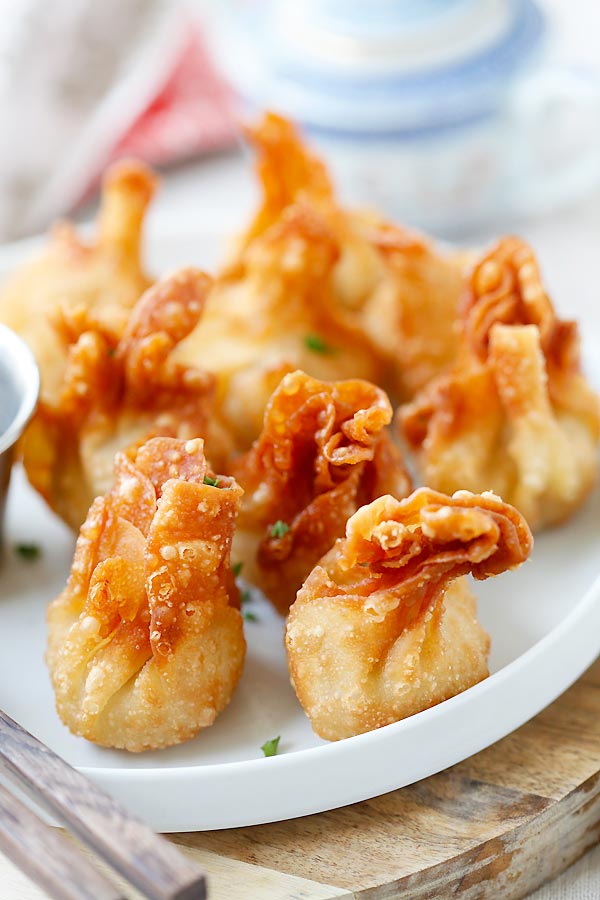 Onion Scallion Beef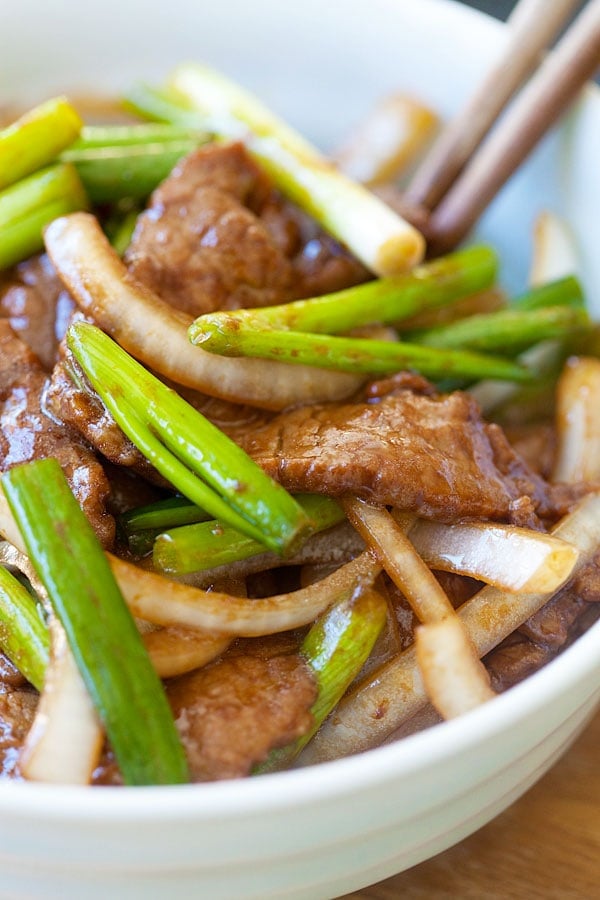 Thai Chicken Sate with Peanut Sauce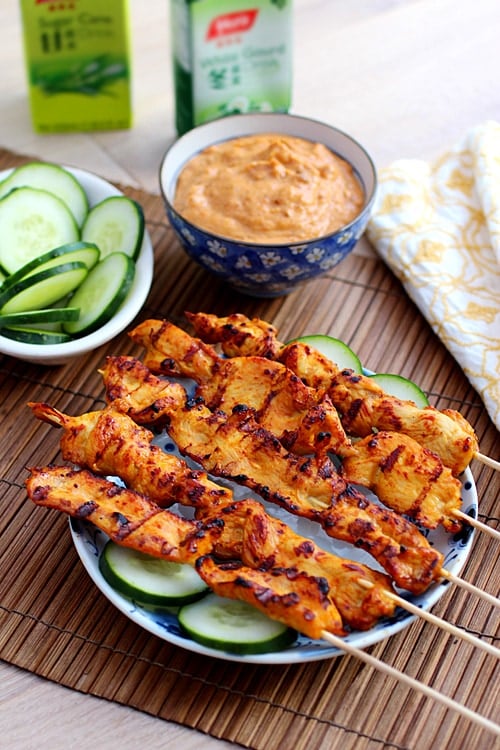 Thai Peanut Sauce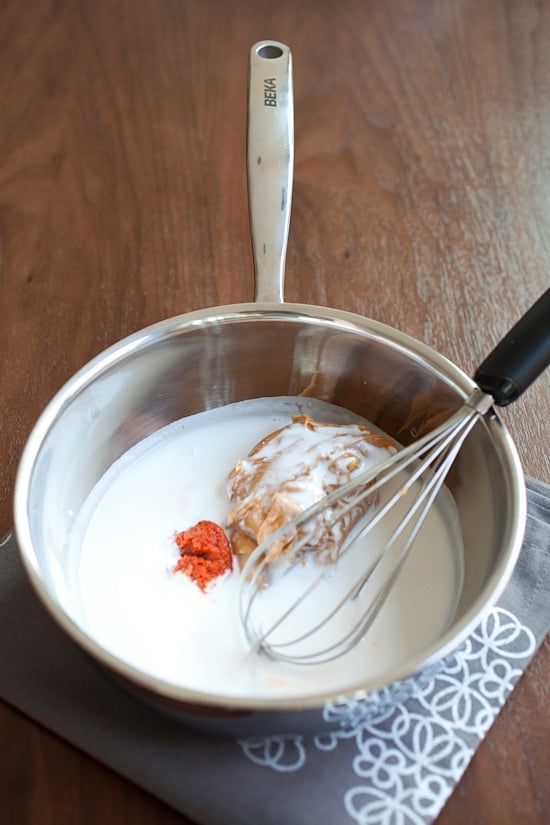 Limited Time Offer: $5.99 only. Available for download WORLDWIDE!
**Use it on Your Tablet, Mobile Phone, Desktop or Laptop**
Copyright © 2016 Rasa Malaysia. All rights reserved.