Pajeon (Korean Scallion Pancake)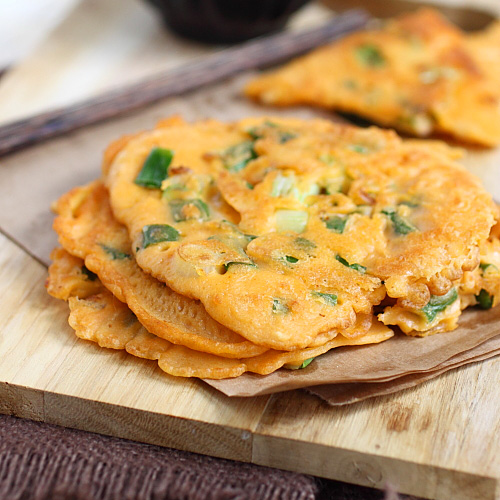 http://rasamalaysia.com/pajeon-korean-scallion-pancake/
Pajeon (Korean Scallion Pancake)
Are you one of those who love eating Korean food because of the many side dishes served? I love Korean food because of the banchan served along with rice and the main dish. Banchan are full of surprises and there are always something new to look forward t0: kimchi, stewed potato, Korean rice cake, spicy anchovy, Korean scallion pancake (pajeon), omelet, and more. Sometimes, I stuff myself eating the banchan so much that by the time the main entree comes, I am already full…
In the Korean restaurant near my house, the ones that we often go to, pajeon or Korean scallion pancake is always served as a banchan. I love their pajeon because they are mini in shape, slightly orange in color because kimchi juice is added. I can't get enough of the mouthwatering pajeon and often ask for more.
This is my pajeon recipe, based on the ones I have at my favorite Korean restaurant. I also made a spicy soy-vinegar sauce to go with the pajeon.
Sign Up for Email Updates
Enter your email for new updates: recipes, giveaways, and more!