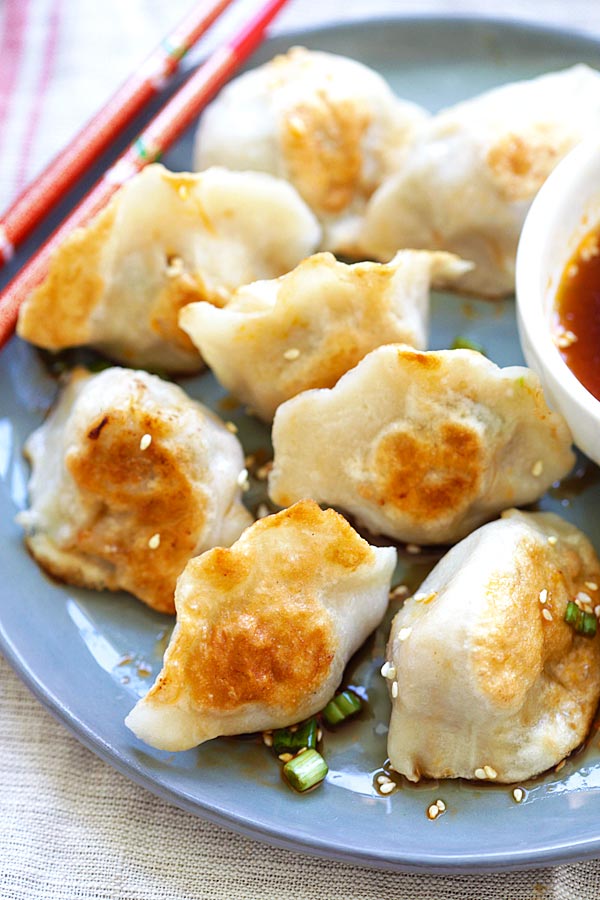 Pan-fried Dumplings
Pan-fried Dumplings – BEST dumplings recipe you'll find online! Juicy, crispy dumplings with meat, veggies and pan-fried to golden perfection.
Originally published in October 2012, updated with new photos.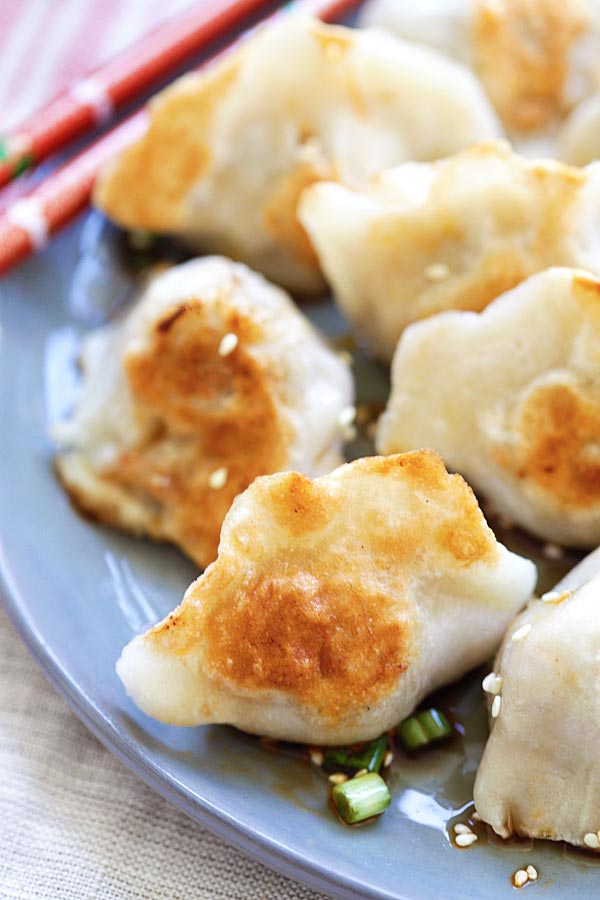 I am so thrilled that my pan-fried dumplings were featured on Design Sponge. Since everyone loves dumplings, I wanted to share the recipe here.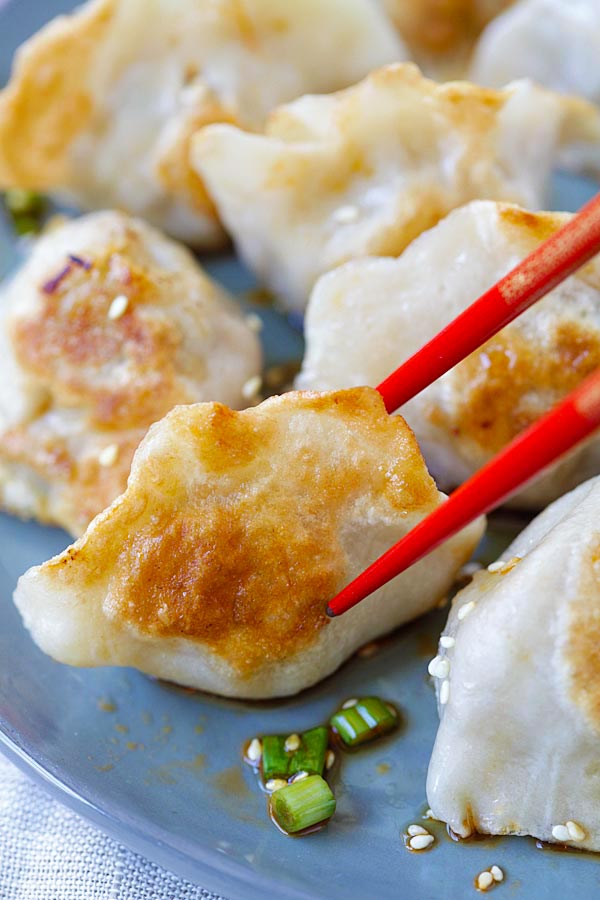 This pan-fried dumplings recipe is probably the best and most authentic recipe you will find online. These Chinese dumplings are so crispy on the outside but inside is filled with moist, juicy, and extremely flavorful meat and veggie fillings. I made the dumpling wrapper from scratch but you can just use the packaged dumpling wrapper for quick and easy assembling.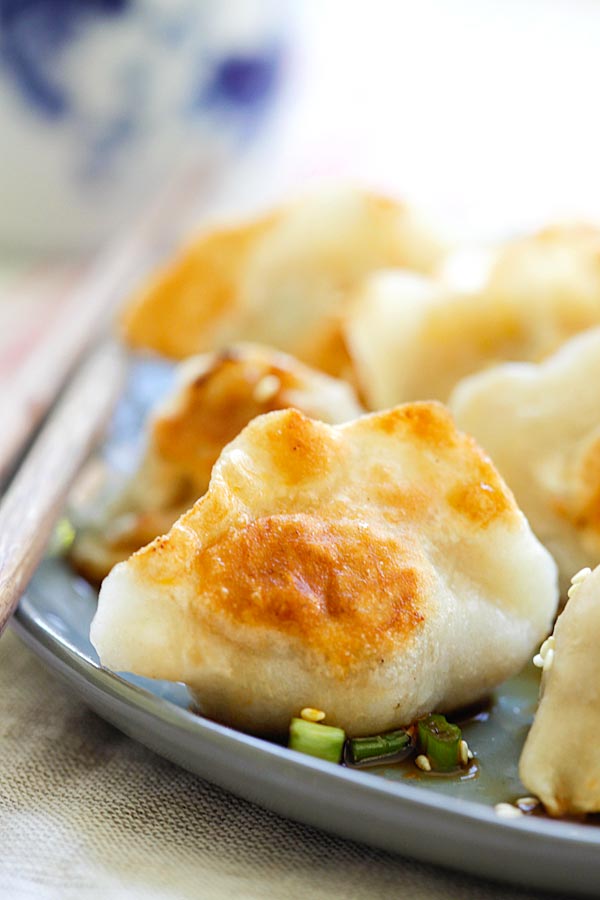 Make a big batch of these dumplings and freeze them in the freezer in a plastic bag. When you are ready to cook, just thaw at room temperature and pan-fry the dumplings until golden perfection. They are best served with Chinese black vinegar but Ponzu will work just fine. Enjoy!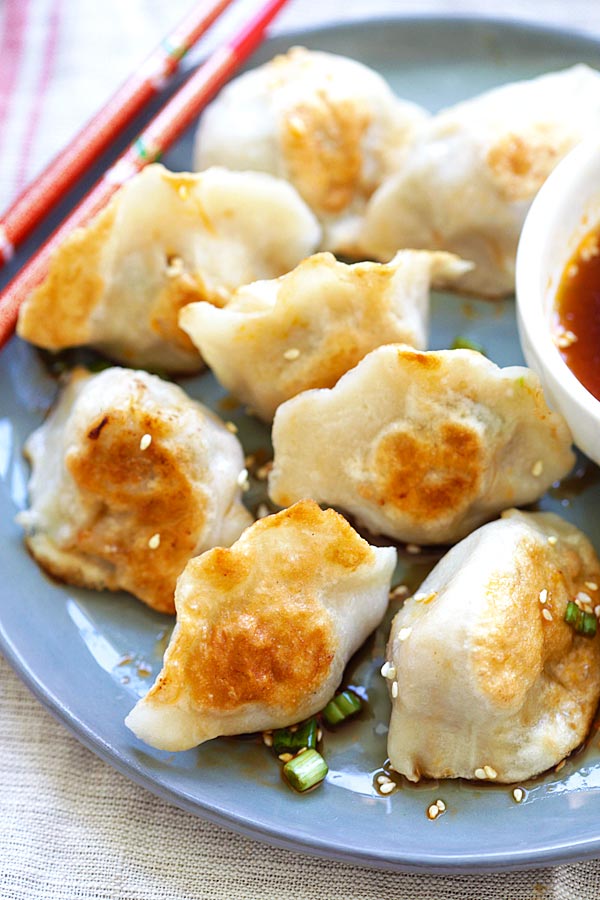 Pan-Fried Dumplings with Pork, Shrimp and Cabbage
Makes 24 dumplings | Prep Time: 20 Mins | Cook Time:10 Mins
Ingredients:
1 pack dumpling wrappers (round-shaped) or homemade dumpling wrappers
Oil, for pan-frying
150 ml water, for steaming
Chinese black vinegar or Japanese ponzu, for dipping
For the Filling:
8 oz ground pork
4 oz shelled and deveined shrimp, cut into small pieces
2 oz cabbage, finely shredded
1 heaping teaspoon grated ginger
1 heaping teaspoon chopped scallion
2 tablespoons soy sauce
1 teaspoon Chinese Shaoxing wine or rice wine, optional
1/2 teaspoon sesame oil
3 dashes ground white pepper
Pinch of salt
Method:
Prepare the filling by combining all the ingredients together. Use a spoon to mix well.
To assemble the dumplings, place a piece of the wrapper on your palm and spoon 1/2 heaping tablespoon of the filling onto the center of the wrapper. Do not overfill. Dip your index finger into a small boil of water and moisten the outer edges of the wrapper. Fold the dumpling to form a half-moon shape. Press and seal tightly. Arrange the wrapped dumplings on a plate lined with parchment paper to avoid the dumpling from sticking to the bottom of the plate. Repeat previous steps until the filling is used up.
Heat some oil in a small skillet or pan over medium heat. Arrange 8 dumplings on the skillet or pan. Pan-fry the dumplings until the bottom turns light brown, about 2 to 3 minutes. Add 50 ml water to the skillet or pan and turn the heat to high. Cover the skillet or pan with its lid and let steam. Turn the heat back to medium as soon as the water has completely evaporated.
Add some oil to the pan again and continue to pan-fry the dumplings until the bottoms turn golden brown and become crispy. Repeat the steps above for the remaining dumplings. Serve the dumplings warm with the dipping sauce of your choice.
Homemade Dumpling Wrappers
Ingredients:
1 cup all-purpose flour
1/4 cup water plus 1 teaspoon water
Extra all-purpose flour, for dusting and rolling
Method:
Combine the all-purpose flour and water and knead until the dough isn't sticky and the surface becomes smooth. Cover it with a damp cloth and rest for 30 minutes.
Roll out the dough on a floured surface into a long cylinder. Cut the cylinders in half, and then cut each cylinder into 12 small pieces. Dust the rolling pin and roll each piece of the dough into a dumpling wrapper about 4 inches in diameter. Set aside for the filling.
Most-Pinned Recipes
Ginger Garlic Baked Chicken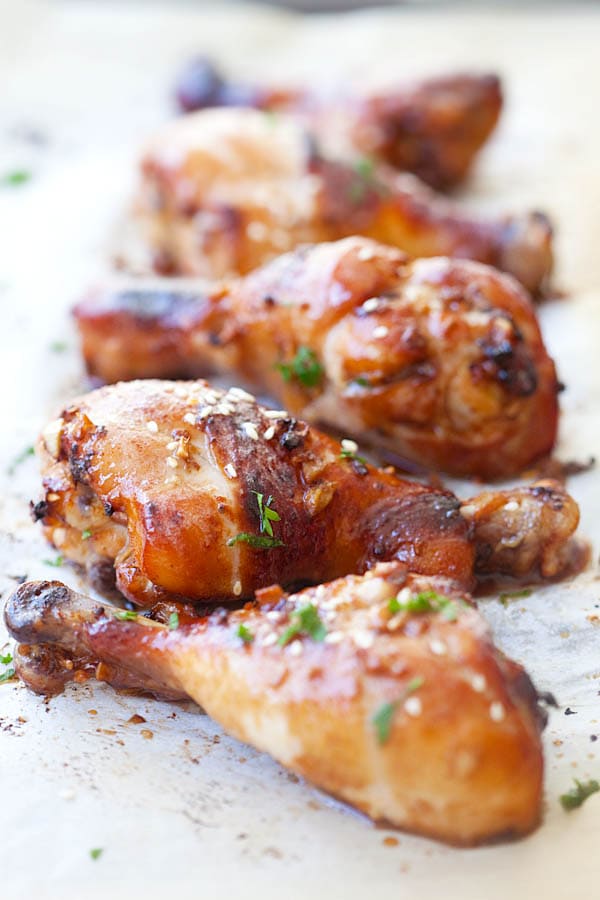 Crab Rangoon (Cream Cheese Wontons)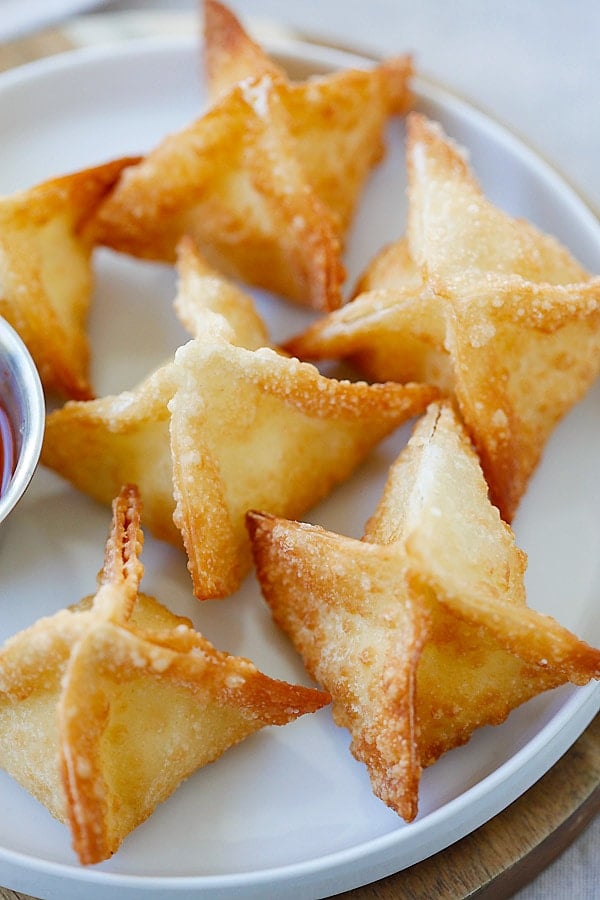 Chicken Wontons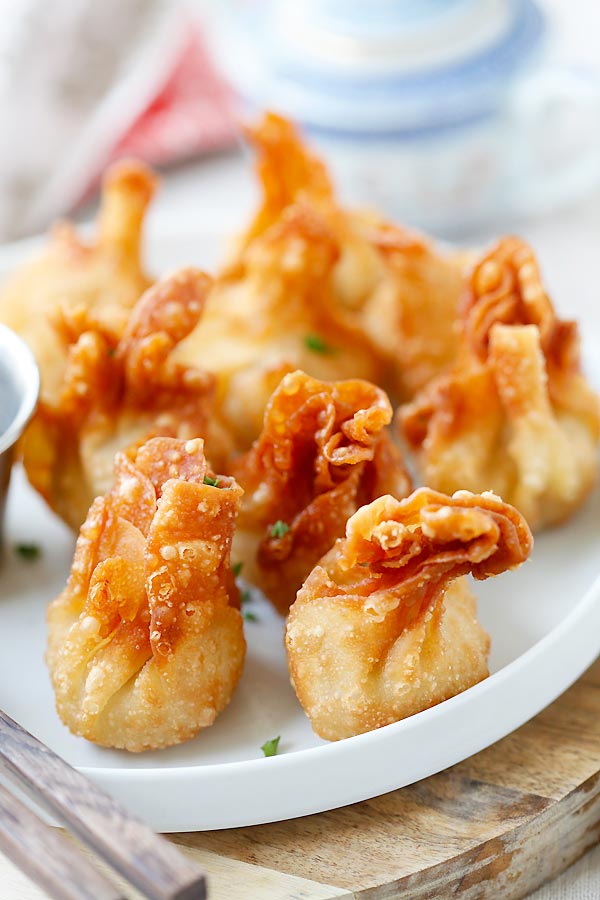 Onion Scallion Beef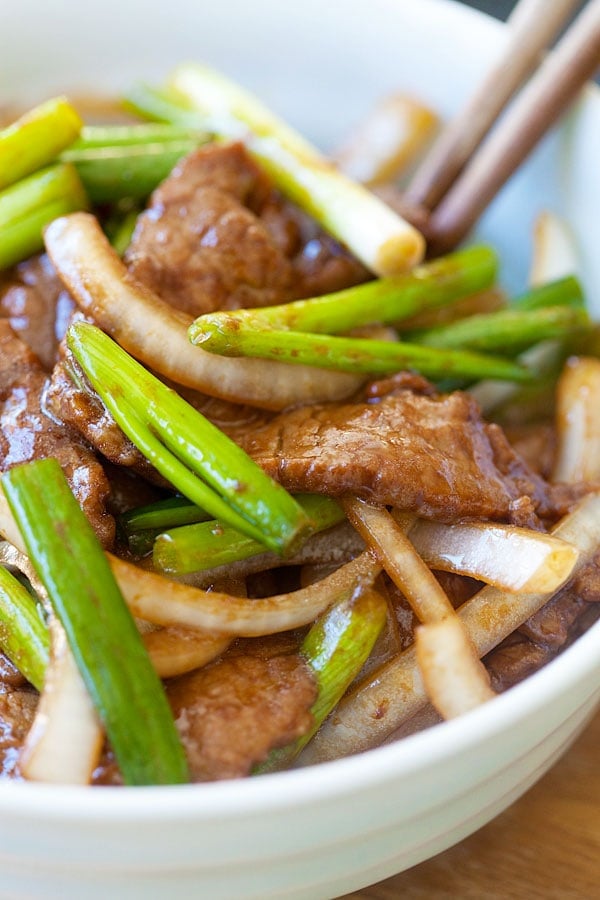 Thai Chicken Sate with Peanut Sauce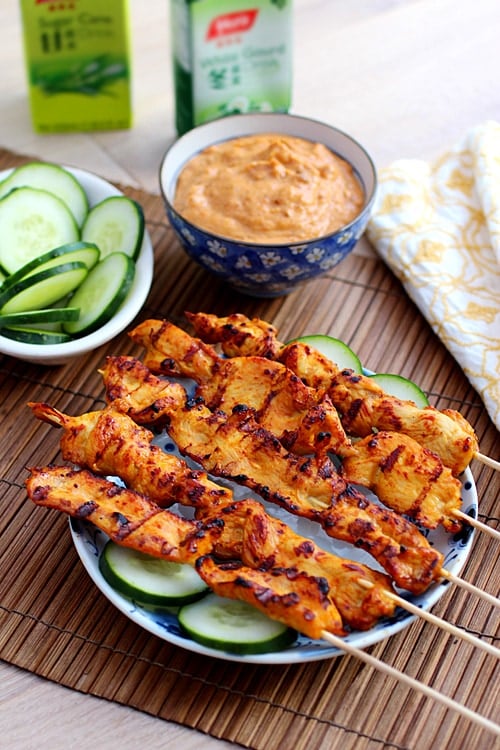 Thai Peanut Sauce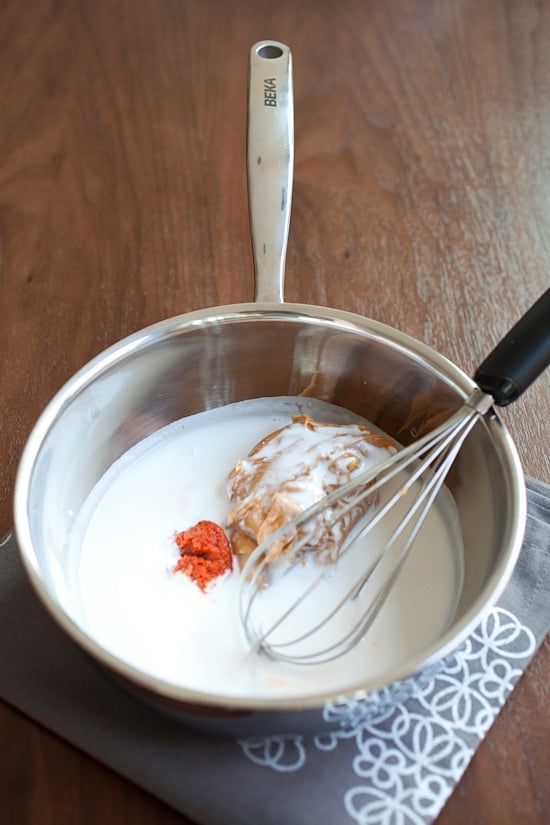 Copyright © 2016 Rasa Malaysia. All rights reserved.