Penang Laksa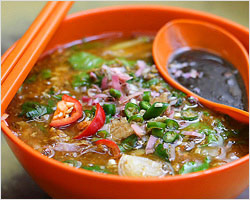 http://rasamalaysia.com/penang-laksa/
Penang Assam Laksa–commonly referred to as "laksa" by Penangites–is one hawker food you don't want to miss if you come to Penang. (Georgetown, Penang is now a UNESCO World Heritage Site.)
This Laksa is not to be confused with the other Laksa–a coconut-milk and curry-flavored noodle dish. Penang Laksa is a noodle dish in spicy fish broth topped with various shredded vegetables. Give me a choice of Penang Assam Laksa and Curry Laksa (which Penangites aptly call "Curry Mee"), I will always choose this tangy, spicy, sour, and appetizing dish. The reason is simple: nothing gives me a better satisfaction than a bowl of piping hot Laksa with cut bird's-eye chilies and dollops of pungent heh ko (Penang-style prawn paste). All the ingredients used might seem odd and bizarre to many–please believe me when I say this–but they are perfect matches made in food heaven. Penang Laksa is really that good…
Looking for a recipe? You've got it as it was featured on Rasa Malaysia a few months ago. There are many instant Assam Laksa mix that you can buy, but as a born and raised Penangite, I will tell you very candidly that there is really no cheat for a great bowl of Penang Laksa. Click here for my secret recipe of Penang Assam Laksa and here for an insider's guide to eating Penang hawker food.
This Penang Laksa picture is shot at one of my favorite kopitiam (coffee shop) in Penang:
Kek Seng Coffee Shop
382-384 Jalan Penang
10000 Penang
Business Hours: 8 am – 5 pm
Sign Up for Email Updates
Enter your email for new updates: recipes, giveaways, and more!