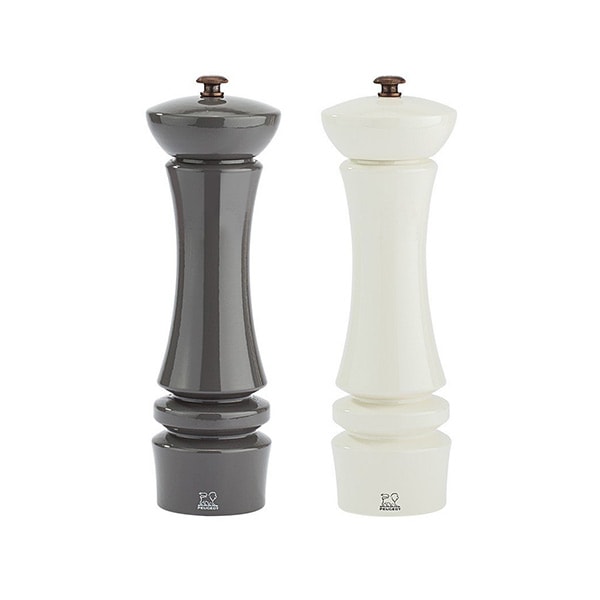 Update: the winner is Shawn Y.
I am partnering with my friends at Peugeot Saveurs Depices to giveaway a Peugeot Cottage Salt & Pepper Mill, MSRP: $49.95.
Peugeot Cottage Salt & Pepper Mill
Inspired by the relaxing and convivial ambiance of a French country weekend with friends, the Cottage Mills' design is a new take on a great classic with a touch of modernity. The distinctive, slender shape features graceful curves and moldings on the base, with an angular tapered head topped with a nut in vintage brass. It curves inward at the center, making easy to grasp and use.
Like all of Peugeot Mills, the Cottage Mill collection is made in France and features their classic stainless steel mechanism — optimized for either salt or pepper. The 2-stage channeling and grinding mechanism of Peugeot pepper mills trap and crack peppercorns before grinding, ensuring the most flavor and aroma. Meanwhile, Peugeot's unique salt grinding mechanism, made of high quality stainless steel, is specially designed to fracture and crush sea salt crystals to a consistent size and has been treated to provide extra protection against corrosion and wear.
Since the 1800's, Peugeot has long been recognized for their grinding mechanism. While still developing new products and refining its existing lineup, their modern day pepper and coffee grinders still resemble those first designs. Peugeot's commitment to quality, reliability, innovation and dynamism ensures you will receive an exceptional product. Peugeot continues to produce mills that are preferred by gourmets and leading chefs the world over.
GIVE US SOME LOVE!
Like Rasa Malaysia on Facebook. (Click on the Like button below.)