Penang Hawker Food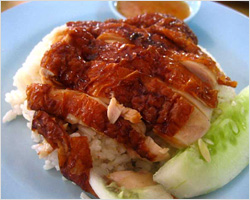 http://rasamalaysia.com/photo-blog-penang-hawker-food/
I'll write a complete food guide soon. For now, here are some of the most famous hawker food in Penang.
Hainanese Chicken Rice served with fresh cucumber and chili sauce.
Apong Manis or simply known as Apong.
Assam Laksa.
Roasted Chestnuts. Locally, they are known as Lat Chee.
Hot food, curries, and home-cooked dishes served at a Chinese Economy Rice stall.
Nasi Kandar at an Indian restaurant.
Curries and fried foods at a Nasi Kandar restaurant.
Nasi Kandar at an Indian Restaurant.
Char Kway Teow or stir-fried flat noodles with prawns, cockles and eggs with soy sauce.
Oh Chien or Fried Omelette with Oysters.
More pictures of mouthwatering Penang hawker food:
– Photo Blog: Penang Hawker Food – Part II
– Eating Penang: A Quick Snapshot
– Eating Penang: Nyonya Kuih
Sign Up for Email Updates
Enter your email for new updates: recipes, giveaways, and more!