Chinese invented fried rice but I think it's the genius of the Thais that make fried rice sinfully delicious—they concocted pineapple fried rice. With the addition of fresh pineapple, flavored with shrimp paste, fish sauce, and comes in a hollowed out pineapple, pineapple fried rice is the only fried rice I really wanted to eat. Not only does it look visually appealing, the taste is simply mouthwatering and utterly appetizing. My gallery above speaks for itself.
This pineapple fried rice was prepared by my second sister, who is currently in town. We had some leftover pineapple from our Nyonya salted fish curry and she suggested pineapple fried rice for lunch. She carved out the pineapple flesh and cut them into small pieces. Then, she fired up the wok and fried up a batch of pineapple fried rice. The tempting good smell set my stomach rumbling; needless to say, lunch was absolutely delightful.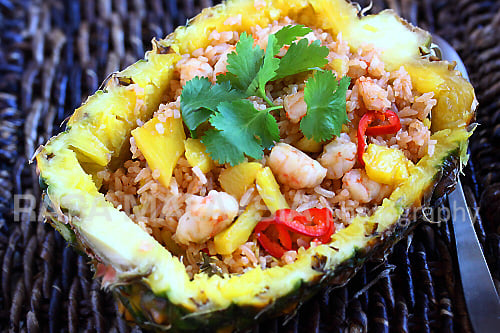 Do try out this pineapple fried rice recipe. If you don't have fresh pineapple, canned ones would do, but nothing beats biting into the sweet, juicy, and slightly tangy pineapple that bursts with freshness and flavors. Another fried rice that is seriously delectable is Malaysian belacan (prawn paste) fried rice but I will have to share the recipe with you in the future.