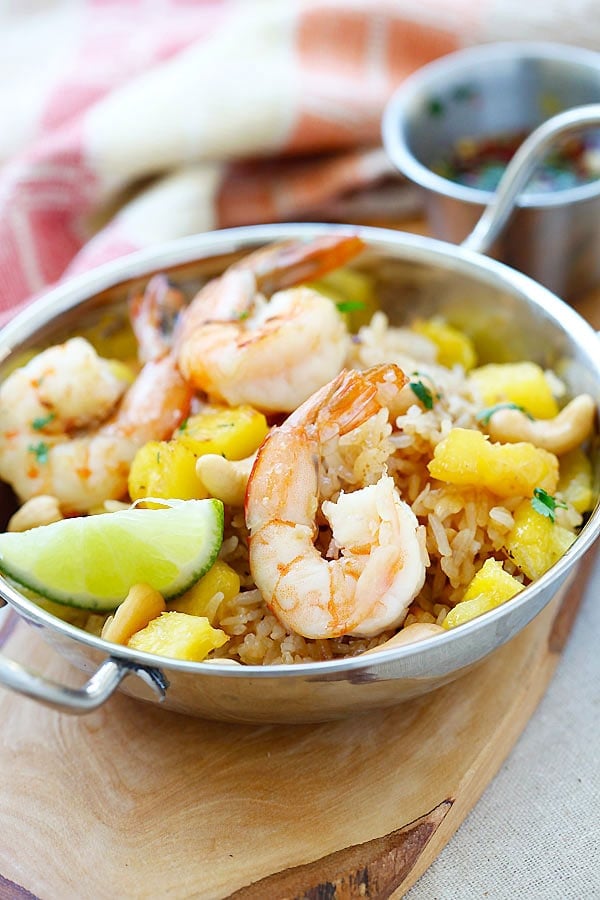 Thai Pineapple Fried Rice
Thai Pineapple fried rice – amazing fried rice recipe with pineapple, shrimp and cashew nuts. Easy recipe that takes only 20 mins.
Originally published on Dec 29, 2009. Updated with new photos.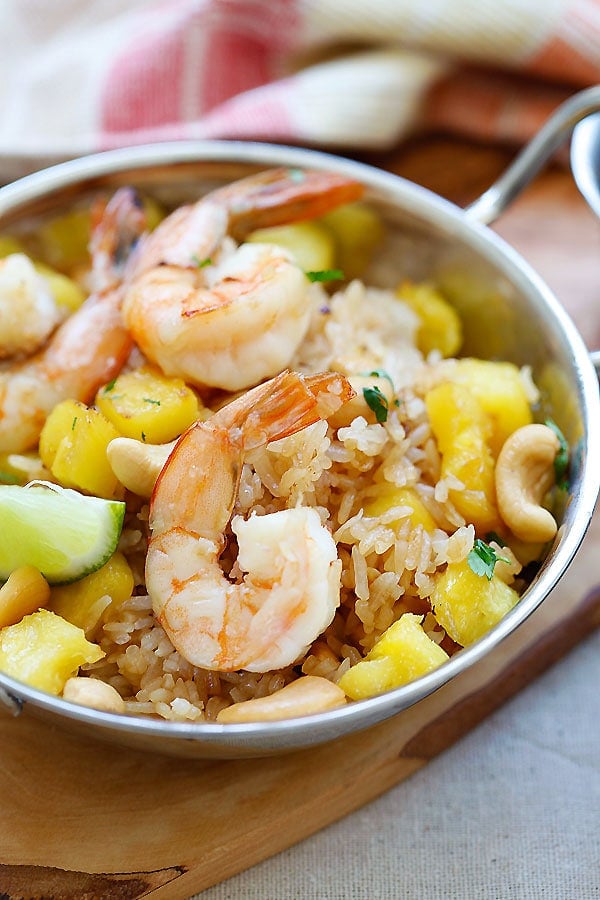 Chinese invented fried rice but I think it's the genius of the Thais that make fried rice sinfully delicious; they concocted pineapple fried rice. With the addition of fresh pineapple, flavored with shrimp paste and fish sauce, pineapple fried rice is the only fried rice I really wanted to eat. Not only does it look visually appealing, the taste is simply mouthwatering and utterly appetizing.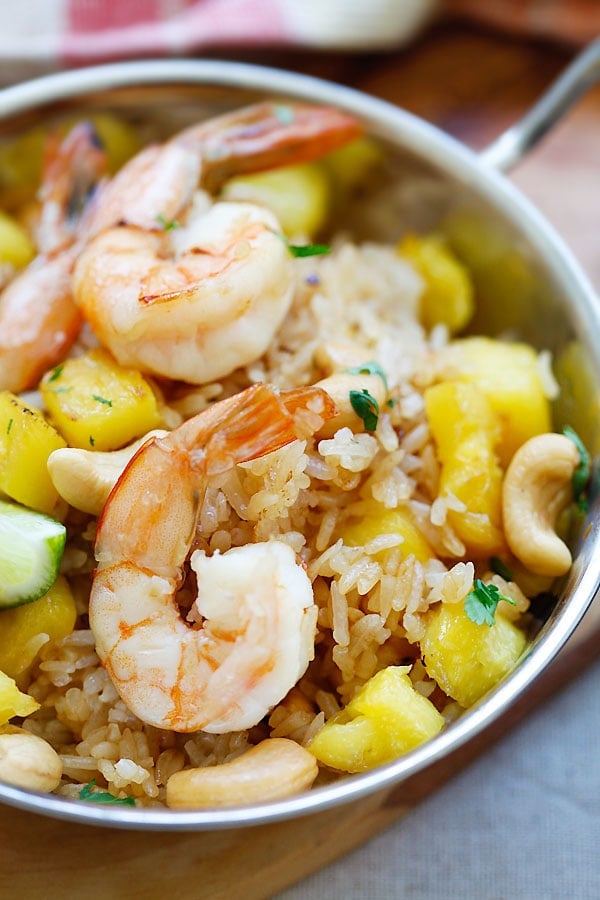 I had some leftover pineapple from and made this pineapple fried rice for lunch. I prepped the ingredients for about 10-15 minutes, then fired up the wok and cook the rice. All it takes was 20 minutes max, from prep to finish. The tempting good smell while I was working set my stomach rumbling. My lunch was absolutely delightful.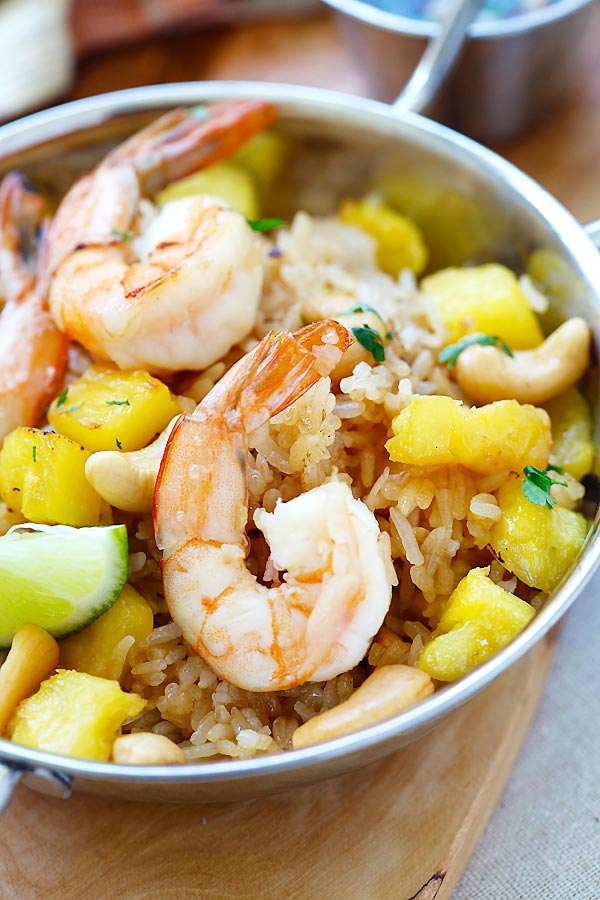 Do try out this pineapple fried rice recipe. If you don't have fresh pineapple, canned ones would do, but nothing beats biting into sweet, juicy, and slightly tangy fresh pineapple that bursts with freshness and flavors. Another fried rice that is seriously delectable is Malaysian belacan (shrimp paste) fried rice but I will have to share the recipe with you in the future.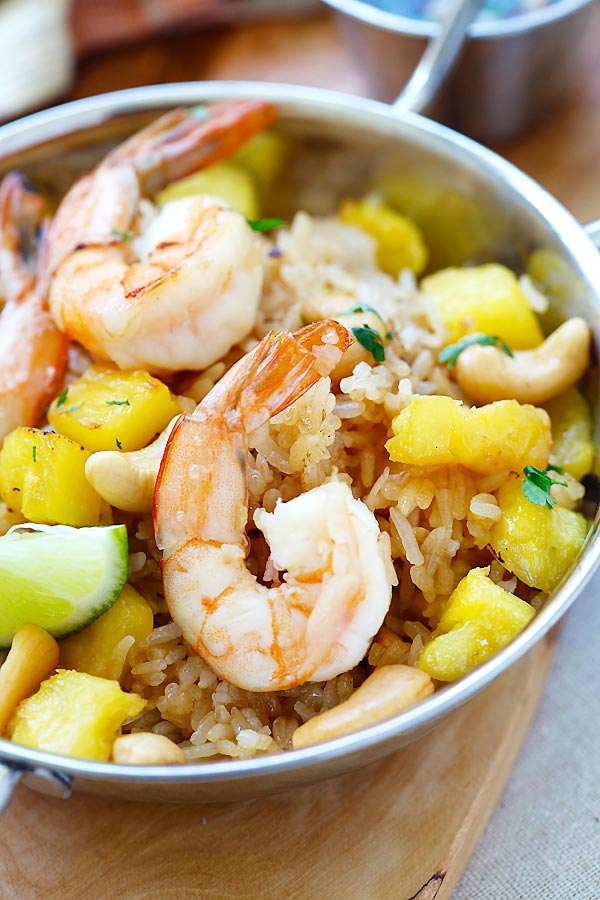 Thai Pineapple Fried Rice Recipe
Serves 2 | Prep Time: 15 Mins | Cook Time: 5 Mins
Ingredients:
2 tablespoons oil
2 cloves garlic, minced
1 teaspoon shrimp paste, optional
4 oz shrimp, shelled and deveined
8 oz leftover and overnight steamed rice
4 oz fresh pineapple, cut into small pieces
1/2 red or green chili, finely sliced, optional
1 tablespoon fish sauce
1/4 teaspoon dark soy sauce
2 tablespoons cashew nuts
Cilantro, for garnishing
Method:
Heat up a wok and add cooking oil. Stir-fry the garlic, and shrimp paste (if using) until aromatic. Add shrimp and stir-fry until half-cooked. Add rice, pineapple pieces, chili (if using) and do a few quick stirs. Add fish sauce and dark soy sauce to blend well with rice. Stir-fry for another minute or so, add the cashew nuts, stir to combine well, dish out, garnish with cilantro and serve immediately.
Subscribe to FREE Newsletter:
Don't miss a recipe! Click here to subscribe to Rasa Malaysia newsletter.
IMPORTANT:
All photos and recipes on Rasa Malaysia are copyright protected. Please do not use the photos and recipes without prior written permission. If you wish to republish this recipe, please rewrite the recipe in your own words instead of copy and paste and link back to http://rasamalaysia.com/pineapple-fried-rice/. Thank you very much!
Limited Time Offer: $5.99 only. Available for download WORLDWIDE!
**Use it on Your Tablet, Mobile Phone, Desktop or Laptop**
Copyright © 2016 Rasa Malaysia. All rights reserved.