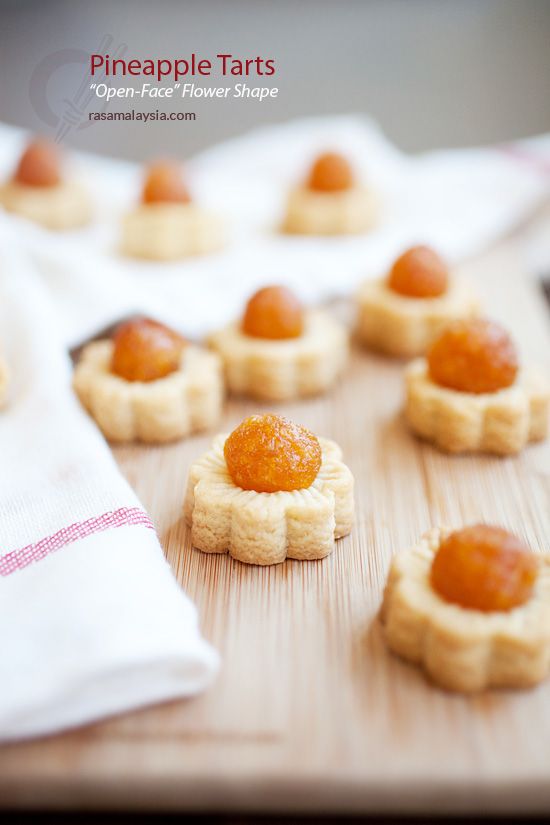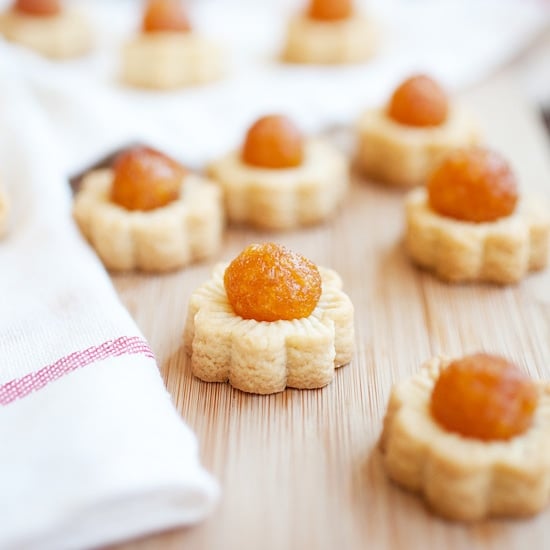 Pineapple Tarts
Pineapple tarts. Pineapple tarts are very popular during festive seasons in Malaysia and Singapore. Flaky, buttery, and best pineapple tarts.
Ingredients:
Pastry:
2 1/2 cups (350g) all-purpose flour
2 tablespoons cornstarch (corn flour)
1/4 teaspoon salt
4 tablespoons confectioners' sugar/icing sugar/powdered sugar
2 sticks unsalted butter/8 oz./1 cup/225 grams butter (I use Challenge brand)
2 egg yolks
Pineapple Jam (Filling):
3 cans (20 oz can) sliced pineapples or 2 fresh pineapples
10 tablespoons or a heaping 1/2 cup sugar (more or less to taste)
1/2 tablespoon cloves (optional)
Method:
If you are using canned pineapple slices, drain the pineapple slices and then squeeze the extra water/juice with your hands. Blend the canned pineapples until they are mushy, about 10 seconds. If you use fresh pineapples, remove the skin, cut into pieces and blend for 10 seconds.
Transfer the blended pineapple into a deep pan (non-stick preferably). Add sugar and cloves and stir well. Cook on medium to low heat until most liquid has evaporated, and the pineapple jam turns golden in color. Stirring constantly and continuously using a wooden spoon to avoid burning. Taste, and add more sugar as needed. Remove and discard the cloves and let cool in the fridge.
Sieve the flour, cornstarch, salt and sugar in a big bowl or container. Soften the butter to room temperature. Combine the flour mixture, butter, and egg yolks together. Knead to form the dough. The dough is ready when it doesn't stick to the hand. If the dough is too crumbly or dry, add a little bit more butter (about 1 tablespoon) until the dough is easy to work with.
Divide the dough into a few portions. On a cutting board or flat surface, flatten the pastry dough with your palms. Using a pineapple tart flower mold, press down the mold on the dough to produce the flower-shape cookie. Reuse the dough and repeat the same process until you use up all the dough.
Divide the pineapple jam filling into equal rounds and roll them into round balls using your palms. Place the pineapple jam filling on top of each tart. Place the pineapple tarts on a tray lined with parchment paper, arrange the pineapple tarts so they are at least 1/2 inch apart of each other.
Preheat the oven to 350F (180C) and bake for 20-25 minutes or until light brown.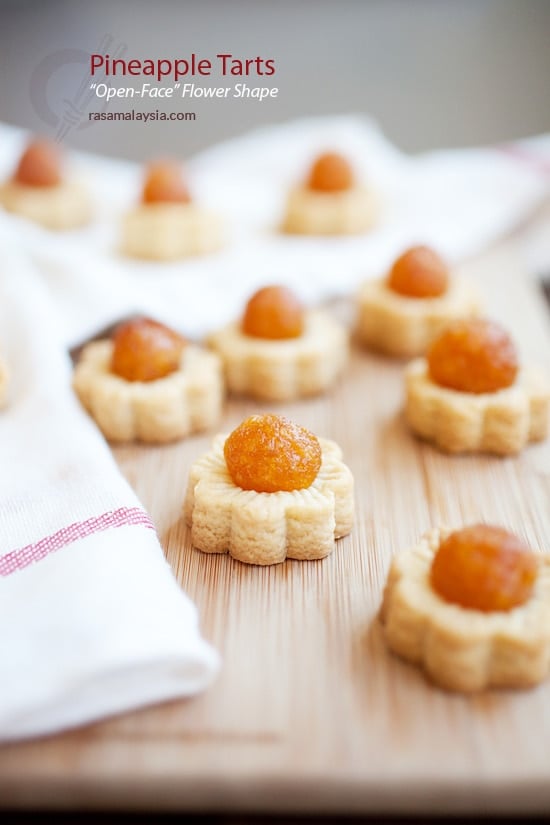 These pineapple tarts need no introduction. I had previously made a batch of pineapple tarts when I first tested out Novice Baker's pineapple tarts recipe. This time, my pineapple tarts come in a different shape, they look like cookies, open face, and topped with pineapple jam filling. They are still crumbly, buttery, and addictive. Once you pop one in your mouth, you just can't stop and want more.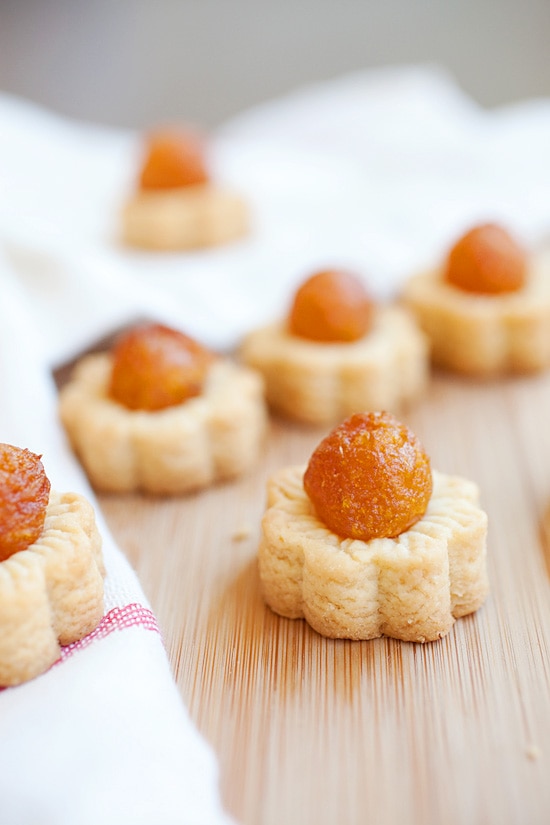 Personally, I love enclosed pineapple tarts, meaning the pineapple jam filling is enclosed inside the pastry. I think they taste the best. Open face pineapple tarts might be prettier looking but the filling is always dryer since it's exposed and baked, and hence not as moist. In any case, it is your personal preference how you want your pineapple tarts to look like: pineapple rolls, enclosed and looks like a pineapple, or open face like the above. Regardless of the shapes and sizes, pineapple tarts are one of the most popular and mouthwatering Chinese New Year sweet treats. There are many varieties available on sale, but the best pineapple tarts are definitely home made.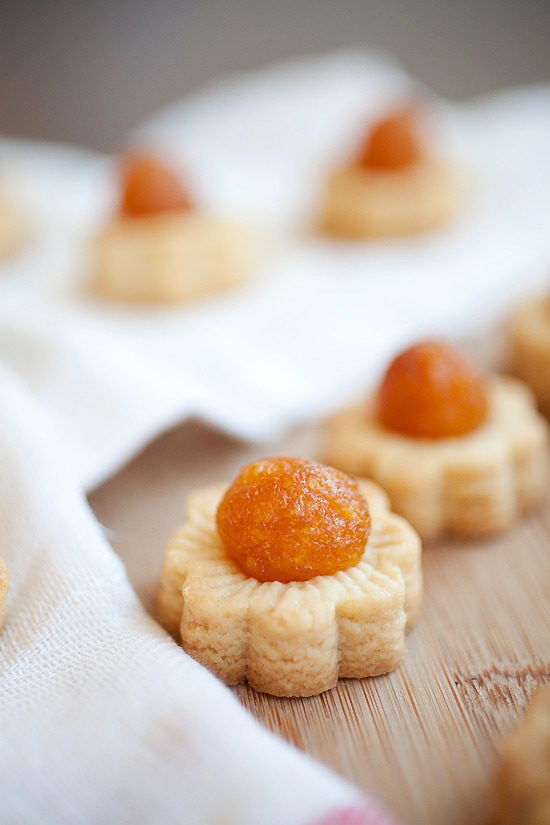 Try this pineapple tarts recipe, it's a keeper!