Pour Some Sugar on Roti Canai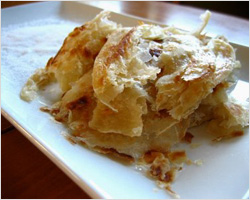 http://rasamalaysia.com/pour-some-sugar-on-roti-canai_01/
Pour Some Sugar on Roti Canai
My favorite Malaysian snack is Roti Canai, which you already know if you have read my thoughts about this fluffy, crispy, and flaky dish here. While I love dipping my Roti Canai in curry sauce, I also like it sweet — so sometimes I pour some sugar on my Roti Canai and eat it Indian-style (which is to say with my bare hands).
In the United States, you can find Roti Canai dough at Asian or Indian grocery stores in the frozen food section. The actual name it's sold under depends on the country of origin and the brand you choose. For instance Roti Canai is known as Roti Prata in Singapore, and since Prata is derived from a North Indian word Paratha it can also be sold as Roti Paratha. Personally I am a big supporter of "Made in Malaysia" when it comes to food so I usually buy the brands from Malaysia, although I have tried Roti Prata/Roti Paratha from Singapore and it tastes equally good. It's really a matter of personal preference…
As for preparing sweet Roti Canai at home, here are a couple of quick tips to make sure it comes out extra buttery and flaky:
Heat your work with huge amounts of butter before pan-frying Roti Canai so your Roti Canai has a nice rich flavor.
Once it's out of the wok, quickly tear the RotiCanai into small pieces. Quickly as in it will be really hot.
While still warm pour some sugar on them (Am I the only one who hears that Def Leppard song "Pour some sugar on me" in the head right now?) and serve immediately.
Roti Canai with sugar is very easy to make, convenient, and not-too-filling. It's perfect as a light snack.
Click Images Below for Similar Recipes:
LOVE THE RECIPE & PHOTOS? PLEASE SHARE:
Sign Up for Email Updates
Enter your email for new updates: recipes, giveaways, and more!