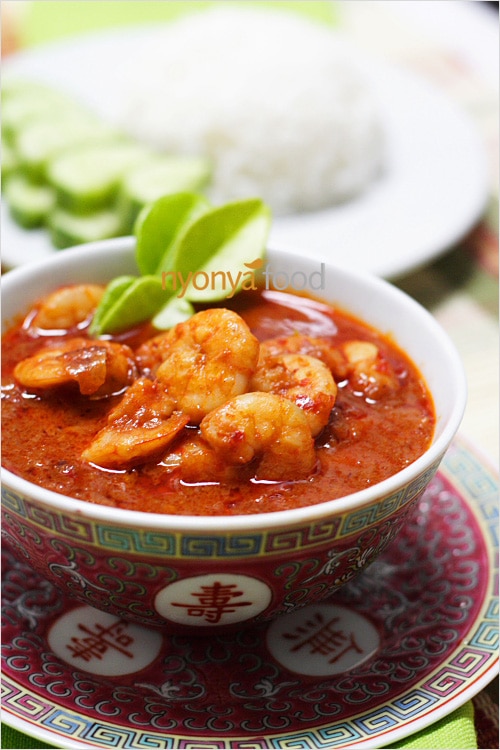 Sambal udang (prawn sambal) is a much celebrated recipe in my family and everyone loves it. My late mother made a killer dish of sambal udang…it was always the most popular dish on my family's dining table. Whenever she made sambal udang, everyone would be waiting in anticipation for a great meal.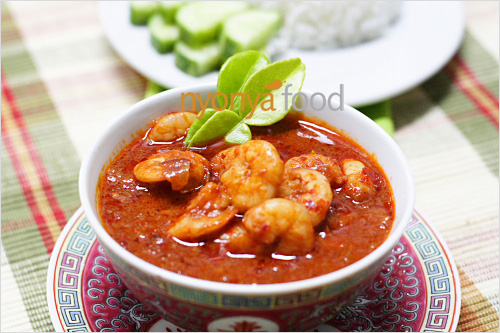 Sambal udang is quite easy to make and you need only a few key ingredients–prawns/shrimps, sambal, belacan, and tamarind. In our family, we use shredded kaffir lime leaves to infuse the sambal udang with its exotic and citrusy flavor; it also adds a lot of depth and aroma to this dish. My late grandmother loved sambal udang with petai (stinky beans), and I remember vividly the after smell of her eating petai. Personally, I am not a fan of petai. I like my sambal udang (prawn sambal) really simple, with plenty of shrimps and the right balance of spicy, sour, salty, and a tint of sweetness from the freshness of shrimps/prawns.
Sambal udang is great with steamed white rice. In fact, the sambal sauce is so good that I can drench dollops of it with  rice and eat it plain. It's really appetizing and the shrimps are simply delicious.
Here is my family's recipe of sambal udang. Try it and let me know what you think!