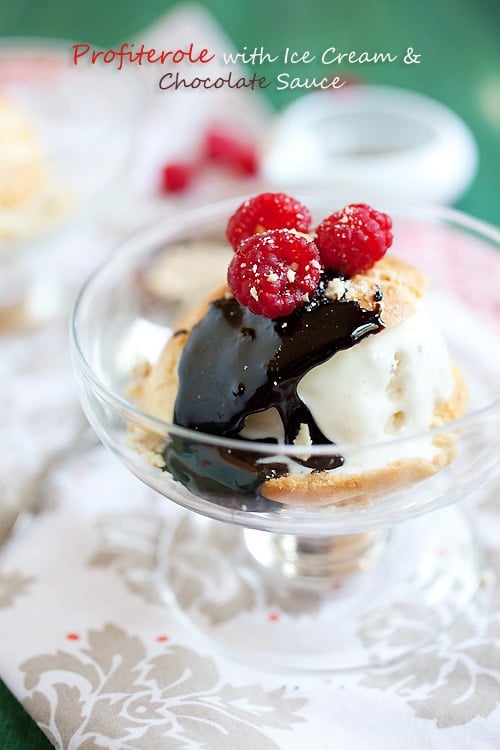 I have a loyal reader who would send me emails once in a while. A few months ago, she shared with me a recipe. She told me that she used my choux pastry/pate a choux recipe and turned it into an easy dessert by using ice cream. Yes, as I mentioned in the post, choux pastry is very versatile, it can be made into cream puffs, gougères (cheese puffs), nun's farts (by deep-frying), éclair (oblong and filled with cream), and ice cream dessert!
Today, I am going to show you how to make profiterole by using the same choux pastry recipe. Profiterole is basically choux pastry, sliced into half, and filled with whipped cream, pastry cream, or ice cream. Ice cream filled profiteroles are especially popular in the US. With the end of summer just around the corner, I decided to make profiteroles with ice cream and topped with chocolate sauce and some ground peanuts. Such combinations will please everyone, even the picky eaters and toddlers, I promise.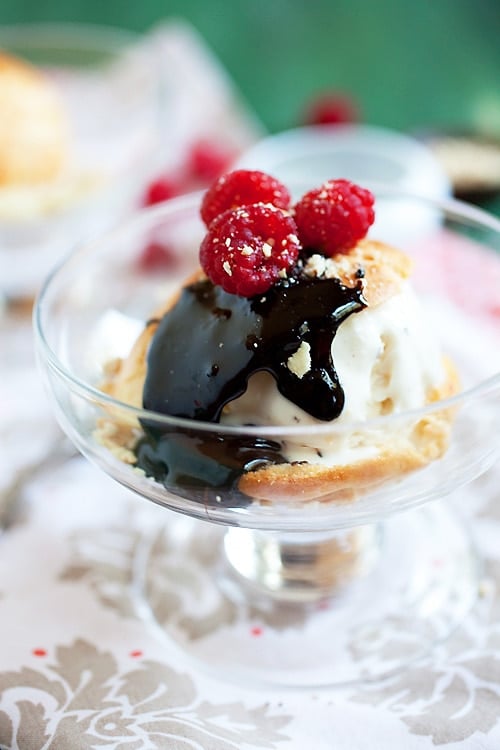 For the chocolate sauce recipe, I turned to my friend's the Sophisticated Gourmet. He has a fantastic chocolate sauce recipe with gorgeous photos that are "imprinted" in my mind. If you don't have time to make everything from scratch, then you can always buy off-the-shelf chocolate sauce. When you have a good ice cream stuffed in between airy, eggy, and crusty choux pastry, no one would notice that you didn't make the chocolate sauce from scratch!
What I love most about this recipe is that I can just choose my favorite flavor of ice cream and indulge, while taking in the final weeks of sunshine, warm breeze, and the lingering smells of summer BBQ. Enjoy these profiteroles with ice cream and chocolate sauce while you can.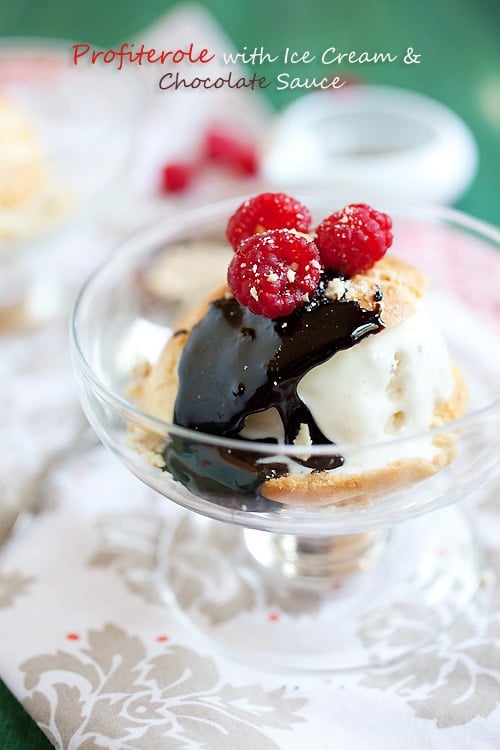 Profiteroles with Ice Cream & Chocolate Sauce Recipe
Makes 8 | Prep Time: 20 Minutes | Total Time: 45 Minutes
Ingredients:
Choux pastry (please refer to my choux pastry recipe)
Ice Cream
Chocolate Sauce
Ground Peanuts
Raspberries (or cherries/blueberries/blackberries), for topping
Method:
Slice the choux pastry into half using a sharp knife. Scoop a scoop of ice cream and put between the choux pastry. Drizzle the chocolate sauce generously on top, and top with ground peanuts. Add some raspberries before serving.
Cook's Notes:
I cut the quantity of my choux pastry recipe into half and made eight (8) choux pastry.
For profiteroles, make sure you make bigger choux pastry (big enough to hold one scoop of ice cream). When piping the choux pastry dough, please pipe more dough to make the choux pastry bigger.
Chocolate Sauce Recipe
Makes about 1 cup (236 ml)
Source: The Sophisticated Gourmet
Ingredients:
3.5 oz  (100g) dark chocolate with 70% cocoa content, finely chopped
2 tablespoons (15g) unsweetened cocoa powder (natural or dutch-processed)
1/3 cup (116g) golden syrup (Lyle's brand)  or light corn syrup or light agave nectar
1/3 cup (75g) heavy (double) cream
1/3 cup (30g) confectioner's (powdered) sugar
1/2 teaspoon pure vanilla extract
Pinch of fine grain sea salt
Method:
Place the chopped dark chocolate and cocoa powder in a heatproof bowl over simmering water (do not let the bowl touch the water) and heat until the chocolate has melted.
With the pan off the heat, stir in the golden syrup, followed by the heavy cream, confectioner's sugar, vanilla, and pinch of salt.
Transfer to a glass jar or heatproof container with a lid, and serve over the ice cream of your choice. Can be stored in the refrigerator for a few days. Re-warm before serving.
Most-Pinned Recipes
Brownie Butter Cake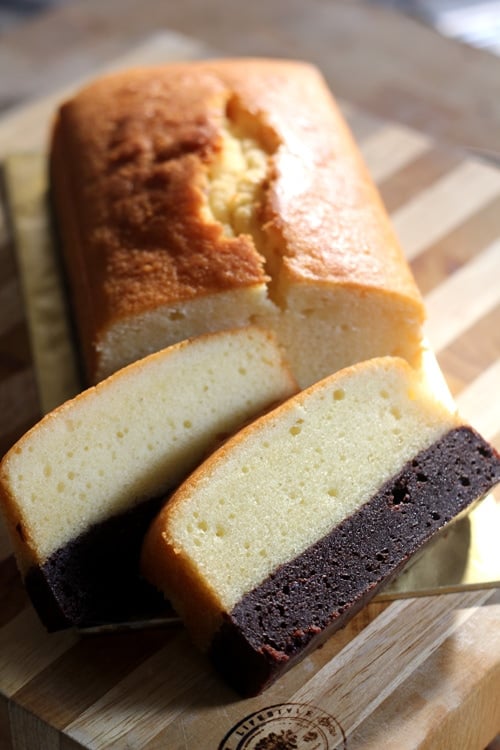 Nutella Cheesecake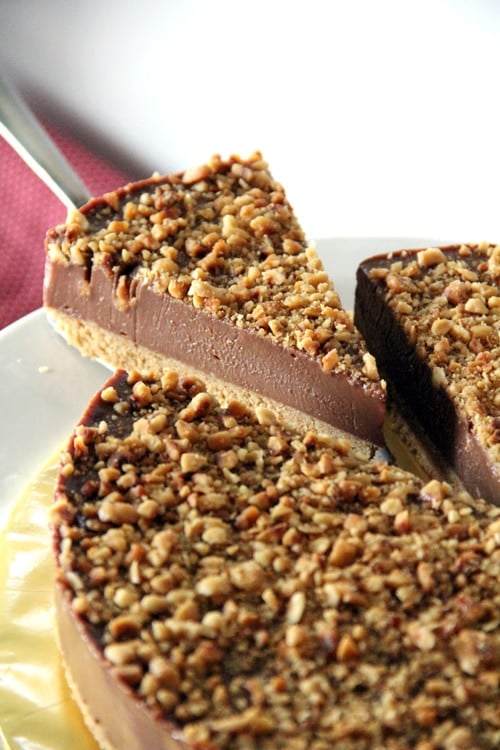 Chocolate Chip Cookie Dough Cheesecake Bar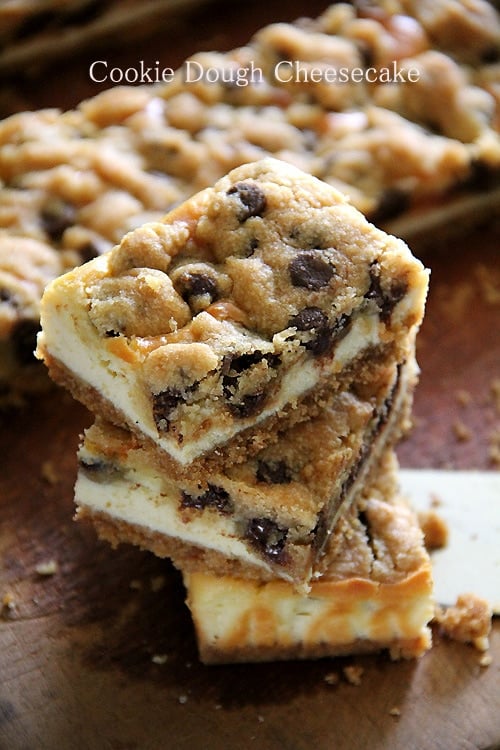 Butter Cake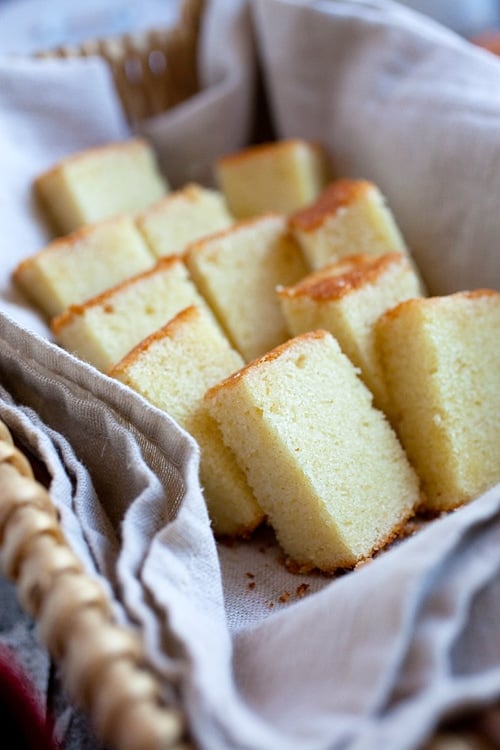 Peanut Butter Cheesecake Brownies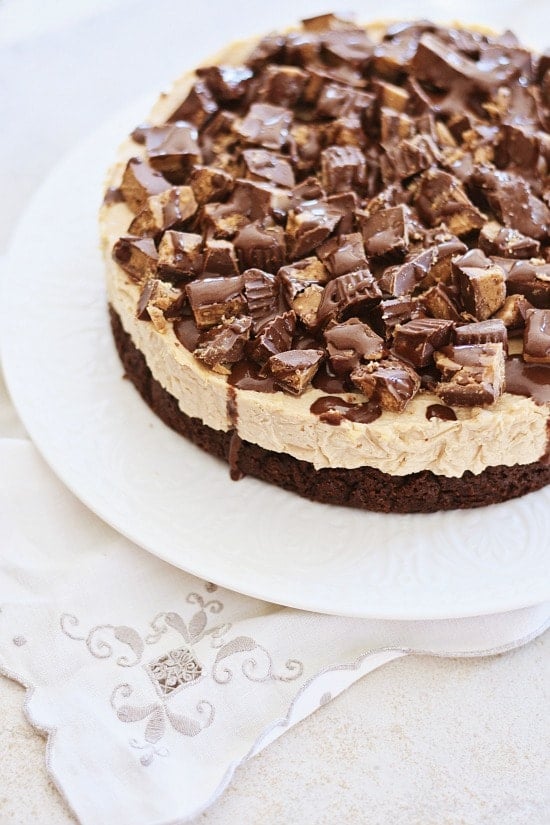 Meyer Lemon Pound Cake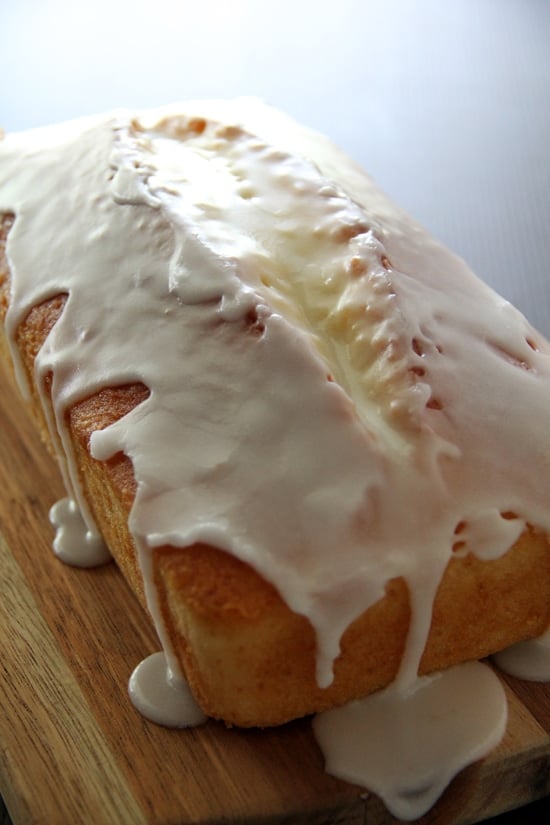 Copyright © 2016 Rasa Malaysia. All rights reserved.