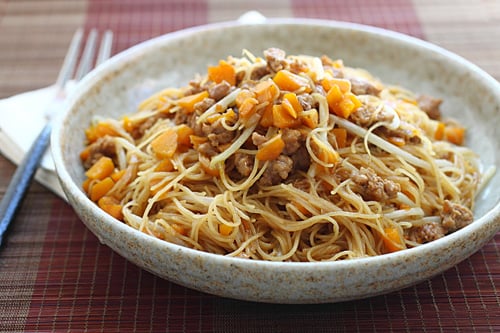 This pumpkin noodles with minced pork is one of my favorite noodle recipes. I love to order this at my favorite Taiwanese noodle house.
The pumpkin rice noodles oozes the sweet taste of pumpkin which adds a nice texture and color to the dish. This is a quite and easy recipe that is both tasty and filling. With Halloween just around the corner and the abundant supply of pumpkin means that you can use it to make this wonderful dish.
The recipe was originally published on InSing.com and in metric measurement. To convert, please use the conversion tool.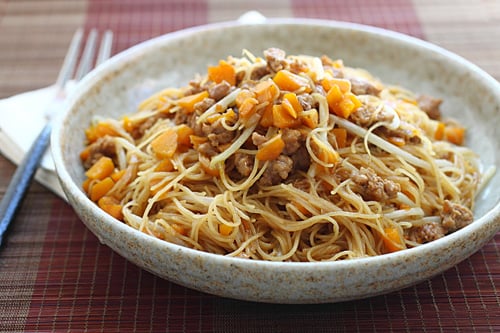 Pumpkin Rice Noodles
Serves 1 | Prep Time: 15 minutes | Cook Time: 5 minutes
Ingredients:
100g dried rice vermicelli
2 tablespoons oil
2 cloves garlic, minced
100g pork, minced
100g pumpkin (or kabocha), diced
½ cup water
2 tablespoons soy sauce
1 tablespoon sweet soy sauce
3 dashes white pepper
100g bean sprouts, rinsed
Method:
1. Soak the dried rice vermicelli in warm water for about 20 minutes. Drain the water and set aside.
2. Heat up the oil in a wok and add the garlic. Stir-fry the garlic until aromatic before adding the pork and pumpkin.
3. Add the water, soy sauce, sweet soy sauce, white pepper and bring to boil.
4. Add the rice vermicelli into the wok, stir to combine well with the ingredients in the wok.
5. Add the bean sprouts and continue to stir fry the rice vermicelli until the sauce is dry and the vermicelli is cooked through. Dish out and serve immediately.
Copyright © 2014 Rasa Malaysia. All rights reserved.