Puro Fairtrade Coffee Giveaway (CLOSED)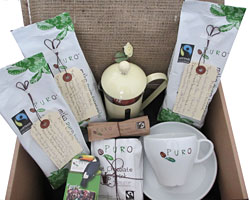 http://rasamalaysia.com/puro-fairtrade-coffee-giveaway-worldwide/
Puro Fairtrade Coffee Giveaway (CLOSED)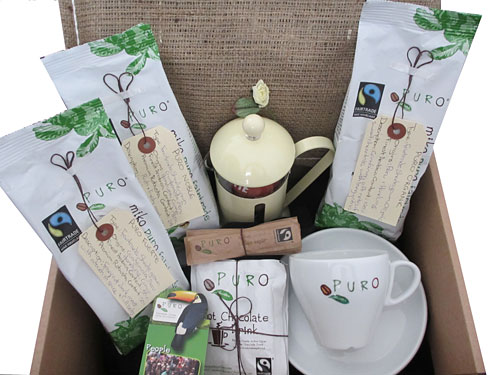 Update: Winner is Shirley Y.
I'm partnering with Puro Fairtrade Coffee to giveaway a Fairtrade Organic Coffee Hamper giftset. There will be one (1) winner whom will receive one (1) Fairtrade Organic Coffee Hamper giftset. The retail price of the Fairtrade Organic Coffee Hamper giftset is US$100.
Puro Fairtrade Coffee
Puro was created in 2005 and since its conception, has always sourced Fairtrade, organic and shade grown coffee. We recognise that in this day and age, with a growing ethical and environmental awareness, people want to know that they are purchasing a product that comes from a conscious heart and therefore paving a way for a better future. Taking it a step further, we are at the forefront of buying and protecting rainforests and are actively working alongside the World Land Trust, whose patron is Sir David Attenborough. For every cup of coffee sold, money is given to buy and protect areas of rainforest in South America. To date, we have saved over 5,600 acres (approx 6,000 football fields) of rainforest across 3 Puro reserves in Ecuador, Brazil and Colombia with the help of our loyal clients.
We made a short Puro film (a documentary brought to your right from the heart of the South American Rainforests, and filmed recently by us about our ongoing projects), that we are really proud of. You can watch online at www.vimeo.com/fairtradecoffee/our-story
It may well be that you have already come across us (although we don't have our own coffee shops), as we supply some of the UK's leading chains of cafes and restaurants, such as National Trust, Le Pain Quotidien, Leon, and Gourmet Burger Kitchen, amongst many others. We are widely available in mainland Europe, Africa, Australasia and recently in Canada, and are currently looking for a US distributor. We also have an online shop https://www.puroathome.com/
Eligibility: Worldwide. No purchase necessary and subject to this official giveaway rules. Closing Date: October 6, 2013, 11:59 pm PST. Winner will be randomly selected and contacted via email on October 7, 2013. The prize is proudly sponsored by Puro Fairtrade Coffee.
Sign Up for Email Updates
Enter your email for new updates: recipes, giveaways, and more!