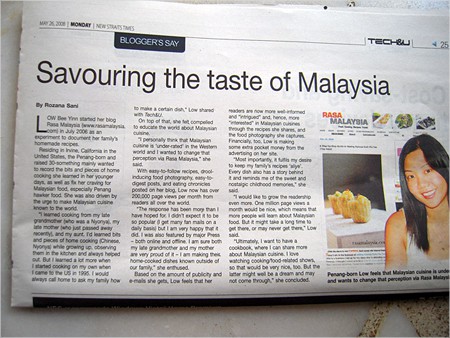 Rasa Malaysia was featured in The New Straits Times, one of the two largest English newspapers in Malaysia. To read the article (complete with a giant picture of me sitting on top of the Rasa Malaysia homepage with a "quote" WOW!), please click here. My long-time loyal reader and supporter Toni Xe of KL Makan also kindly captured a picture of the newspaper for me. To read it on print, please click here.
Is it just me or newapaper adds 10 pounds to my face?! I have always thought that I have a melon seed face…well, I guess not! If I ever appear on TV, I am sure it will add 30 pounds, as this woman once claimed.
I only wished that my late mother could see this article…
Anyway, thanks to Rozana Sani at The New Straits Times for writing up this nice feature. What a great way to start off the week!