Rasa Malaysia Featured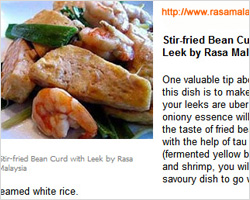 http://rasamalaysia.com/rasa-malaysia-featured/
Well, this is old news by now but I wanted to share it with you.
This past Sunday, my stir-fried bean curd with leeks recipe was picked up by The Star, the largest English newspaper in Malaysia. I was tipped by Just Heavenly and my eldest sister (my biggest supporter) confirmed it. The article also featured fellow Malaysian foodies Babe in the City-KL and Masak-Masak. Click here to read more…
On other positive notes, Slashfood and Serious Eats featured my Reb Lobster Cheddar Bay Biscuits post, too. Click here and here for the write-up.
Thanks so much for your support! You guys really made my day.
You Might Also Like These Recipes Below:
LOVE THE RECIPE & PHOTOS? PLEASE SHARE:
Sign Up for Email Updates
Enter your email for new updates: recipes, giveaways, and more!