Brain Omelet and Paper Thosai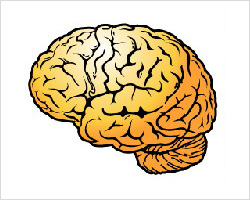 http://rasamalaysia.com/reader-submissions-brain-omelet-and/
Brain Omelet and Paper Thosai
Following my Rasa Malaysia Omelet post, I received this picture from Food Marathon. Food Marathon thought my so-called elegant and luxury omelet looks more like a brain.
A brain!
It is a somewhat disturbing thought, but my mother used to cook her omelet with pig brain. Yes, pig brain!! The Chinese believe in "以形补形" and my mother is a firm believer. Translated loosely, 以形补形 means what you eat is what you become. In this brain instance, if you eat lots of them, you will become brainy or smarter. (I question this very fact; pig is not supposed to be smart, now is it?!)
No, I didn't eat the dish. I never did. The sight and smell of it made me nauseous. This picture reminds me of what I will never eat.
On the contrary, Precious Pea emailed me a picture of something very edible. Her paper thosai looks crispy, golden, and absolutely mouthwatering. With the two curry sauces and the sardine sambal as condiments, I can eat this Indian delicacy by the dozens.
Now, do you eat brains?
Note: Rasa Malaysia will feature reader submissions occasionally. If you have an interesting picture to share with other readers, drop me an email.
You Might Also Like These Recipes Below:
LOVE THE RECIPE & PHOTOS? PLEASE SHARE:
Sign Up for Email Updates
Enter your email for new updates: recipes, giveaways, and more!