Bak Kut Teh Recipe (Pork Bone Tea Soup)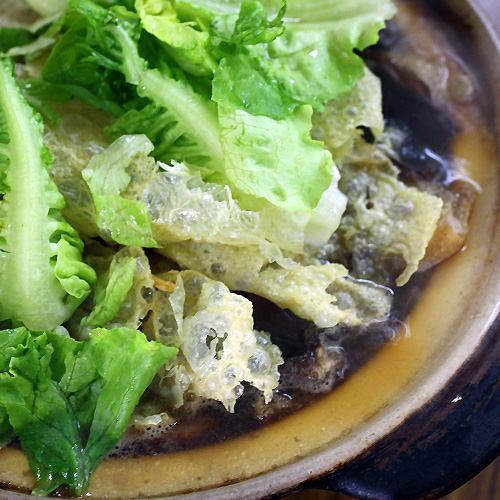 http://rasamalaysia.com/recipe-bak-kut-teh-pork-bone-tea/
Bak Kut Teh Recipe (Pork Bone Tea Soup)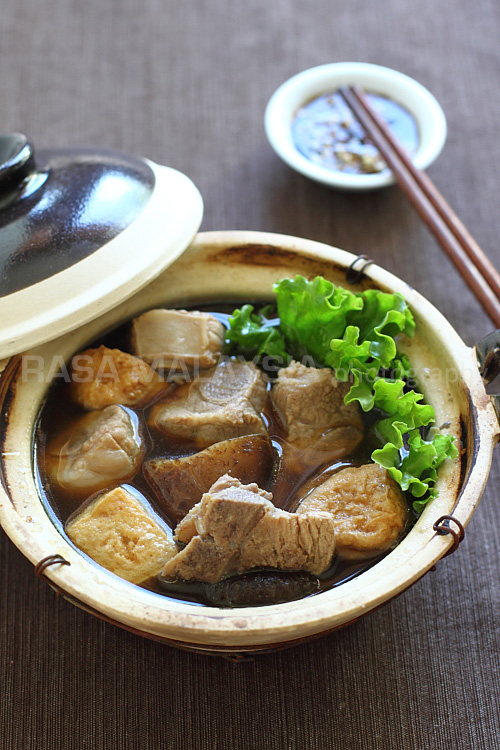 (Originally published in 2006, this post is updated with new photos.)
Bah Kut Teh or Pork Bone Tea is a Chinese soup dish. Infused with herbs such as Dong Quai, Cinnamon, Star Anise, and loaded with pork ribs, dried Shitake mushrooms, tofu puffs, and heaps of garlic, this soup fills the kitchen with evocative scents. Bah Kut Teh needs a couple hours of slow boiling and the end result is concoction perfumed with a sweet herbal and earthy flavor. It's best cooked and served in a clay pot and eaten with plain white rice, yau char kway (Chinese crullers), a dish of stir-fried vegetables such as Chinese Greens in oyster sauce, and a small plate of chili plus soy sauce condiment…
If you make Bak Kut Teh at home, do save a bowl or two as your breakfast the following day. The interplay of these herbs, spices, and ingredients usually reaches its height the next morning and you will find that overnight Bak Kut Teh tastes even better than freshly made. Slurp the soup and savor each drip of the essence until there is no single drop left.
Intensely flavorful and hearty, Bak Kut Teh is certainly my cup of tea.
Sign Up for Email Updates
Enter your email for new updates: recipes, giveaways, and more!