Breakfast Pancakes Recipe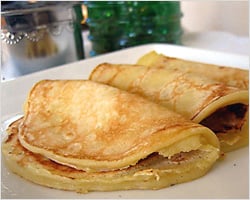 http://rasamalaysia.com/recipe-breakfast-pancakes_09/
Breakfast Pancakes Recipe
Lately, I am really into Carbohydrates: breads, cakes, beans, pastas, noodles, and then more flour-loaded stuff. I blame it on the weather as the temperatures drop lower, the days get shorter, and the mornings get colder.
On a chilly morning, nothing beats some warm, fluffy, and soft home-made pancakes. Pancakes are very easy to make and you can whip them up in a jiffy. All you need are some basic ingredients like flour, sugar, eggs, and butter.
Sign Up for Email Updates
Enter your email for new updates: recipes, giveaways, and more!