(Chinese recipes, prepare authentic Chinese food now!)
My brunch this morning–chicken shu mai (sui mai), or steamed chicken dumplings.
See the little turquoise plates? I got them from London. Aren't they so beautiful? They are the only thing I got myself in London. I know…the only thing I bought!
I was out shopping for clothes, shoes, and all the pretty-me-up's, but I found myself lingering in Habitat, a lifestyle store with furniture and kitchenwares. I basically wanted to buy everything at the store. Hello, what's wrong with me? I was supposed to go nuts with all the sales going on at Miu Miu, Mango, FCUK, Zara, so on and so forth…but I bought only two little plates?! Well, I guess I am really getting older and domesticated.
Anyway, I digress…While shu mai (siu mai) is traditionally made with pork, I wanted to make a HALAL version for a good change. I have Muslim readers and this is a special dim sum recipe that you can certainly try out at home. However, this recipe should work for everyone.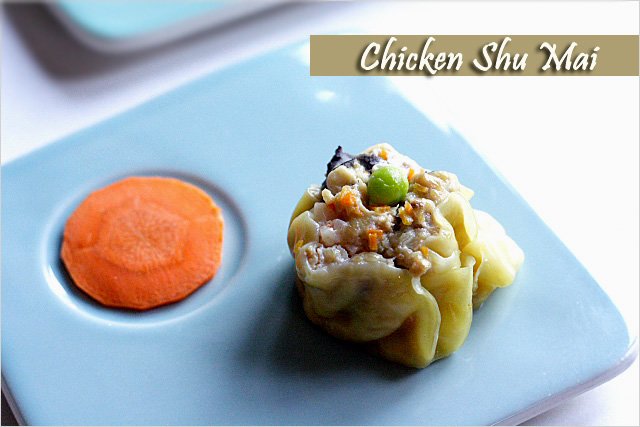 Recipe: Chicken Shu Mai (Siu Mai)
Ingredients:
1/2 lb chicken thigh (deboned and skinless)
8 medium shrimp (peeled, deveined, and diced into small pieces)
2 black fungus (chopped into thin threads)
1/2 tablespoon finely chopped fresh ginger
1/2 tablespoon finely chopped scallion (white part only)
1/8 teaspoon sesame oil
3 dashes white pepper
1/4 teaspoon chicken bouillon powder
1/2 tablespoon corn starch
1/2 tablespoon egg white
A pinch of salt
Round wonton skin
Carrot (finely chopped) and peas (for garnishing)
Method:
Using a mini food processor, ground the chicken but make sure that it's corsely ground. Mix the chicken with other ingredients and seasonings and set aside in the fridge for 20 minutes.
Place about a tablespoon of filling on each wrapper, gather up the sides and leave the center open. Garnish the top with some chopped carrot and a pea. Steam in a bamboo steamer for about 5 minutes. Serve hot.
Copyright © 2015 Rasa Malaysia. All rights reserved.