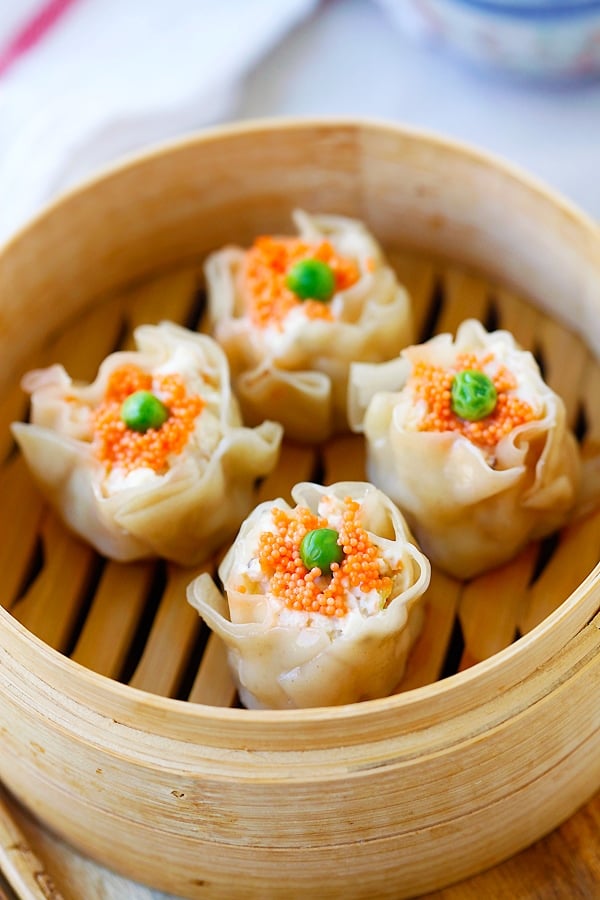 Chicken Shu Mai (Siu Mai)
Chicken Shu Mai (Siu Mai) is a popular dim sum item. Learn how to make chicken shu mai with this quick and amazing recipe that is better than Chinatown!!
Originally published on August 4, 2007. Updated with new photos.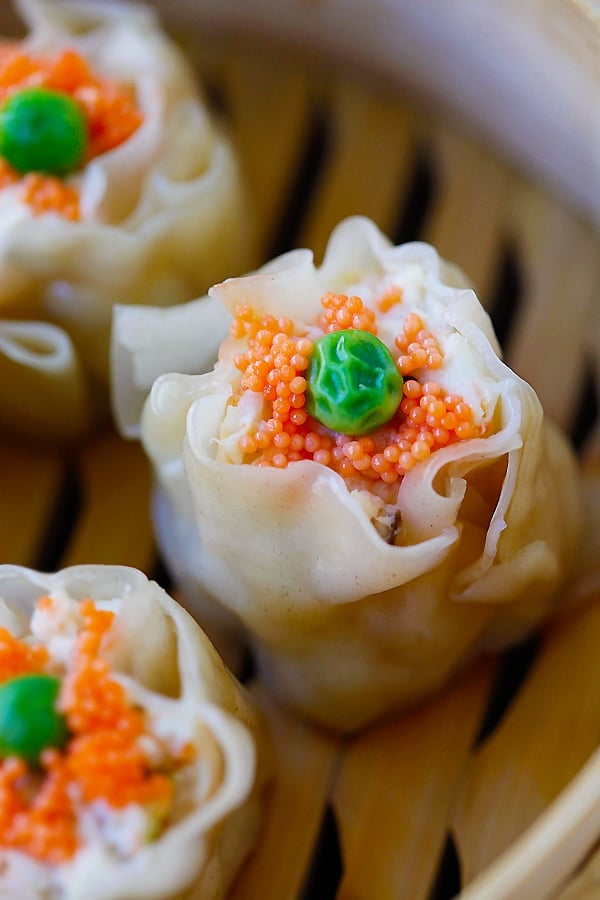 My brunch this morning—chicken shu mai (sui mai), or steamed chicken dumplings.
I know many of you love shu mai or siu mai, those little morsels of ground meat wrapped with wonton skin, and served at dim sum restaurants in Chinatown. These dainty steamed dumplings comes in a small bamboo steamer and they are so good that every bite is always bursting with the freshness and juicy goodness of the filling.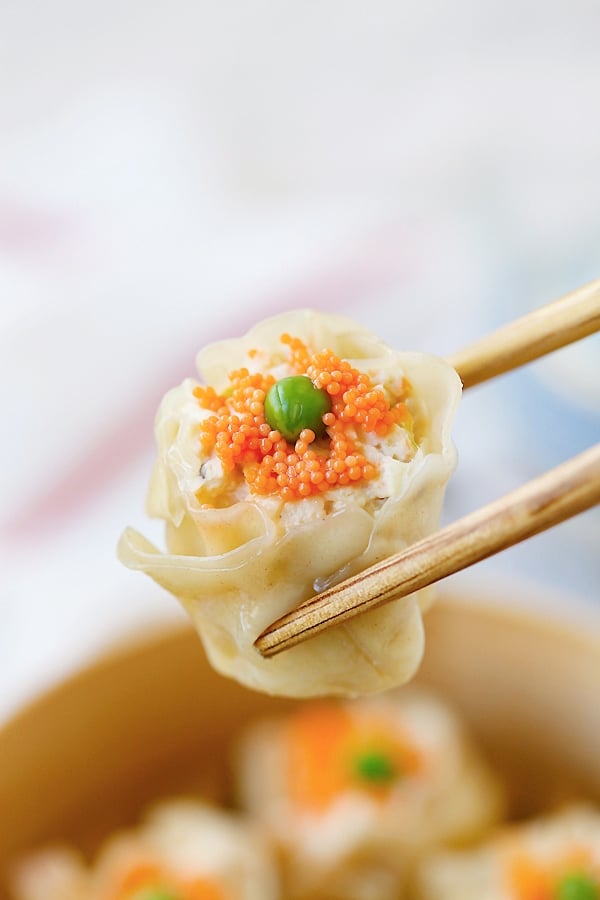 I love dim sum and you can often find me at dim sum restaurants on the weekends. Once in a while, I like to make my own dim sum and shu mai is one of my favorite items to make.
While shu mai (siu mai) is traditionally made with pork, I wanted to make a HALAL (pork-free) version so everyone can enjoy this amazing dumpling. The recipe is very easy, calls for ground chicken. All the ingredients can be easily found at regular stores and everyone can try this chicken shu mai recipe at home!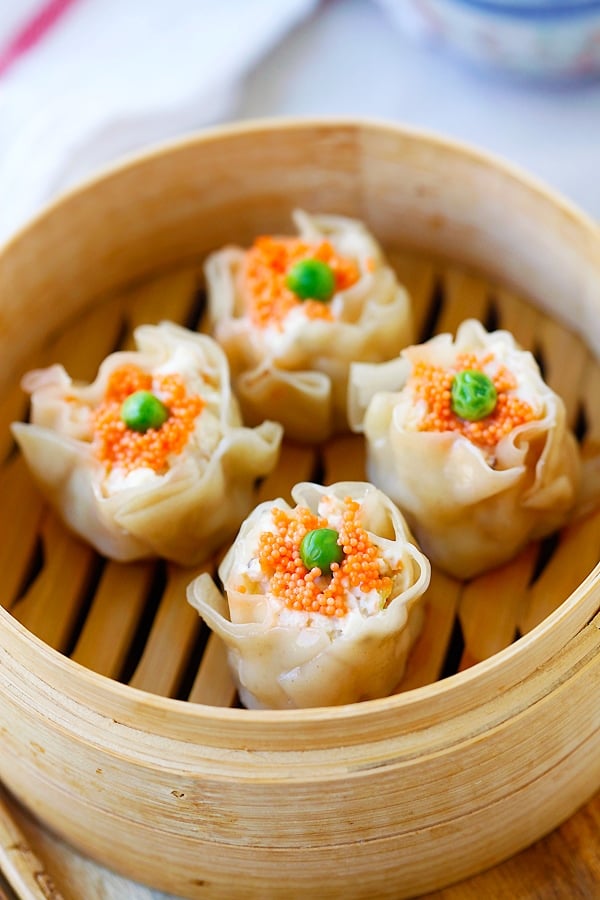 Chicken Shu Mai (Siu Mai) Recipe
Yields: 16 | Prep Time: 20 Mins | Cook Time: 5 Mins
Ingredients:
1/2 lb boneless and skinless chicken thigh, ground
8 peeled and deveined medium shrimp, diced into small pieces
2 black fungus, soaked in hot water and cut into thin threads, or fresh shiitake mushrooms
1/2 tablespoon finely chopped fresh ginger
1/2 tablespoon finely chopped scallion, white part only
1/4 teaspoon sesame oil
3 dashes ground white pepper
1/2 teaspoon soy sauce
1/2 tablespoon cornstarch
Pinch of salt
Wonton wrapper
Green peas and tobiko (fish roes), for garnishing
Method:
Using a mini food processor, ground the chicken but make sure that it's corsely ground. You can also chop with a knife. Mix the chicken with all the ingredients together, set aside in the fridge for 20 minutes.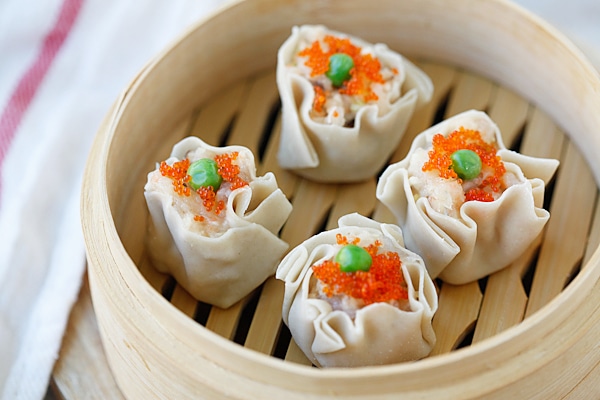 Place about a tablespoon of the filling on each wrapper, gather up the sides and leave the center open. You migh cut off the uneven edges with a pair of scissors if you like the shu mai to look prettier. Garnish the top with a green pea and some tobiko. Steam in a bamboo steamer for about 5 minutes. Serve immediately.
Most-Pinned Recipes
Ginger Garlic Baked Chicken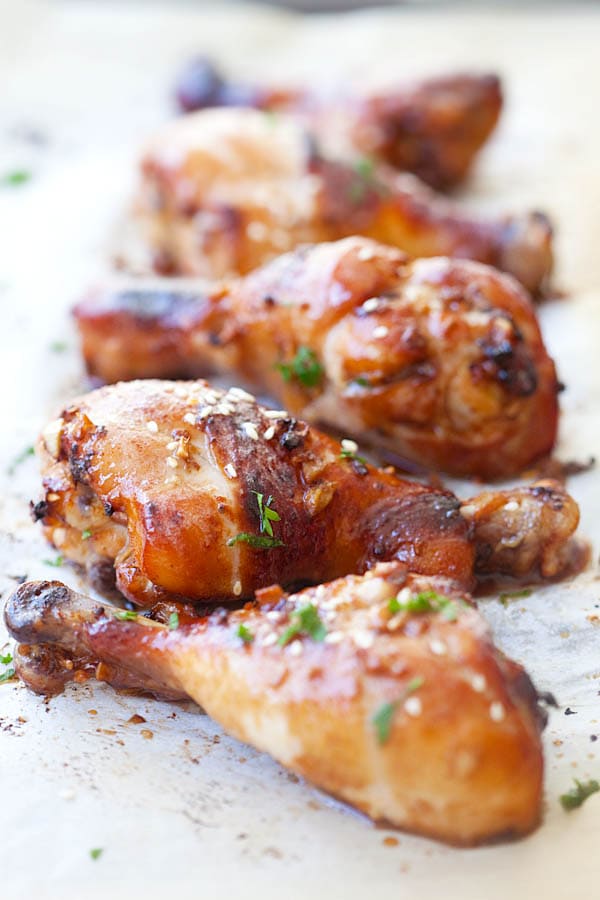 Crab Rangoon (Cream Cheese Wontons)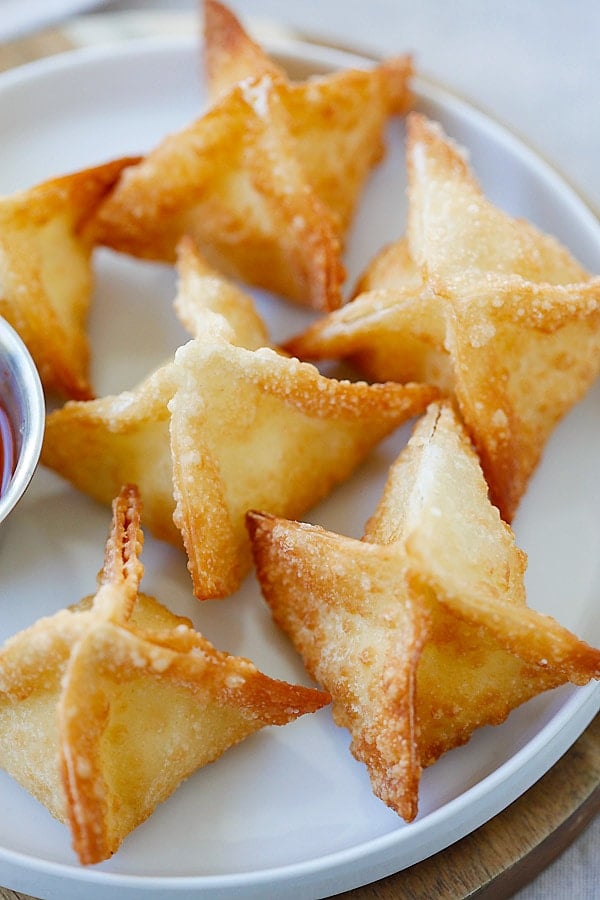 Chicken Wontons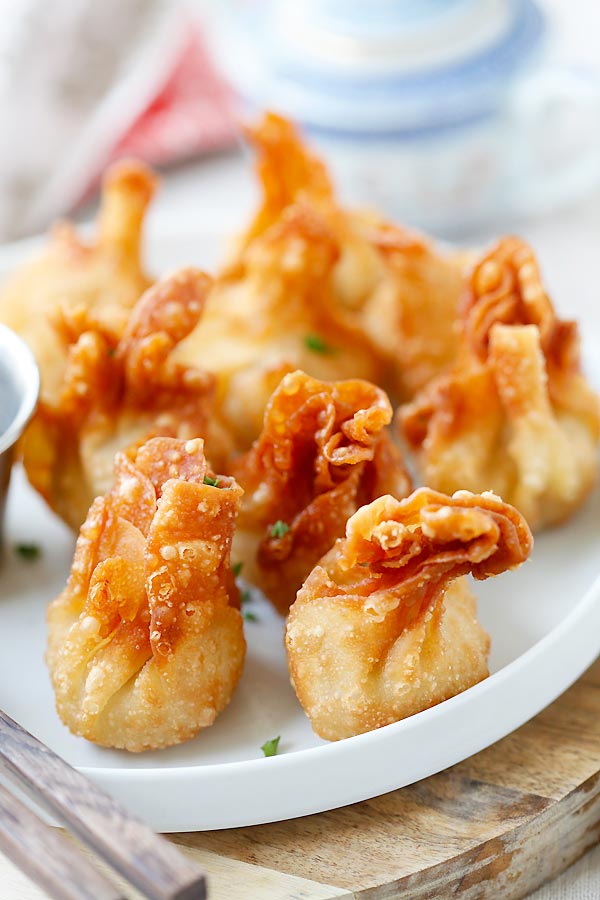 Onion Scallion Beef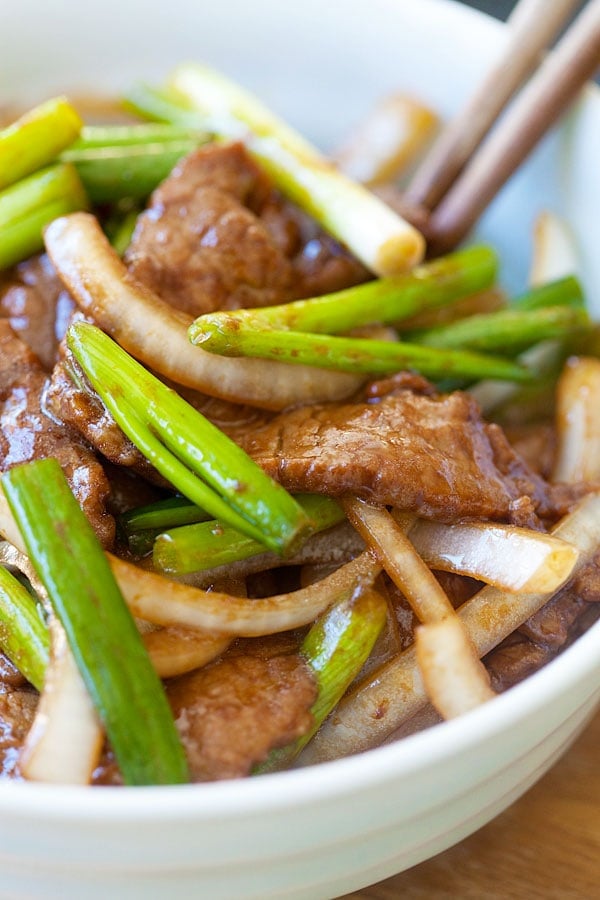 Thai Chicken Sate with Peanut Sauce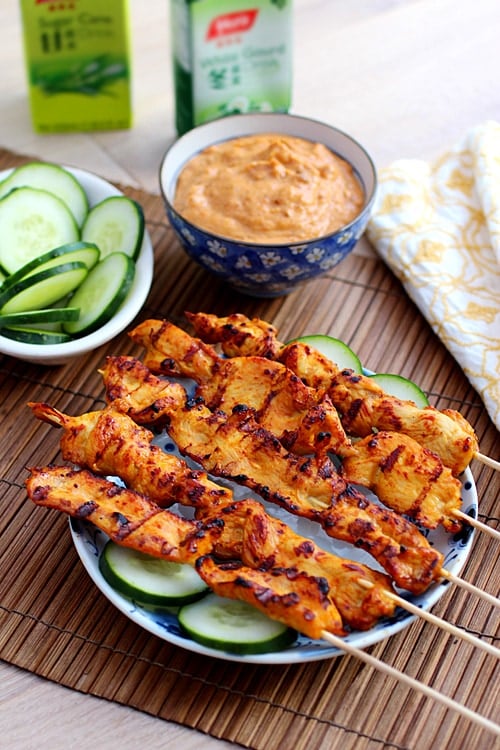 Thai Peanut Sauce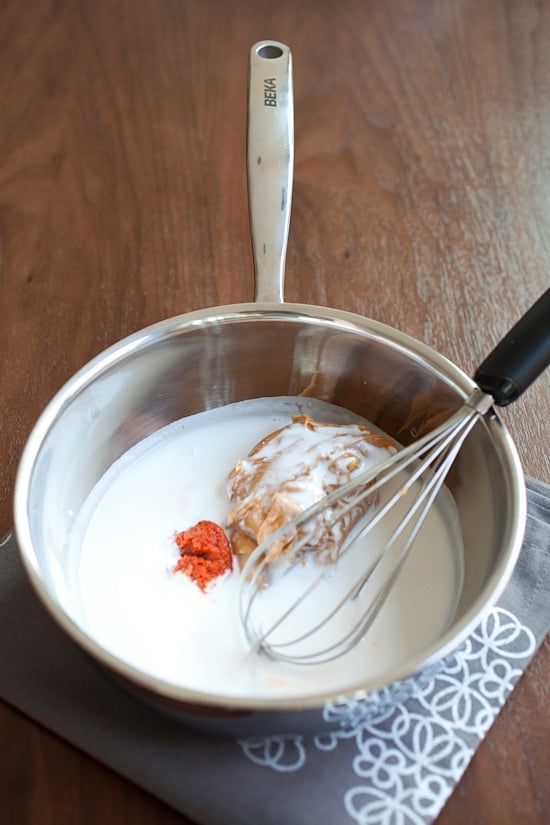 Limited Time Offer: $5.99 only. Available for download WORLDWIDE!
**Use it on Your Tablet, Mobile Phone, Desktop or Laptop**
Copyright © 2016 Rasa Malaysia. All rights reserved.