Flan (Crème Caramel/Caramel Custard) Recipe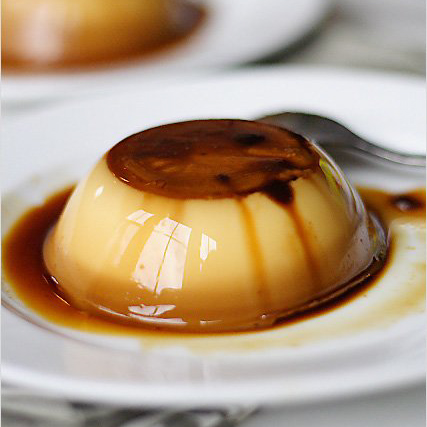 http://rasamalaysia.com/recipe-flancrme-caramelcaramel-custard/
Flan (Crème Caramel/Caramel Custard) Recipe
I will be honest with you…I didn't make these flans. I wanted to, but paying $2.50 for both flans is definitely cheaper than buying all the specialty flan cook ware and ramekins–not mentioning the time I would spend pottering in my kitchen preparing flan and making sure they come out right. I have no doubt that making flans is a fulfilling experience–a skill I would love to acquire eventually–but with my busy schedules lately, I simply can't afford to attempt them at home.
I first tasted flans in the late 1990's–I had just graduated from college and started working in the US. (I had never seen or tasted flans when I was in Malaysia.) My then co-worker invited me for dinner and his wife made flans for dessert. I remember vividly the first taste; it was a dessert so delicate, beautiful, and sublime–egg custard served in a bath of amber-hued caramel–it was smooth and melted in my mouth. It was the taste of heaven…(get flan recipe after the jump)
Since then, I have had many flans in a lot of interesting places–in Texas on my road trip down to Florida; in a traditional Mexican restaurant on a side street in Cabo San Lucas; at a food store in Calistoga; most recently, in Cannes where the flan was rather different in taste, shape, and form; and countless more. None of them beats the flans prepared by my ex co-worker's wife.
This weekend, when I was shopping in Little Saigon here in Orange County, I chanced upon these flans at Lee's Sandwiches. I was overjoyed.
They turned out to be very good flans; almost as good as the first ones I had in my friend's house. I got the flan recipe and have kept it with me for years. I will make these flans one day, but for now, please find the secret recipe that introduces me to the world of flans.
(Flans are also known as crème caramel or caramel custard.)
Looking for an entree to pair with flans? Try these recipes on Rasa Malaysia:
Sign Up for Email Updates
Enter your email for new updates: recipes, giveaways, and more!