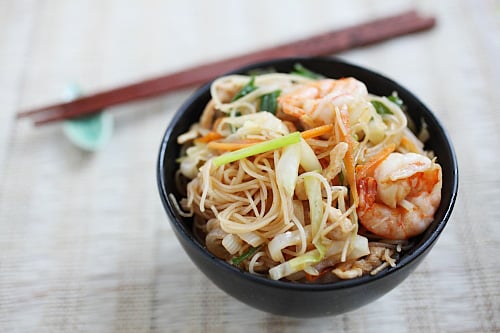 Recipe: Xiamen-style Fried Vermicelli (厦门炒米)
Ingredients:
4 tablespoons oil
1/2 pack of Vermicelli/Bee Hoon, soaked in luke warm water to soften them first
Some chicken breast meat (cut into thin strips)
6 shrimp (shelled and deveined)
2 stalks of scallion (cut into 2″ length)
Some cabbages (julienned)
1/2 small carrot, peeled and cut into thin strips
2 cloves garlic (chopped)
2 teaspoons of light soy sauce
1 teaspoon of oyster sauce
1/2 teaspoon of dark soy sauce
1/2 teaspoon of sugar
A dash of white pepper powder
A dash of sesame oil
Method:
Heat up the wok until it starts smoking. Pour in the cooking oil and wait for it to be fully heated. Add in the chopped garlic and quickly stir a few times, then follow by chicken strips, shrimp, julienned cabbages, and carrot strips. Stir and mix the ingredients well with the garlic until you smell the aroma from the ingredients. Add the vermicelli, soy sauce, oyster sauce, dark soy sauce, sugar, chopped scallions and stir fry vigorously over high heat. Just when the vermicelli starts to burn, add in a dash of white pepper powder and sesame oil, stir for 1 minute. Serve immediately.