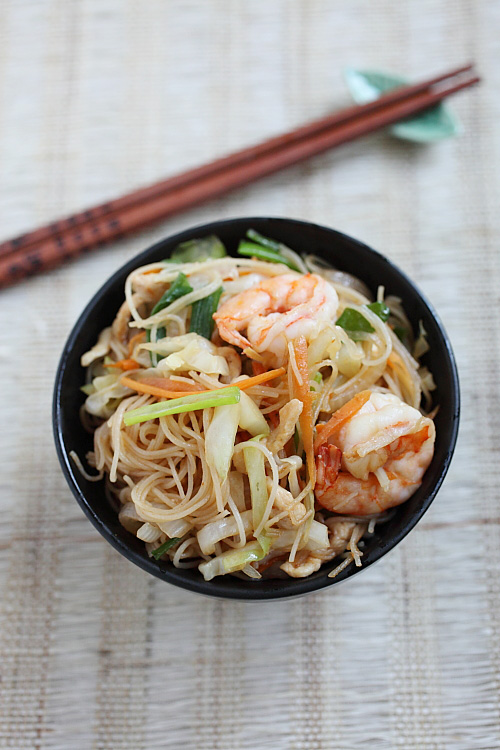 If you cook a lot, you have to get creative with using up what's left over in your kitchen and fridge to prepare your meals. Last week I made Kerabu Bee Hoon in celebration of Hari Merdeka (Malaysia National Day). That being said, I now have a half pack of vermicelli remaining.
What to do, what to do…
It's the perfect time to try making Fried Vermicelli, Xiamen Style (厦门炒米粉). I visited Xiamen earlier this year and fell immediately in love with the island and more importantly, the food. Located in the Fujian province, Xiamen is a beautiful island with abundant fresh produce and seafood. The food in Xiamen is very similar to the Chinese food in Malaysia since many of the early Chinese settlers in Malaysia came from the Fujian region. Other than rice, noodles and vermicelli are heavily consumed as daily staples. One of their common dishes is Xiamen Fried Vermicelli, a simple meal easy to prepare.
The key to making great Xiamen Fried Vermicelli lies in the wok hei, which translates literally to "The Breath of Wok." To get the wok hei, your wok has to be super-hot. It's this high heat that gives your fried vermicelli that special taste and aroma. While it's not easy to have wok hei in an American kitchen without setting off the smoke detector, I managed to capture the essence with this Xiamen Fried Vermicelli.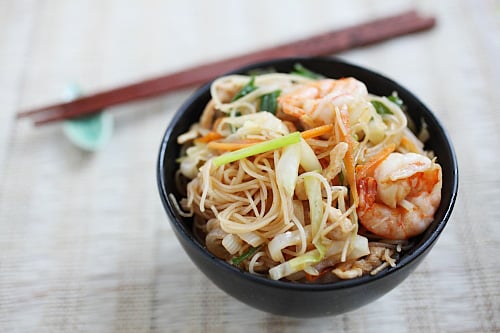 Recipe: Xiamen-style Fried Vermicelli (厦门炒米)
Ingredients:
4 tablespoons oil
1/2 pack of Vermicelli/Bee Hoon, soaked in luke warm water to soften them first
Some chicken breast meat (cut into thin strips)
6 shrimp (shelled and deveined)
2 stalks of scallion (cut into 2″ length)
Some cabbages (julienned)
1/2 small carrot, peeled and cut into thin strips
2 cloves garlic (chopped)
2 teaspoons of light soy sauce
1 teaspoon of oyster sauce
1/2 teaspoon of dark soy sauce
1/2 teaspoon of sugar
A dash of white pepper powder
A dash of sesame oil
Method:
Heat up the wok until it starts smoking. Pour in the cooking oil and wait for it to be fully heated. Add in the chopped garlic and quickly stir a few times, then follow by chicken strips, shrimp, julienned cabbages, and carrot strips. Stir and mix the ingredients well with the garlic until you smell the aroma from the ingredients. Add the vermicelli, soy sauce, oyster sauce, dark soy sauce, sugar, chopped scallions and stir fry vigorously over high heat. Just when the vermicelli starts to burn, add in a dash of white pepper powder and sesame oil, stir for 1 minute. Serve immediately.
Copyright © 2015 Rasa Malaysia. All rights reserved.