Otak-Otak Recipe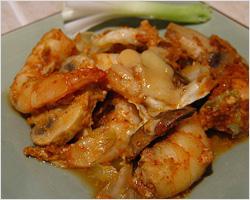 http://rasamalaysia.com/recipe-otak-otak-udang/
You can't keep a good recipe a secret, specially inSoutheast Asia; take fish fillet wrapped in banana leaves cooked with spices for example. Every SEA country has their own version: in Malaysia andIndonesia it's known as Otak-Otak, in Thailand they prepare a similar dish called Hor Mok that includes an assortment of seafood–fish fillet, shrimp, and squid, and in Cambodia their variation is called Amok.

When it comes to preparing good Malaysian Otak-Otak, be picky about the fish you choose. Red snapper fillet is highly desirable, but you can also use Spanish Mackerel–actually just select your favorite white fish fillet. Otak-Otak could be steamed or grilled. I personally like the grilled version because the burnt smell of banana leaves enhances the flavor…
So what if I totally ignored the previous paragraph when I made some Otak-Otak a couple of days ago.
I reinvented this traditional dish to fit what was available to me. I made Otak-Otak Udang (Shrimp) instead of fish. As it's almost impossible to get banana leaves from the market in Orange County, I improvised and used baking pan instead. I always like my food baked, and hence my Otak-Otak was baked in the oven instead of being steamed in the steamer or grilled over fire. About the spices, who has time to assemble, grind, and blend the rempah (spices)? So I cheated with a can of off-the-shelf red curry paste from Thailand. I was very happy with the end result.
This dish is very easy to make and you should try it too. You can use fish fillet, shrimp, seafood, or even add in some chicken. No matter what you choose, I assure you it will be great.
Click Images Below for Similar Recipes:
LOVE THE RECIPE & PHOTOS? PLEASE SHARE:
Sign Up for Email Updates
Enter your email for new updates: recipes, giveaways, and more!