Steamed Scallops with Soy Sauce and Garlic Oil Recipe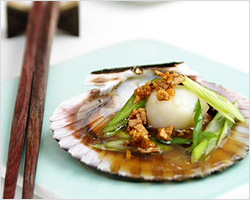 http://rasamalaysia.com/recipe-steamed-scallops-with-soy-sauce/
Steamed Scallops with Soy Sauce and Garlic Oil Recipe
(Chinese recipes, prepare authentic Chinese food now!)
Scallops on the half shell are hard to find, as far as I know. I have been searching high and low for them for quite some time now. I asked, I looked, I googled, but I hadn't found any stores that sell them in SoCal–until I found the seafood store that I mentioned in my crawfish post. (The seafood store sells live crawfish, scallops on the half shell, cockles, various fresh oysters, crab legs, etc.)
I love regular scallops (especially the untreated ones), but scallops on the half shells are–in my opinion–better, tastier, and prettier! Plus, I can take great pictures with the scallops strutting in their half-shells.
Anyway, to preserve the most original flavors of these scallops, I opted to steam them with the simplest of ingredients: soy sauce and garlic oil. Succulent, sweet, and delicious…
Now if only the scallops are bigger. Well, that's just me, I am just never satisfied. *wink*
Related Recipes:
Sign Up for Email Updates
Enter your email for new updates: recipes, giveaways, and more!