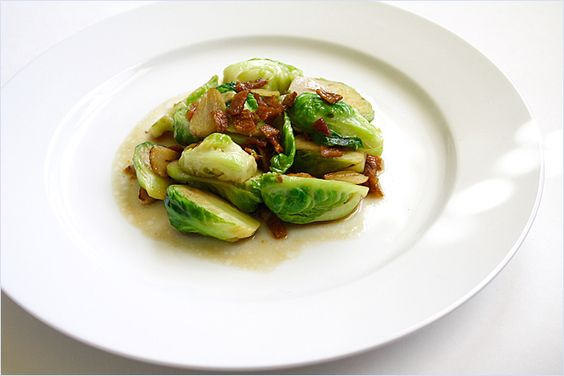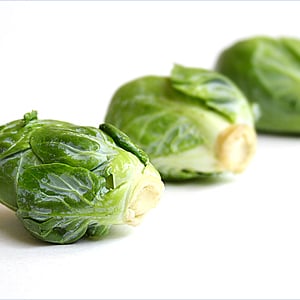 Stir-fried Brussels Sprout Recipe with Dried Sole
Stir-fried Brussels Sprout with Dried Sole recipe – The texture and taste of dried sole marry beautifully with crunchy vegetables such as Brussel sprouts.I can assure you that you won't be disappointed.
Ingredients:
10 Brussels sprouts (cut into halves)
2 pieces of dried sole fillet (cut into small pieces)
2 cloves garlic (thinly sliced)
1 tablespoon oyster sauce
1 tablespoon water
1 tablespoon cooking oil
3 drops of sesame oil
A dash of pepper
A pinch of sugar
Method:
1) Heat up a small pot of water and bring it to boil.
2) Add a few drops of cooking oil into the water (to preserve the color of the Brussels sprouts) and boil the Brussels sprouts for two minutes. Drain and set aside.
3) Heat up the wok and add the cooking oil.
4) Add the sliced garlic and do a quick stir.
5) Add in the dried sole fillet pieces and stir fry until they turn golden brown and crispy.
6) Add in the Brussels sprouts, oyster sauce, water and stir fry for 1 minute.
7) Add the sesame oil, a dash of white pepper powder and a pinch of sugar.
8) Dish up and serve hot.
As much as I feature fruits de mer on Rasa Malaysia, I do eat a balanced meal. I love vegetables–all kinds of vegetables–especially the mini ones such as Brussels sprout, baby bok choy, okra, and French endive…
It's probably just me, but the idea of featuring a stir-fried vegetable dish with plain garlic oil seems uninteresting and somewhat boring. Plus, with my old point-and-shoot camera, I could never capture the beauty and freshness of my vegetable dishes–they always looked utterly unappetizing and appeared like some green blah. So here is my clarification: I eat my greens and am not cholesterol-overload despite my seafood obsession.
Above is my stir-fried Brussels sprout with dried sole. Sole fillet is available fresh, frozen, and dried. Known as 扁鱼干 or Pee Hu in Hokkien dialect, dried sole is a great ingredient when it comes to vegetable stir-fry's. The texture and taste of dried sole marry beautifully with crunchy vegetables such as Brussel sprouts. If you are tired of the usual suspects of garlic oil or shrimp for your greens, try my recipe. I can assure you that you won't be disappointed…