Stir-fried Pork with Cincaluk Recipe (Heh Ya Kay Char Bak)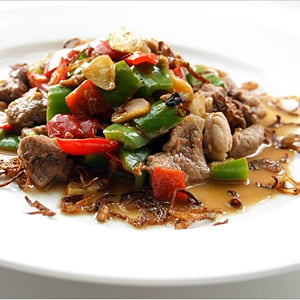 http://rasamalaysia.com/recipe-stir-fried-pork-with-cincaluk/
Stir-fried Pork with Cincaluk Recipe (Heh Ya Kay Char Bak)
A few months ago, I introduced cincaluk (preserved shrimp) to the world my readers with a special Nyonya dish "steamed eggs with cincaluk." Today, I am giving you the second installment of this unique ingredient with stir-fried pork with cincaluk. Known in Hokkien dialect as Heh Ya Kay Char Bak, this Nyonya creation graced my family's dining table very often when I was growing up…
While cincaluk is not everyone's cup of tea, for those who love it, it lends a very distinct and exotic flavor to the main ingredient, in this case, pork. The generous use of green bell peppers, red chiles, cincaluk, fried shallots and garlic add great colors and infuse the pork with droolsome aroma and pungent taste. This is what the Chinese call 色香味, meaning color, aroma, and taste…
Cincaluk is unique, versatile, and loaded with powerful (aka stinky) and complex flavors…are you up for it?
Related Recipe: Steamed Eggs with Cincaluk
You Might Also Like These Recipes Below:
LOVE THE RECIPE & PHOTOS? PLEASE SHARE:
Sign Up for Email Updates
Enter your email for new updates: recipes, giveaways, and more!