Rockin' Thinking Girl Blogger Award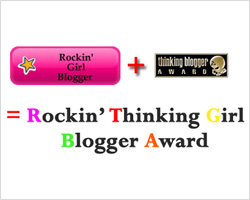 http://rasamalaysia.com/rockin-thinking-girl-award/
Rockin' Thinking Girl Blogger Award
Habeas Brulee and Ramblings from a Gypsy Soul, sorry for procrastinating for so long, I am just terrible at doing memes these days. I mean, look at me, I don't even reply to my comments timely now. What can I say? I am just tooooo lazy busy!
However, I feel obliged to spotlight the following bloggers–not only do they make me think, they also totally rock my culinary world with their handsome blogs. So, being the goofy me, I am doing something different, I am combining the "Thinking Blogger Award" and "Rockin' Girl Blogger" into a spanking new "Rockin' Thinking Girl Blogger Award…"
Anyway, without further ado, I present you the following award-winning blogs/bloggers:
That's all! Thanks for reading this.
You Might Also Like These Recipes Below:
LOVE THE RECIPE & PHOTOS? PLEASE SHARE:
Sign Up for Email Updates
Enter your email for new updates: recipes, giveaways, and more!