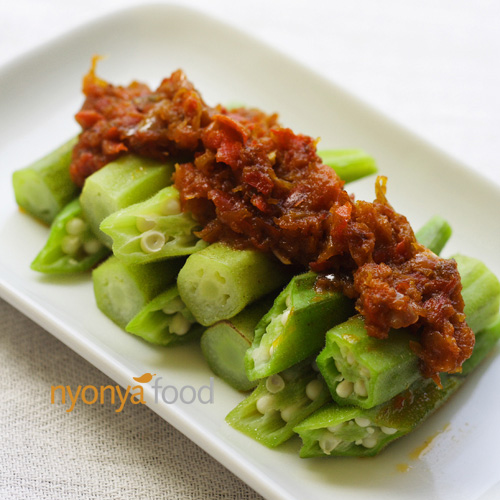 Sambal Lady Fingers
Here is a simple sambal okra recipe that I absolutely adore. The addition of dried shrimp adds depth to the taste structure of this simple but scrumptious dish. | rasamalaysia.com
Ingredients:
10 Lady's Fingers
Spice Paste
5 Dried Red Chili (soaked and remove seeds)
5 Fresh Red Chili (remove seeds)
2 cloves Garlic
10 Shallots
1 tsp Belacan/Shrimp Paste  (toasted)
1 tbsp Sugar
20g Dried Prawn (soaked and pounded)
Method:
Bring water to boil, add in the whole lady's fingers and simmer until cooked.  Remove from the wok, chop away ends and cut into strips, set aside.
Heat up your wok, pour in 5 tablespoons oil, sauté the spice paste until aromatic with lower heat .
Add in dried shrimp, stir-fry until fragrant. Dish onto the cut okras/lady's fingers, or return okras/lady's fingers to the wok and toss together. Serve hot.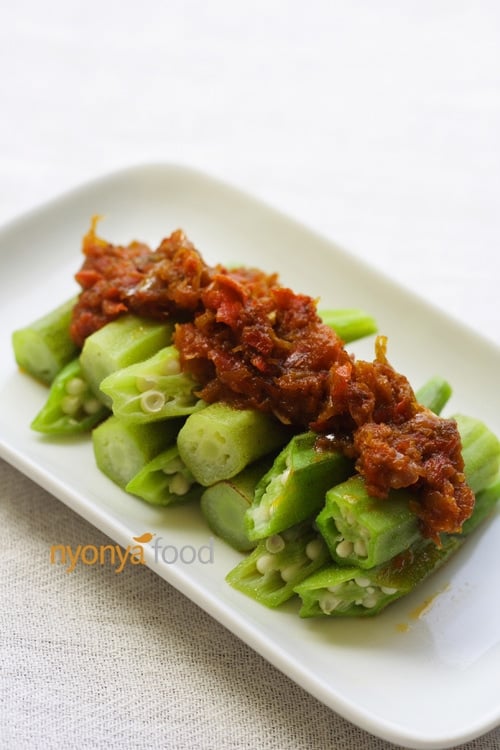 Before I came to the United States, I'd known okra as lady's fingers.
I was in primary school in Malaysia when my English teacher first taught us the name of the different vegetables. The strange and awkward name of lady's fingers deeply imprinted in my mind even though I didn't like them back then.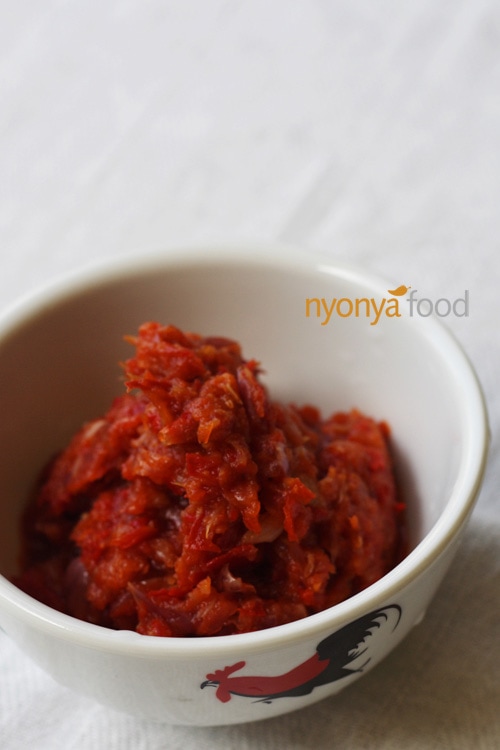 In high school, I slowly learned to appreciate okra or lady's fingers, especially when my mother made sambal okra. I started to love the slimy and sticky texture and its beautiful shape when sliced in pieces. Most of all, I loved the delicious good taste.  I eventually fell in love with okra…(get sambal okra recipe after the jump)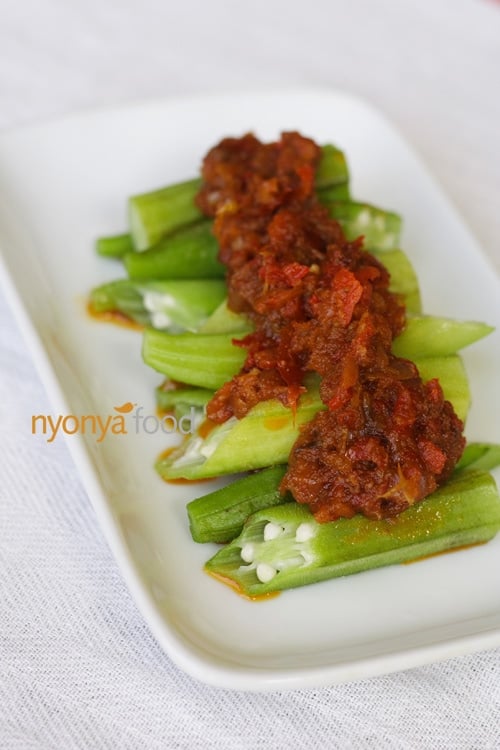 Here is a simple sambal okra recipe that I absolutely adore. The addition of dried shrimp adds depth to the taste structure of this simple but scrumptious dish.