So, I'm sorry, baby. You're never going back to those deep-fried-meat-on-a-stick no more.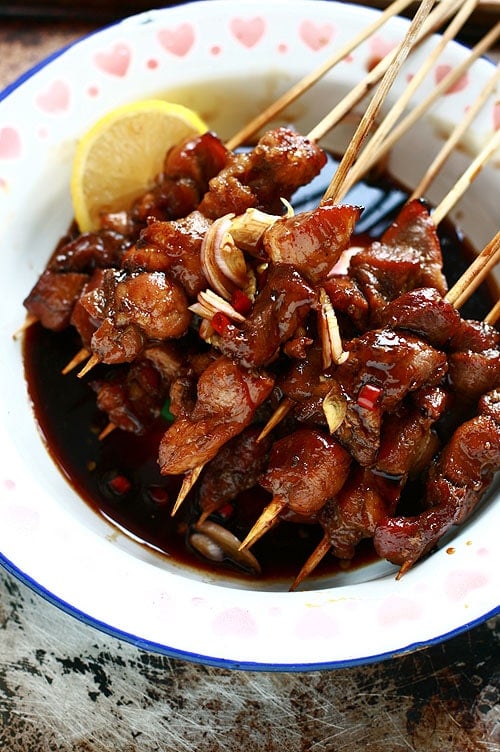 Indonesian Sate Recipe
The sticks:
(check out the step-by-step pictures in the photo gallery)
Remember to soak those bamboo skewers in water for at least 1 hour to prevent them from burning later. I soaked mine for a good few hours; they kinda look good in the vase, eh? I should use them to decorate my flat.
The marinate:
I made two versions of sate, pork and chicken. It is best to get meat with a good amount of fat in it; the fatty bits will make the sate tender and juicy. However, if you're on a low fat diet (hold your tears), no worries. I made a few sticks of lean and mean sate made of skinless, boneless chicken breasts for sous chef, who's on a low fat diet, and my other friends ended up eating them too. They were that good.
Ingredients:
Cut your meat into bite sized cubes first, then marinate with:
–    a good sprinkle of garlic salt
–    a couple dashes of ground paprika
–    a dash of white pepper
–    2 tsp ground coriander seeds
–    2 tsp ground nutmeg
–    1 tsp cumin
–    1 tsp olive oil
–    2 cloves of shallot, thinly sliced
–    A dash of soy sauce
–    Lots of kecap manis (Indonesian sweet soy sauce). You want them to be almost drowned in this.
Marinate for a few hours, or for best result, let it marinate overnight in the fridge.
The skewering:
The next day, stick the meat cubes with the bamboo skewers. I stick 4-5 pieces of meat cubes per sate. If you're using meat with fatty bits, mix fatty and lean meat cubes in each skewer.
The grilling and basting:
I made the sate for a BBQ party, so I could grill them on a charcoal grill, which is the best scenario. However, if you don't have one, it's not the end of the world; you could make a pretty decent sate with an oven. Simply preheat oven to 200C, place the sate sticks on a baking sheet and grill them until you see some burnt bits. Please do not deep fry some sticks of meat and call them sate, pretty please?
Before grilling, squeeze a bit of lime juice over the sate.
Ingredients:
While grilling, baste the sate with a mix of:
–    kecap manis (sweet soy sauce), this should be the dominant flavor
–    a dash of fish sauce
–    a clove of thinly sliced shallot
–    juice of half lime
The sates are done when the meat feels a bit firm (not rock hard), shrunk a bit, and beautifully caramelized.
The sauce:
Ingredients:
I made two different sauces. One is kecap manis sauce, which is the same as the baste and peanut sauce.
–    1 cup of roasted peanuts (or use crunchy peanut butter)
–    1 clove of garlic
–    2 cloves shallot
–    1 tsp ground cumin
–    2 tsp ground coriander seeds
–    1 small block of palm sugar (or replace with brown sugar)
–    Salt, white pepper, a bit of olive oil
Process everything in a food processor until well mixed.
To serve, place the peanut sauce on a plate, add a dash of fish sauce, drizzle generously with kecap manis, and squeeze juice of a lime. I omitted chili from the sauces as some of my friends don't eat hot food. Feel free to add one of two freshly chopped chilies in the sauce.
Bathe your freshly grilled sate in one of the sauces and serve (optional = serve with steamed rice or lontong/rice cakes).