Seeking Thai Po Tak Recipe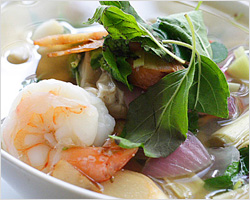 http://rasamalaysia.com/seeking-thai-recipe-po-tak/
Seeking Thai Po Tak Recipe
I am looking for the recipe of Po Tak, a sour and spicy Thai seafood soup.
I had this slurpylicious Po Tak at "Spice I Am" at Surry Hills, a very popular Thai restaurant in Sydney. (I highly recommend this restaurant for authentic Thai food.) Po Tak tastes different compared to Tom Yum Goong; it comes in a clear soup and loaded with seafood and lemongrass. It reminds me of a Nyonya soup dish that my mother used to make–"khong assam," a tamarind-infused soup with fish…
Anyway, I am craving for sour and spicy food lately due to my bland palate; if you have a great Po Tak recipe and know how to make Po Tak from scratch, please let me know.
Thanks in advance!
Spice I am
90 Wentworth Ave
Surry Hills, Sydney 2010
Tel: +61 2 928 00 928
You Might Also Like These Recipes Below:
LOVE THE RECIPE & PHOTOS? PLEASE SHARE:
Sign Up for Email Updates
Enter your email for new updates: recipes, giveaways, and more!