Shopping Alert: Canon Digital Rebel XT Camera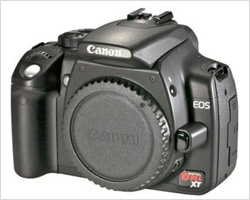 http://rasamalaysia.com/shopping-alert-canon-digital-rebel-xt/
Shopping Alert: Canon Digital Rebel XT Camera
I don't usually do this, but there are a couple of good deals at Amazon I wanted you guys to know.
Canon Digital Rebel XT (body only) is now on sale at Amazon for only $399.99. That's a steal considering the quality of shots produced by this camera. I shoot all my pictures–food, travel, and people photography–with this camera and I take it with me whenever I travel. I just love it.
What about the lens, you ask? I use Canon EF 50mm f/1.8 II Camera Lens, which is priced at $86.48 at the moment.
If you want, you can also buy this camera with its kit lens (EF-S 18-55mm f3.5-5.6) for $469.99. That's even cheaper than the body and the 50mm macro lens combined, and you will have exactly what I originally bought. However, the kit lens is just OK for food photograhy so I hardly use it.
If you have been waiting to invest in an entry-level DSLR camera, now it's the time. Shipping is FREE at Amazon, so head over there and buy now!
To see samples of my photography, check out the following (all pictures were shot with Canon EF 50mm f/1.8 II Camera Lens)…
You Might Also Like These Recipes Below:
LOVE THE RECIPE & PHOTOS? PLEASE SHARE:
Sign Up for Email Updates
Enter your email for new updates: recipes, giveaways, and more!