Show Your Support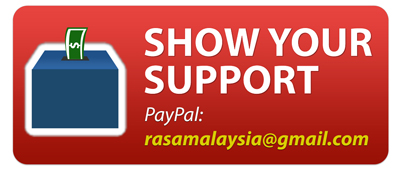 Dear readers,
Rasa Malaysia has been around for over 7 years. What started off as a hobby eventually blossomed into the largest Asian cooking blog in the world. I can't stress enough my heartfelt appreciation for your continuous support. Without you, Rasa Malaysia would have never grown to what it is today.
Every day as I develop new recipes for you, I do it with great passion, knowing that my readers will be able to taste the food I cook, and share the great dishes with your friends and family. More importantly, I know that you and your family will be eating better, healthier, and cheaper, cooking from my recipes.
That being said, running a food blog the size of Rasa Malaysia needs a lot of financial investments (hence the ads on my site to support my expenses). There are the ingredients, cooking utensils, hosting services, bandwidth, email delivery services, etc. Unfortunately, advertising income has gone downhill in the past two years. If you love Rasa Malaysia and my recipes, or simply appreciate my hard work, food photography, or my random story telling in each post, I would be thankful if you can show your support by contributing to the growth of Rasa Malaysia.
All you have to do is contribute to my Paypal account at rasamalaysia@gmail.com.
I appreciate your kind gesture and generosity, and I promise to churn out more delicious recipes for you.
Thanks a bunch!
Sincerely yours,
Bee