Hawaiian Shrimp Scampi (Garlic Butter Shrimp)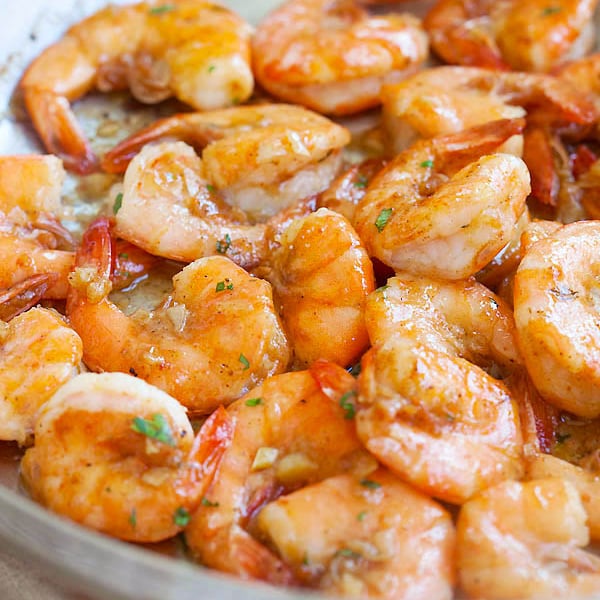 http://rasamalaysia.com/shrimp-scampi-recipe/
Hawaiian Shrimp Scampi (Garlic Butter Shrimp)
Recently on social media, Hawaiian-style shrimp scampi or garlic butter shrimp photos keep popping up on my feeds. Some photos are my friend's vacation photos as they chowed down on the world's famous Giovanni's shrimp scampi, while others are recipes and videos of copycat recipes of this delicacy.
The more I look at the photos and recipes, the more I am craving for the luscious, buttery, and lip-smacking Giovanni's shrimp scampi that I had 4 years ago while we vacationed in Oahu. I had to fix it. As I couldn't just pack up my luggage and hop on the plane to paradise island, I had to do something about my hunger and intense craving. So, I gathered all the ingredients—a short list of essentials that most people have at home—and cooked up a storm yesterday. The end result: one pound of buttery, garlicky, yummy shrimp goodness laid out on a piece of parchment paper on my patio table. I was enjoying the gorgeous day, soaking in the warmth of sunshine, and downing the shrimp with a bottle of cold beer. Ahhhh, it was as if I was transported to Kahuku, the north shore of Oahu island, where the legendary shrimp truck is.
For my Hawaiian shrimp scampi recipe, I referred to the menu of Giovanni's above, which stated the key ingredients of olive oil, garlic, lemon/butter. I also checked out this recipe and then created my own recipe, based on this photo that I captured during the trip.
Anyway, here is the side-by-side comparison. The left photo is the original. Even though my version is not 100% identical, I got my shrimp scampi to taste as close as Giovanni's. I was very happy with my Hawaiian shrimp scampi recipe. If you have tried the original, I strongly urge you to try my interpretation. If you haven't been, you should totally try it, too, as this is a perfect summer dish to share and enjoy with your friends and family. You should also check out this summertime peel and eat shrimp. Happy eating!
Click Images Below for Similar Recipes:
LOVE THE RECIPE & PHOTOS? PLEASE SHARE:
Sign Up for Email Updates
Enter your email for new updates: recipes, giveaways, and more!