Shrimp With Lobster Sauce Recipe
Shrimp with lobster sauce is a popular Chinese recipe. Learn how to make this easy and delicious shrimp dish in a savory egg sauce.
Prep Time: |
Cook Time: |
Total Time:
Ingredients:
12 ounces raw large shrimp, shelled and deveined
Salt and sugar to taste
2 tablespoons vegetable oil
1-inch piece ginger, peeled and thinly sliced
2 cloves garlic, thinly sliced
1 cup chicken broth
1/2 tablespoon Chinese cooking wine (Shaoxing wine)
3/4 cup store-bought frozen vegetables (peas and carrots)
3 dashes of white pepper
1/2 tablespoon light soy sauce
1 tablespoon cornstarch
2 tablespoons water
1 egg white, lightly beaten
Method:
Lightly season the shrimp with salt and sugar to taste.
In a wok, heat up the oil on medium heat. When the oil is hot, add in the ginger and garlic. Stir-fry until aromatic, about 2 minutes.
Transfer the shrimp into the wok and stir-fry until half-cooked or surface turns opaque. Pour in the chicken broth and Chinese cooking wine. Let it boil.
Add the frozen vegetables and stir to combine. Add the white pepper, soy sauce, salt and sugar to taste.
Prepare the cornstarch mixture by adding the cornstarch and water, mix well. When the chicken broth is boiling, gently pour in the cornstarch mixture while stirring.
Bring it back to a boil, swirl the beaten egg and immediately stir 3 times with a pair of chopsticks. When the egg white begins to form into silken threads, quickly turn off the heat.
Dish out to serving plate. Best serve with warm rice.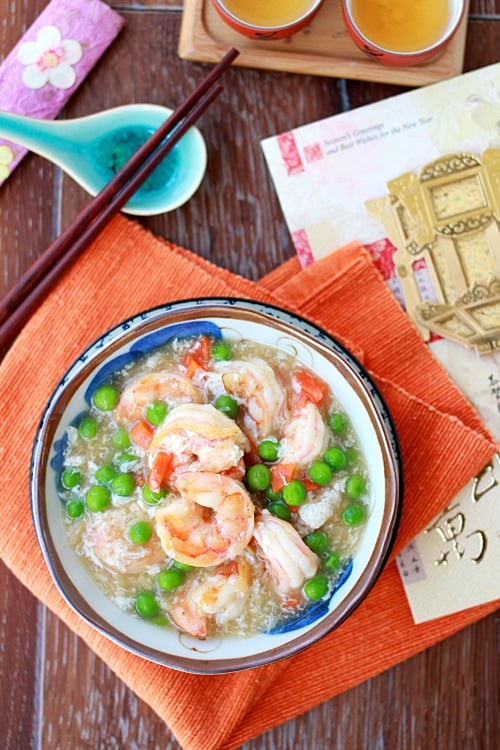 (All Chinese New Year recipes can be found here.)
Lunar New Year is a few days away and falls on Sunday, February 10 this year. This is the year of Snake and the Chinese, Koreans, and Vietnamese will be celebrating the new year. As a Chinese, there are many taboos that we follow to rid of bad luck, for example: not sweeping the floor on the first day of Chinese New Year because you will be sweeping away all the good luck/fortune in the new year. I remember growing up, I was wondering why our house was so dirty during Chinese New Year, as there were litters and debris from the prayers and firecrackers in our front yard, but my mother and aunt would always say "DO NOT SWEEP THE FLOOR."  Such was fond memories of celebrating Chinese New Year in Penang, Malaysia.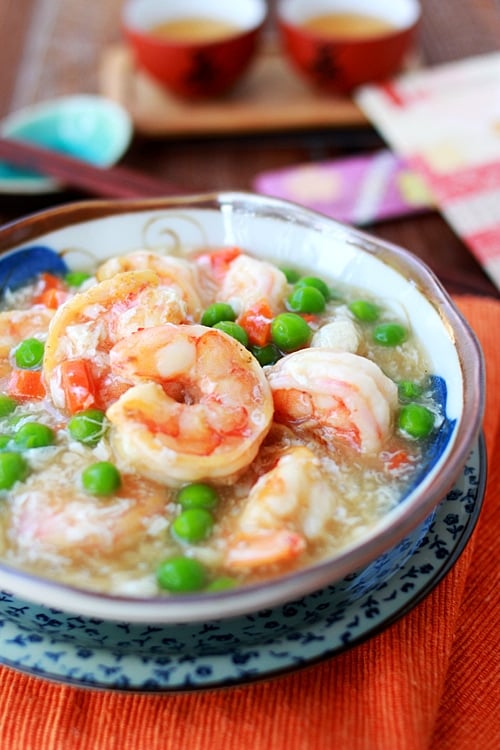 Now, let's talk about food. Chinese New Year is all about feasting, eating lots of good food that signifies great fortune, happiness, and prosperity. Shrimp is always a great dish to serve as the Cantonese pronunciation of 虾 sounds like 哈, which means laughter or happiness.
Coincidentally, I received a few requests from my readers how to prepare Shrimp with Lobster Sauce, a very popular Americanized Chinese dish. So, here I share with you my Shrimp with Lobster Sauce recipe, which you can prepare to celebrate Chinese New Year. One thing that I need to clarify is that no lobster is used in this dish. This is pretty much a shrimp dish with a Cantonese-style egg sauce. As to why it's called a lobster sauce, I have no idea. But being a Chinese, I think whoever invented the dish is a smart marketing whiz as it sounds so much more delicious with the word lobster in its name.
I have MANY Chinese/Lunar New Year recipes here on Rasa Malaysia. Please click here to check them out. If you are cooking abalone for your family, you have to start cooking NOW as it takes days. My recipe of braised abalone and sea cucumber is here.
Have a healthy and prosperous Snake Year. Gong Xi Fa Cai!
Rate This
Recipe Name
Shrimp with Lobster Sauce
Preparation Time
Cook Time
Total Time
Average Rating

Based on 1 Review(s)