Slowstar Vertical Slow Juicer and Mincer Giveaway (CLOSED)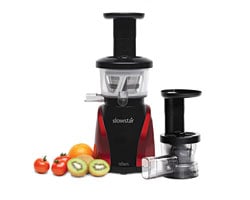 http://rasamalaysia.com/slowstar-vertical-slow-juicer-and-mincer-giveaway/
Slowstar Vertical Slow Juicer and Mincer Giveaway (CLOSED)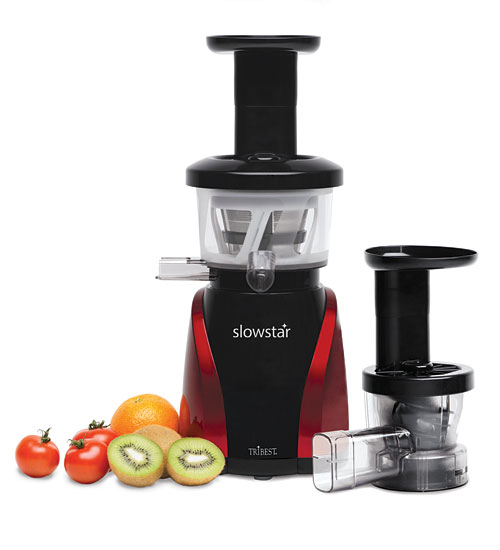 Update: The winners are Mary W and Sarah B.
To celebrate the upcoming holiday season, I am partnering with my friends at Tribest Life to give away a Slowstar Vertical Slow Juicer & Mincer. There will be two (2) winner whom will receive one (1) unit of Slowstar Vertical Slow Juicer & Mincer each. The suggested retail price of the Slowstar Vertical Slow Juicer & Mincer is US$449.
Constantly seeking ways to help its customers get the highest nutritional value from whole foods in the most efficient way possible, Tribest® is launching a new 2-in-1 vertical slow juicer and mincer with Duoblade® technology. When a juicer uses too much speed, it creates air bubbles that degrade (oxidize) the nutritional value of the juice. The new single auger Slowstar® juicer works at a slower RPM than other vertical juicers on the market to effectively protect even the most delicate nutrients and features more torque power to make that possible. Easily juicing your favorite fruits and vegetables from apples and oranges to carrots and leafy greens, the Slowstar proves that – even when it comes to juicing – slow and steady wins the race.
Unlike other vertical single auger juicers on the market, the Slowstar has a double-edged Duoblade auger that creates a double-cut for less jamming and less pulp in your juice. It easily breaks down stringy fibrous produce and leafy greens such as kale, celery and wheatgrass. Having two edges allows the Duoblade auger to do twice as much work as a traditional auger, which means it only has to spin at 47 RPM to juice the same amount of produce per minute compared to the traditional 80RPM for other slow juicers. This lower speed preserves the nutritional value of the juice by preventing friction and heat during the process and it produces greater juice yield with less foam.
The Slowstar can do more than juice produce. Simply replace the top of the machine with the mincing attachment to turn the Slowstar into a multi-purpose tool that allows you to create your favorite recipes like sorbets, nut butters, pates and sauces and get the most out of your produce.
The Slowstar also features an advanced three stage reduction gear technology that creates more than twice the torque force compared to all other slow juicers. It touts a 200 watt motor with as much torque as a 9HP motor. This power makes crushing, mincing, and homogenizing jobs smooth and effortless even at the Slowstar's slow speed. Other slow juicers on the market run with a 150 watt motor, equivalent to a 4HP motor.
Eligibility: United States only. No purchase necessary and subject to this official giveaway rules. Closing Date: March 30, 2014, 11:59 pm PST. Winner will be randomly selected and contacted via email on April 1, 2014. The prize is proudly sponsored by Tribest Life.
Sign Up for Email Updates
Enter your email for new updates: recipes, giveaways, and more!