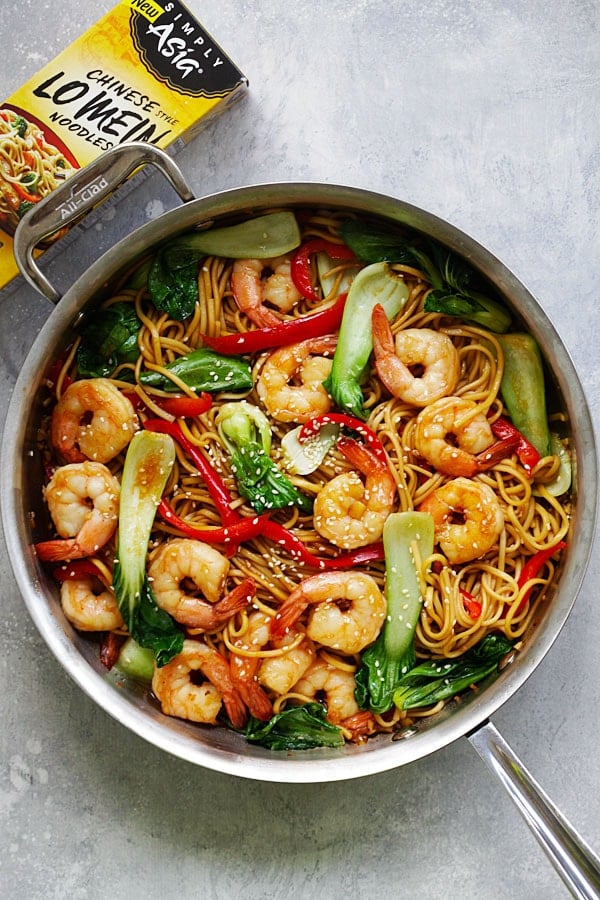 Shrimp Lo Mein
Shrimp Lo Mein – the best and most delicious Shrimp Lo Mein recipe ever! Made with Simply Asia Chinese Style Lo Mein Noodles, it's better than Chinese restaurants.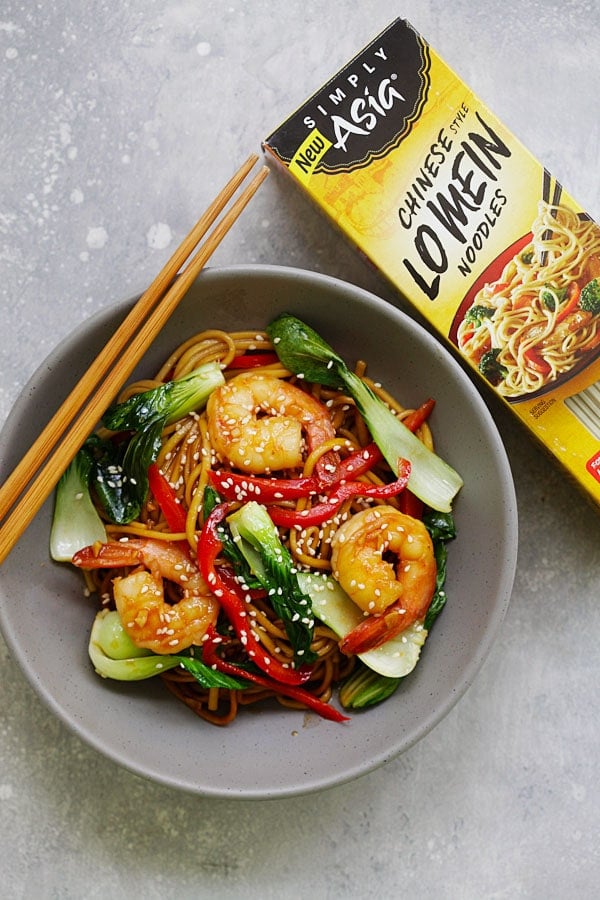 As you all know, I specialize in Asian cooking, especially Chinese cooking. I love making all sorts of Chinese food, so much as that I wrote a best-selling Chinese cookbook! I love sharing easy and delicious Chinese recipes with my readers, so they can make their favorite Chinese dishes at home.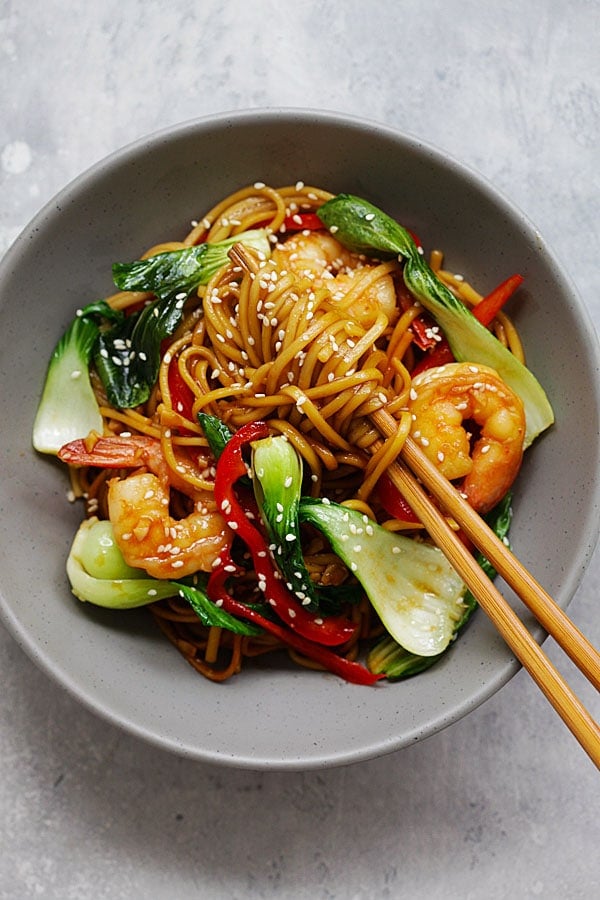 One of the most common questions I get from my readers are the accessibility of the basic ingredients, for example: noodles. I am lucky that I live in California and there are many Chinese/Asian grocery stores where I can pick up just about anything, including freshly made noodles. However, most of my readers have limited access to a good Asian store so I am constantly researching and recommending a good brand of packaged noodles for them. Search no more as I have found McCormick Simply Asia Chinese Style Lo Mein Noodles that you can purchase from regular grocery stores!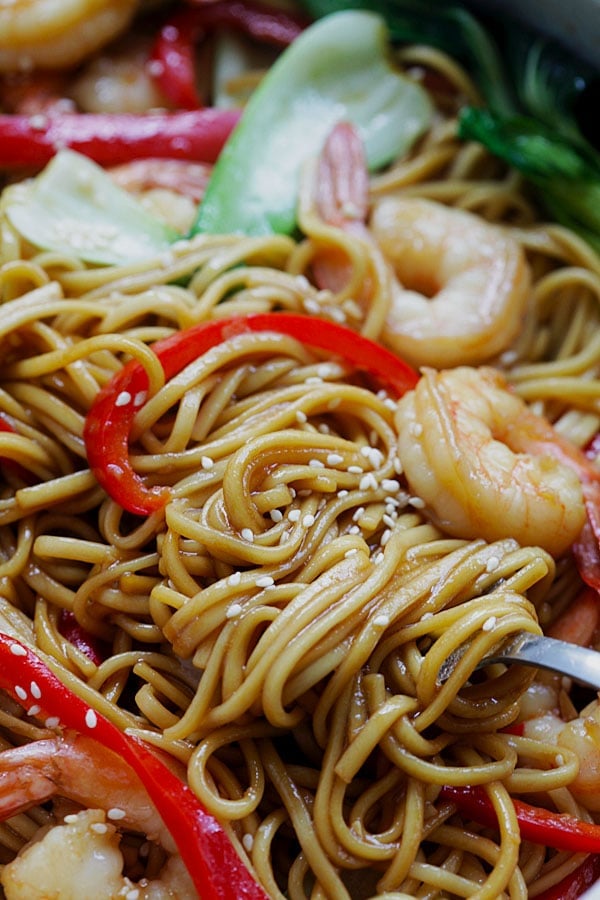 Did you know October 6th is National Noodle Day? With new Simply Asia noodles, from soba to ramen, as well as flavorful ready-to-serve broths, it'll take mere minutes to whip up crave worthy favorites that taste. And to celebrate the special day, I am sharing this mouthwatering Shrimp Lo Mein recipe with you. Lo Mein is a traditional Cantonese dish, originated from Hong Kong. The words "Lo Mein" basically means mixed noodles; the noodles are boiled, drained and then stirred in with savory broth/sauce. When you make Lo Mein, you don't stir fry the noodles, you stir the noodles with the sauce so every strand of them are steeped in flavors, and every mouthful of the noodles is velvety, silky and smooth.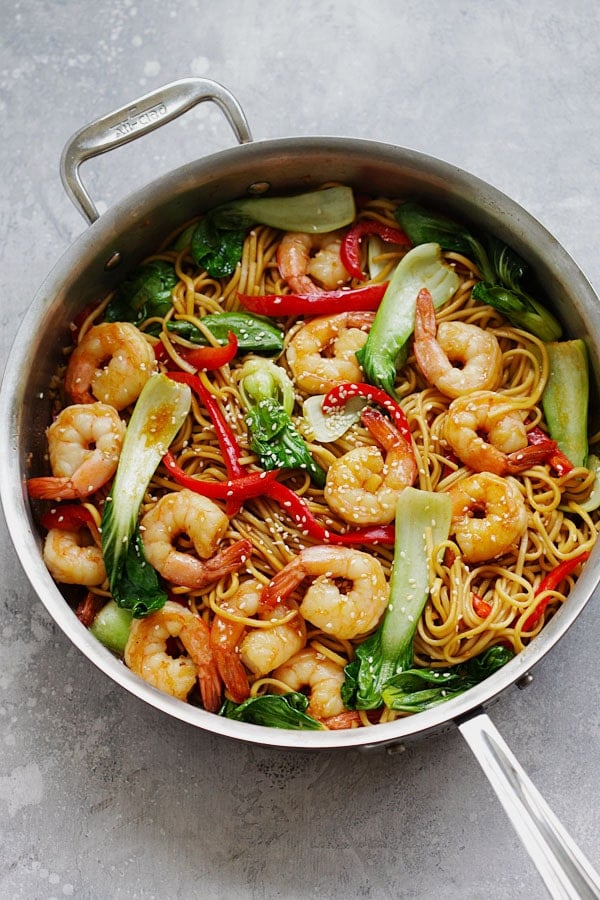 Here is my Shrimp Lo Mein recipe, loaded with succulent shrimp, with lots of fresh baby bok choy and red bell peppers. I love the perfect texture of McCormick Simply Asia Chinese Style Lo Mein Noodles. What's more, they are ready in 6 minutes. Other than Shrimp Lo Mein, there are so many recipes that you can use the noodles for. For more Asian noodle ideas, please make sure you check out all my recipes here. Enjoy!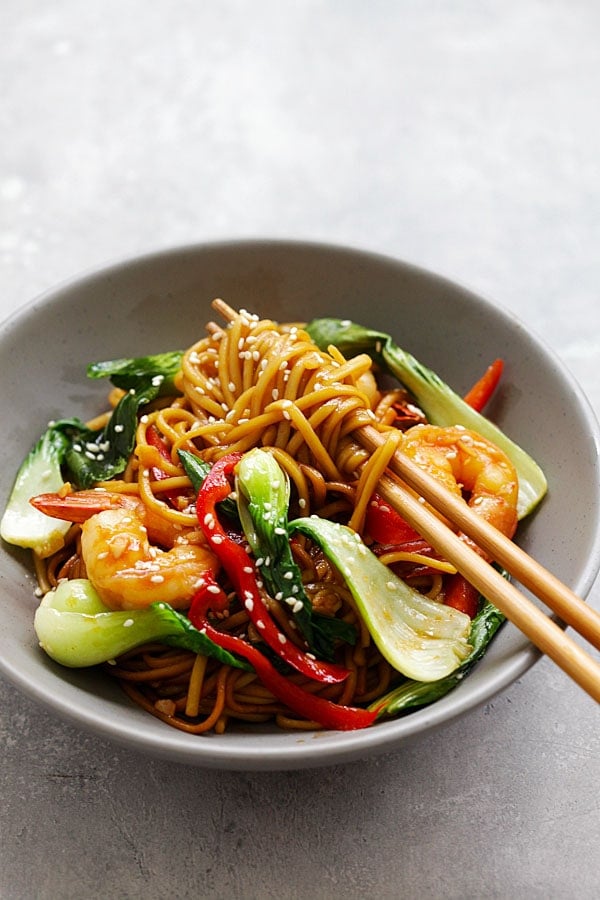 Disclaimer: This post is sponsored by McCormick. All text and opinions are mine.
Shrimp Lo Mein Recipe
Serves 2 | Prep Time: 15 Minutes | Cook Time: 5 Minutes
Ingredients:
1/2 pack (7 oz) McCormick Simply Asia Chinese Style Lo Mein Noodles
2 tablespoons cooking oil
3 cloves garlic
8 oz shrimp
6 oz bok choy, sliced
8 oz red bell pepper, sliced
White sesame seeds
Sauce:
1 1/2 tablepoons oyster sauce
2 tablespoons soy sauce
1 teaspoon dark soy sauce
1/2 cup chicken broth
1 teaspoon sesame oil
Method:
Cook the McCormick Simply Asia Chinese Style Lo Mein Noodles according to package instructions. Rinse with cold water after cooking, drain and set aside.
Prepare the Sauce in a small bowl. Stir to mix well. Set aside.
Heat up a skillet on high heat. Add the cooking oil. Saute the garlic, then add the shrimp and stir-fry until the surface turns white. Add the bok choy and red bell pepper, stir to combine well.
Add the Sauce into the skillet, stir to mix with the ingredients. Transfer the Lo Mein into the skillet, stir to coat well with the sauce and combine well with the ingredients. Top the lo mein with the white sesame, serve hot.