Steamed Shrimp with Garlic Oil Recipe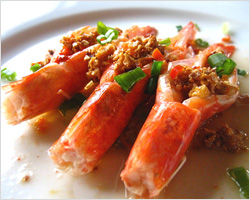 http://rasamalaysia.com/steamed-shrimp-with-garlic-oil/
Steamed Shrimp with Garlic Oil Recipe
If you have been following this blog for a while, you should know by now that I am addicted to shrimp. The hard evidence can be found on Rasa Malaysia recipes index–you can practically spot shrimp, more shrimp, and even more shrimp dishes on the page…
Here is my simple and healthy (since it's loaded with garlic!) shrimp dish that is extremely simple to make. Just chop off the eyes part of the shrimp head, make a slit down the back, remove the vein, steam and then top them off with heaps of garlic oil.
Ooh La La.
With such versatility and wide range of flavors, now how can I not love shrimp?!
Sign Up for Email Updates
Enter your email for new updates: recipes, giveaways, and more!