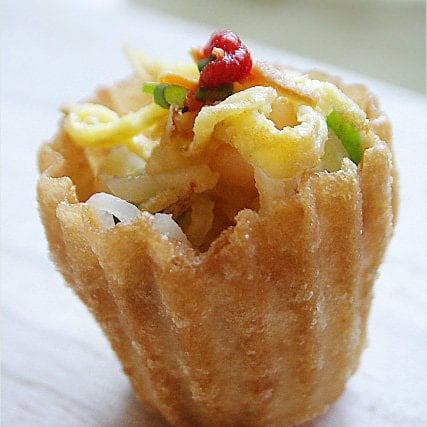 Recipe: Nyonya Kuih Pie Tee
(Make 70-80 cases)

Ingredients:
Batter for the cases/shells:
1 cup all purpose flour
1/4 cup rice flour
1 egg (beaten)
1 1/4 water
Oil for deep-frying
Fillings & Toppings:
2 tablespoons oil
2 lbs. jicama/yam bean (shredded)
1 carrot (shredded)
10 French beans (chopped)
4 oz. shrimp (shelled, deveined, and cut into smaller pieces)
4 garlic (finely chopped)
1/2 teaspoon salt
1/2 teaspoon sugar
1/2 teaspoon chicken bouillon powder
2/3 cup water
Toppings:
1 plain omelet (shredded)
Fried shallot crisps
Scallions (chopped)
2 red chilies (chopped)
Garlic chili sauce or Sri Racha (optional)
Method:
Combine the all purpose flour, rice flour, beaten egg, salt, and water in a mixing bowl and mix well. Strain the batter, transfer it into a big bowl and set aside.
Fill a sauce pan that is deep enough for the mold with oil enough to cover the mold.
Heat up the oil until hot. Then dip the mold into the heated oil until it's just hot (but not too hot).
Take out the mold and then dip it into the batter. Coat the mold until it's up to the 90-95% level and make sure it's well coated on the side and the bottom (the mold shouldn't be too hot and it shouldn't sizzle when it's dipped in the batter). Let excess batter drip off, then plunge the mold into the hot oil.
To separate the batter from the mold, jiggle the mold up and down to loosen it. The case should off with slight shaking up and down. Once it's off, deep fry in the oil until it turns light to golden brown. Transfer it out onto a plate with paper towels (to soak up the excess oil) and store in an airtight container. (I use medium heat while making my cases.)
For the filling, stir fry the minced garlic and prawns until fragrant. Add jicama, carrot and french beans, and do a quick stir.
Add the seasonings and water. Cook until the vegetables are soft, about 5 minutes using medium heat. Dish out and set aside.
To serve, use chopsticks to fill the case with the filling, and then top with shredded omelet, chopped scallions, red chilies, shallots crisps, and garlic chili sauce.
Cook's Notes:
If you are a first-timer, I suggest you cut down the ingredients in half and test it out first. Once you have a hang of it, you can throw a Pie Tee party.
There will be some wastage of the batter, especially when it gets too hard to dip the mold up to the 90% mark with the remaining batter.
Most-Pinned Recipes
Ginger Garlic Baked Chicken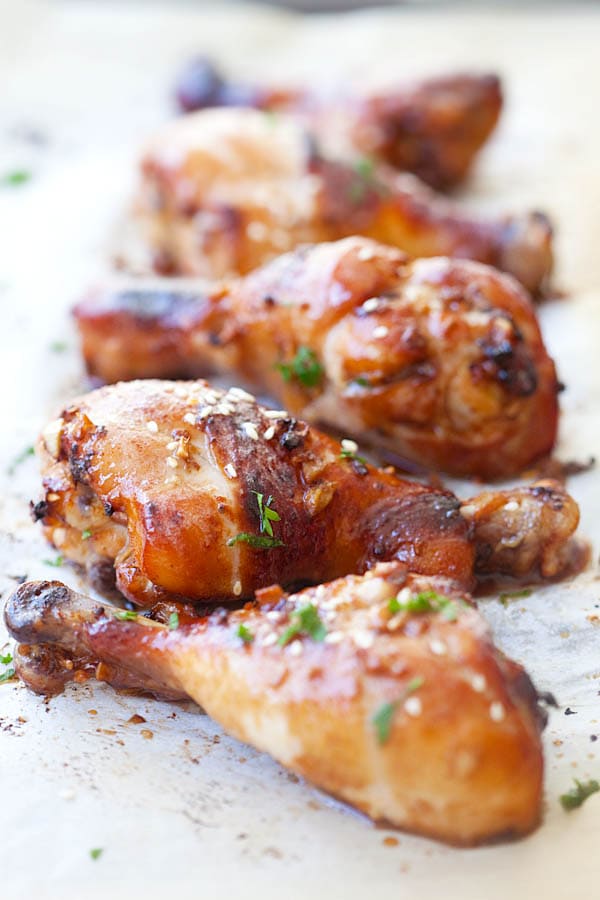 Crab Rangoon (Cream Cheese Wontons)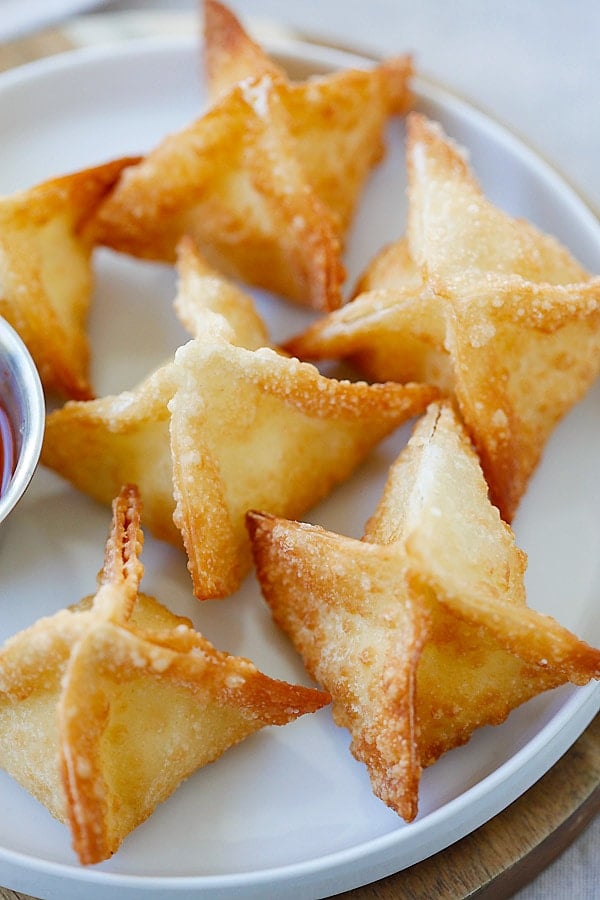 Chicken Wontons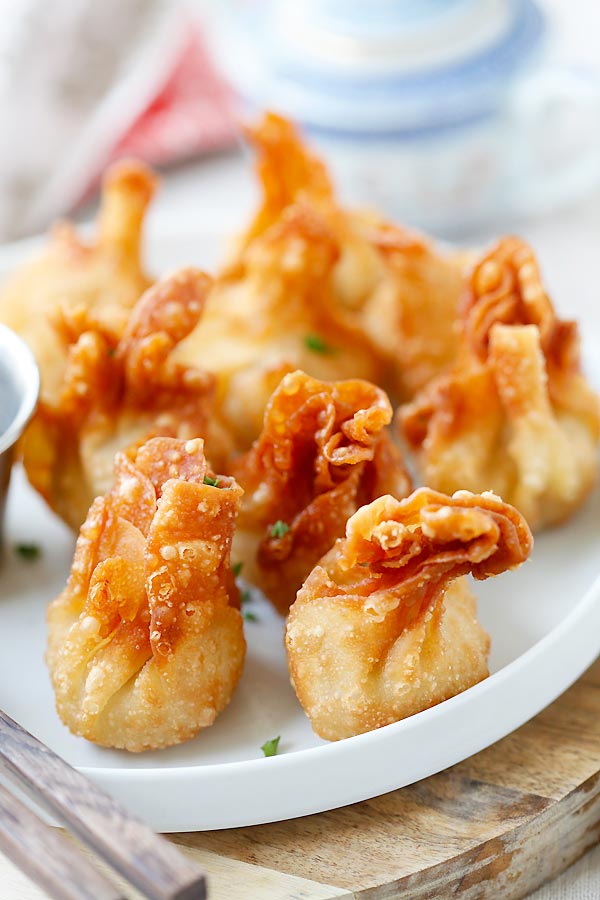 Onion Scallion Beef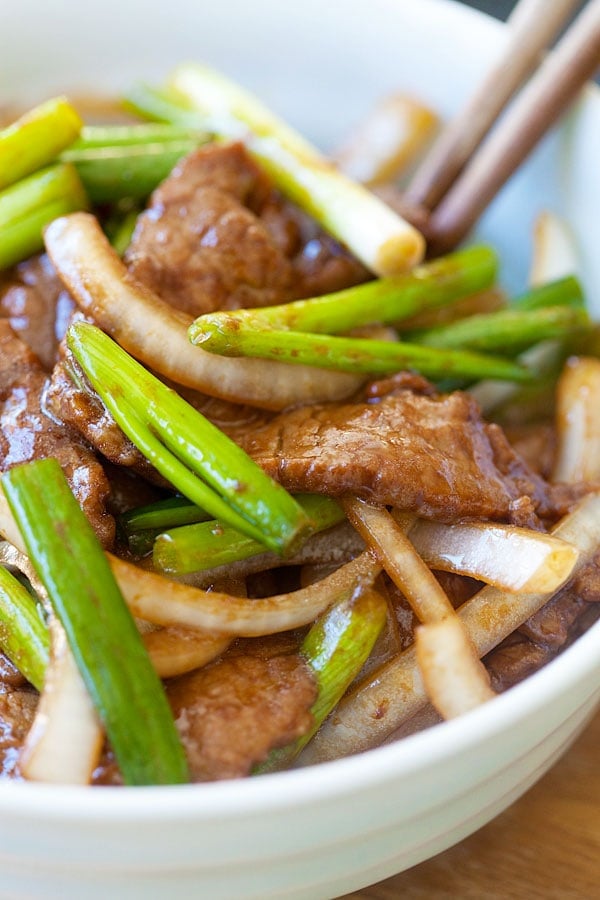 Thai Chicken Sate with Peanut Sauce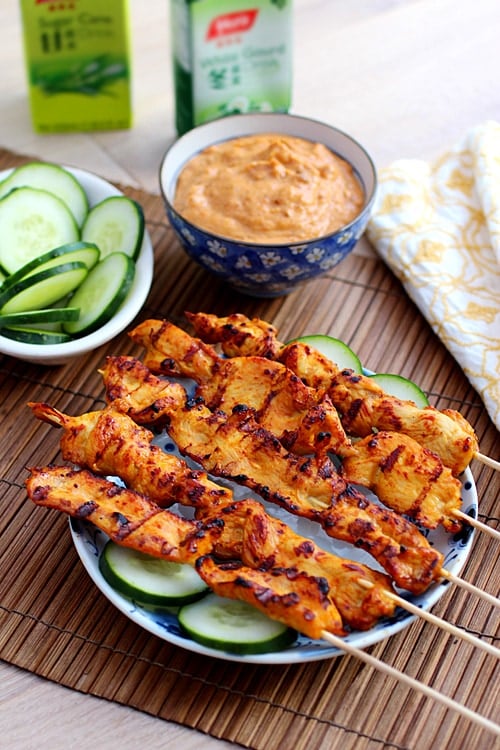 Thai Peanut Sauce