Nyonya Kuih Pie Tee Recipe and Step-by-Step Guide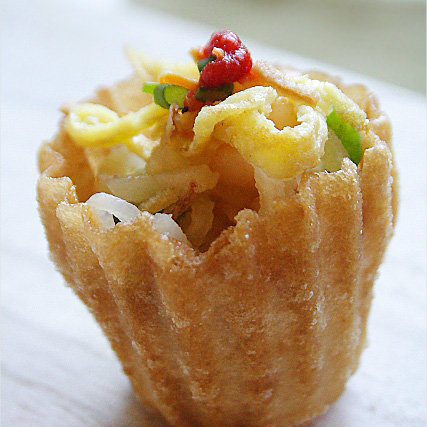 http://rasamalaysia.com/step-by-step-guide-to-making-nyonya/
Nyonya Kuih Pie Tee Recipe and Step-by-Step Guide
1) the making of the cases/shells, and 2) the preparation of the filling and toppings…
Now, please click on my step-by-step picture guide to making Nyonya Kuih Pie Tee below.
Dipping the hot Pie Tee mold into the batter, up to 90 - 95% of the mold. You can coat 1 time, or 2, 3 times if you want thicker cases. Make sure you check the bottom so it's well coated. As your batter recedes, transfer it to a smaller bowl to get up to that 90-95% level...
I wanted to warn you that the cooking process is long (read: it will take up to 3 hours to make them); it also takes lots of patience, especially if you are a first-timer. But, when you pop one of these "top hats" or Nyonya kuih pie tee in your mouth, all your efforts will be wholly justified, I assure you.
LOVE THE RECIPE & PHOTOS? PLEASE SHARE:
Sign Up for Email Updates
Enter your email for new updates: recipes, giveaways, and more!