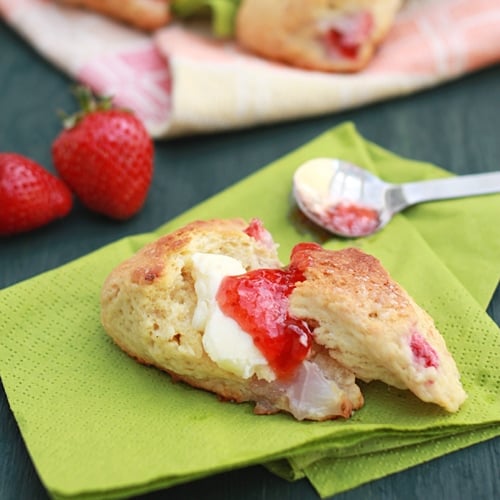 Strawberry Scones
Strawberry scones and strawberry scones recipe. This scone is crumbly, sweet, and tasty with fresh strawberries. Eat alone or with strawberry jam.
Prep time:
Cook time:
Total Time:
Ingredients:
2 cups all purpose flour
3 tablespoons granulated sugar
1 tablespoon baking powder
1/2 teaspoon salt
2/3 stick butter, cubed and chilled
2 eggs, lightly beaten
1/3 cup heavy whipping cream
1/3 cup fresh strawberries, chopped
Glaze:
2 tablespoons heavy whipping cream
2 tablespoons granulated sugar
Optional:
Butter and strawberry jam, for serving
Method:
Preheat the oven to 400°F. Line a baking sheet with parchment paper.
Combine the flour, 3 tablespoons sugar, baking powder and salt into a bowl. Add the cold butter and use your fingertips to pinch and rub until the butter is well incorporated. The mixture will resemble a coarse meal.
Use a wooden spatula to combine the beaten egg and heavy cream into the dry ingredients until it forms a soft dough. Then stir in the strawberries.
Lightly floured the working surface, use your hand and knead the dough until it comes together. Make the dough into a ball. Let it rest uncovered for 2-3 minutes.
Dust more flour on top (if the dough is too wet) and pat it into a 9-inch round disc, about 1/2 inch thick.
Using a floured knife, cut the dough into 8 wedges and arrange them 1 inch apart on the baking sheet.
For the glaze, brush the scones with the heavy whipping cream and sprinkle with the sugar.
Bake the scones for 18-20 minutes, until the bottom is lightly browned. Remove from oven and let them rest on the baking sheets for 3-5 minutes.
Serve warm with butter and strawberry jam.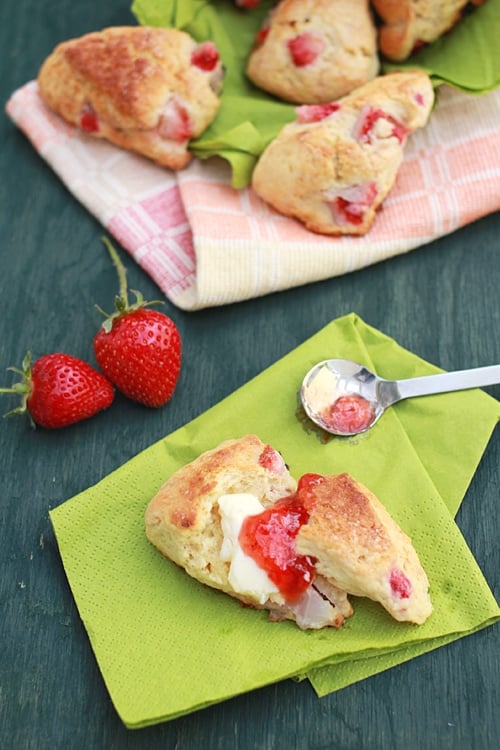 It's strawberry season and every market you go, there are plenty of fresh, big, juicy, sweet, ripe strawberries on sale. In Irvine, there are still many strawberry farms around, and some of them are right off the roads. I was driving by one of the main roads in Irvine one early morning and saw the hardworking workers harvesting the strawberries. I couldn't help it but went straight to the farmers market right next to it and bought two boxes of them.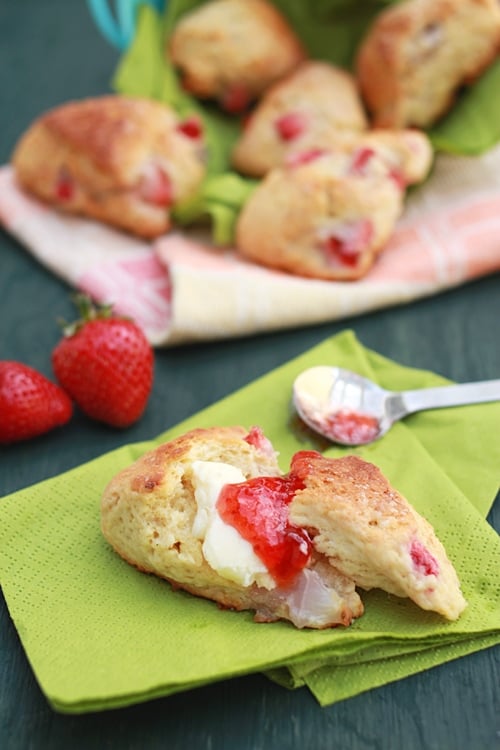 The good news about strawberry is that everyone in my family loves it, including my picky eating toddler. He had two big and juicy strawberries that day and asked for more. As a mother, I couldn't be happier that he is eating healthy and that he loves his fruit. I decided to use some of the strawberries to make strawberry scones for breakfast the next morning.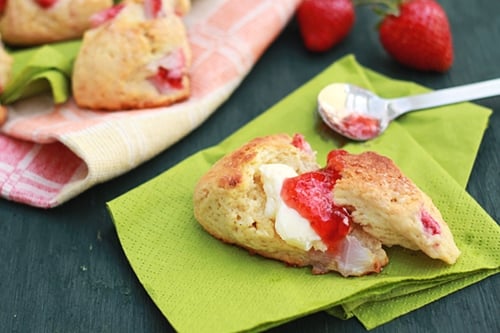 I love my scones with strawberry jam but adding some chopped fresh strawberries into the scones just makes everything so much better. We all loved this wonderful strawberry scones recipe and I am very sure that I will be making a lot of these this season.
Happy Memorial day weekend and have a fun, safe, and wonderful time with your family!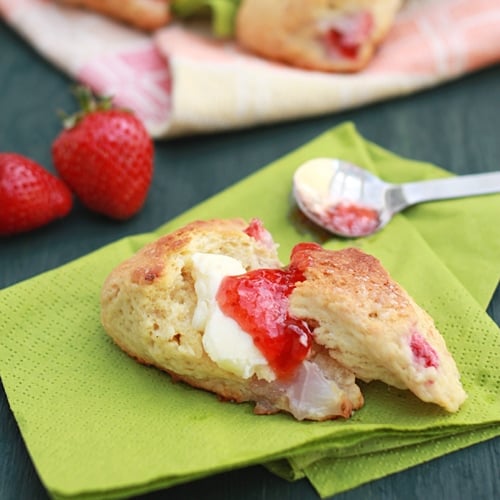 Rate This
Recipe Name
Preparation Time
Cook Time
Total Time
Average Rating

Based on 1 Review(s)