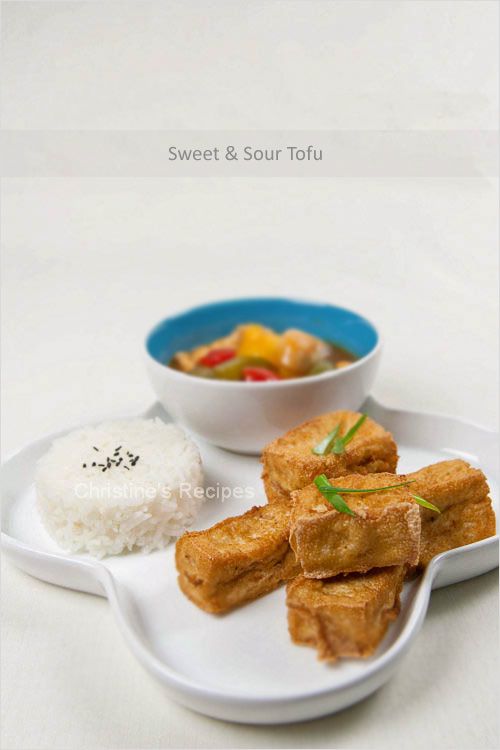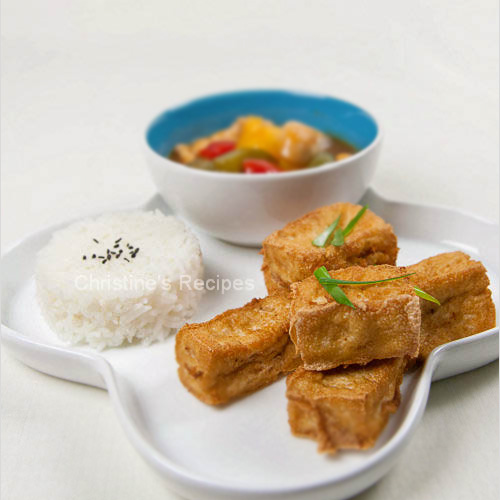 Sweet and Sour Fried Tofu
Sweet and Sour fried tofu is a simple and homey Chinese recipe. Easy sweet and sour friend tofu recipe which is delicious as a main dish or appetizer.
Ingredients:
1 piece tofu, about 350 g
120 g chicken breast (or chicken thigh fillet)
1/2 onion, cut into cubes
1/4 green capsicum, cut into smaller pieces
1/4 red capsicum, cut into smaller pieces
1/4 yellow capsicum, cut into smaller pieces
1 tsp garlic, crushed
1 tsp minced shallot
Vegetable oil, for deep-frying
Seasoning:
1 tsp light soy sauce
1/2 tsp cornflour (corn starch)
1 tsp Shaoxing wine (or dry sherry)
1/2 tsp sugar
A pinch of pepper
Sweet and Sour Sauce:
3 Tbsp white vinegar
2 Tbsp white sugar
1 1/2 Tbsp tomato sauce (ketchup)
1/2 tsp Worcestershire sauce
1/2 cup water
1/4 tsp salt
Thickening:
2 tsp cornflour
2 Tbsp water
Method:
1. Rinse chicken and drain well. Roughly cut into chunks in bite size. Mix with marinade for 15 minutes.
2. Cut tofu into 3cm (1 1/4inch) cubes. Drain and absorb excess water with paper towels thoroughly. Generously season with salt. Fill a wok or deep saucepan one-third full of oil that should cover tofu. Heat oil to 180C (350F), or until a cube of bread dropped into the oil browns in 15 seconds. Carefully place tofu in batches and deep-fry for 5 minutes, stirring occasionally, or until golden. Remove with a slotted spoon and drain on paper towels. Set aside.
3. Clean out the wok, reserving 2 tablespoons of the oil. Or you might like to use a frypan. Add the onion and stir-fry over medium heat until translucent and fragrant. Push onion to sides of wok (or frypan). Add marinated chicken in the middle and stir-fry until cooked through. Set aside.
4. Add more oil in wok (or frypan), saute garlic and shallot until aromatic. Add the green, red and yellow capsicum. Stir-fry until softened. Toss in the onion and chicken. Quickly combine well. Pour in the sweet and sour sauce. Bring it to a boil. You might like to adjust the taste by adding more sugar or water bit by bit to your liking. Season with salt. Add thickening and cook to your preferred consistency. Remove from heat.
5. Place fried tofu on a platter, served with sweet and sour sauce.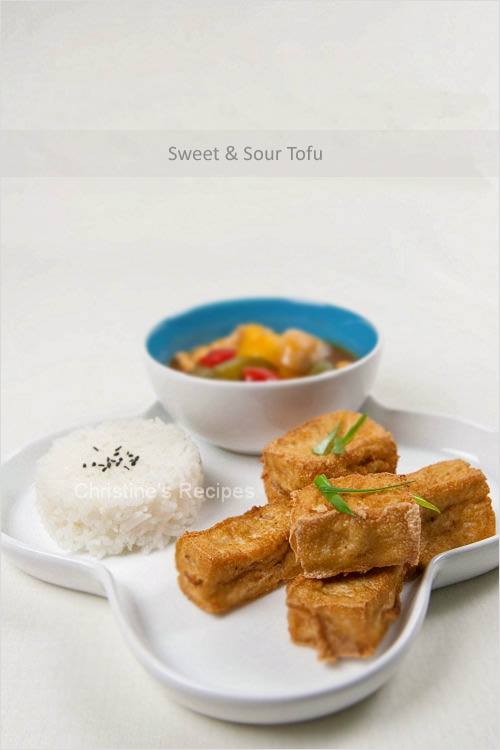 To celebrate the upcoming Chinese New Year, I will be sharing a series of Chinese recipes with you on Rasa Malaysia, and it started with my ginger and scallion fish recipe a few days ago. Today, I have Christine of Christine's Recipes here with her "Rainbow Fried Tofu" dish—or sweet and sour fried tofu. Christine's Recipes offer a great selection of homey Chinese recipes which she makes for her family. If you read Chinese, you should also check out her Chinese blog. Please give her your warmest welcome!
Rasa Malaysia is one of my favorite food blogs that I've subscribed for a long time. I really admire Bee's cooking, blogging and photography skills. When she asked me if I was interested in writing up a guest post, immediately I sent her a "YES" as it's my honor indeed. Thanks to Bee for letting me have a chance to share my favorite recipe—sweet and sour fried tofu—on her blog. Here you go.
We've got lots of different Chinese dishes with sweet and sour sauce. Just name a few, sweet and sour chicken, sweet and sour pork, sweet and sour beef, that are traditional and well accepted in different countries. I posted these old-fashioned recipes on my humble blog too. Whenever I go into a Chinese restaurant, I spot many Aussie people would pick a dish in sweet and sour sauce. I can't image how my Aussie friends are crazy about the taste of sweet and sour. Recently I created a dish on my own using this make-Aussie-crazy sauce with my favorite deep-fried tofu, feeling really good with both of the intriguing combination of ingredients and colorful outlook. So I also name it as "Rainbow Fried Tofu". This dish goes extremely well with Jasmine rice, or served as an appetizer.