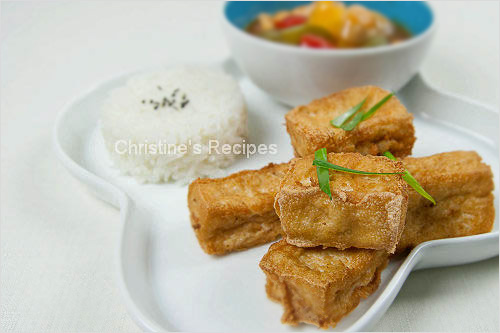 Sweet and Sour Fried Tofu
Ingredients:
1 piece tofu, about 350 g
120 g chicken breast (or chicken thigh fillet)
1/2 onion, cut into cubes
1/4 green capsicum, cut into smaller pieces
1/4 red capsicum, cut into smaller pieces
1/4 yellow capsicum, cut into smaller pieces
1 tsp garlic, crushed
1 tsp minced shallot
Vegetable oil, for deep-frying
Seasoning:
1 tsp light soy sauce
1/2 tsp cornflour (corn starch)
1 tsp Shaoxing wine (or dry sherry)
1/2 tsp sugar
A pinch of pepper
Sweet and Sour Sauce:
3 Tbsp white vinegar
2 Tbsp white sugar
1 1/2 Tbsp tomato sauce (ketchup)
1/2 tsp Worcestershire sauce
1/2 cup water
1/4 tsp salt
Thickening:
2 tsp cornflour
2 Tbsp water
Method:
1. Rinse chicken and drain well. Roughly cut into chunks in bite size. Mix with marinade for 15 minutes.
2. Cut tofu into 3cm (1 1/4inch) cubes. Drain and absorb excess water with paper towels thoroughly. Generously season with salt. Fill a wok or deep saucepan one-third full of oil that should cover tofu. Heat oil to 180C (350F), or until a cube of bread dropped into the oil browns in 15 seconds. Carefully place tofu in batches and deep-fry for 5 minutes, stirring occasionally, or until golden. Remove with a slotted spoon and drain on paper towels. Set aside.
3. Clean out the wok, reserving 2 tablespoons of the oil. Or you might like to use a frypan. Add the onion and stir-fry over medium heat until translucent and fragrant. Push onion to sides of wok (or frypan). Add marinated chicken in the middle and stir-fry until cooked through. Set aside.
4. Add more oil in wok (or frypan), saute garlic and shallot until aromatic. Add the green, red and yellow capsicum. Stir-fry until softened. Toss in the onion and chicken. Quickly combine well. Pour in the sweet and sour sauce. Bring it to a boil. You might like to adjust the taste by adding more sugar or water bit by bit to your liking. Season with salt. Add thickening and cook to your preferred consistency. Remove from heat.
5. Place fried tofu on a platter, served with sweet and sour sauce.
Cook's Notes:
1. Keep the cooked sweet and sour sauce in a separate bowl. Spoon the sauce over fried tofu in the last minute in order to make sure you can enjoy the crispy texture outside.
2. Take extreme care when placing down the tofu in hot oil. Mare sure the surface of tofu is wiped really dry. At the first time, I was too scared of getting burnt by hot oil. So I wore glove to lower down the tofu into the hot oil. (Too sheepish? Haha..) Then I thought a slotted spoon might be better than a glove. Carefully place tofu on a slotted spoon, then lower into hot oil, no hazards nor any mess at all. (Yay! Behave more like a professional cook, hehe… still a long way to go though.)
3. If you use firm tofu, it's much easier to keep them intact while turning and deep-frying. Yet I used the silken, soft ones as I just grabbed whatever in my fridge to use. Both firm and silken tofu don't have much difference in taste, but a slight difference in texture. Silken tofu needs more care when turning and cooking of course.
4. Yellow capsicums are not easily found. Simply omit it if you can't find some. The taste won't be changed at all. Or replace it with a few sliced pineapples, canned or fresh.
5. The sweet and sour taste can be adjusted by adding or reducing vinegar and sugar to your preference.
Most-Pinned Recipes
Ginger Garlic Baked Chicken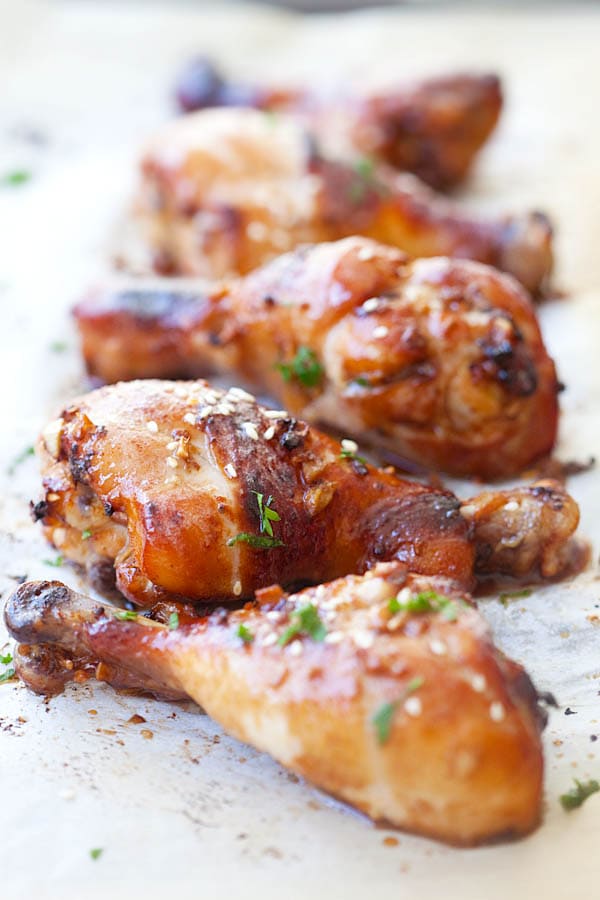 Crab Rangoon (Cream Cheese Wontons)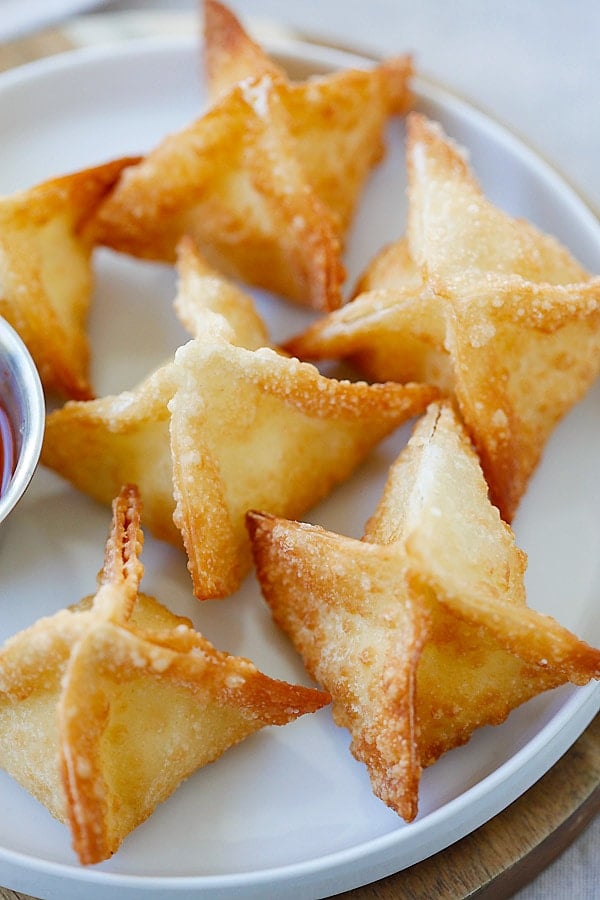 Chicken Wontons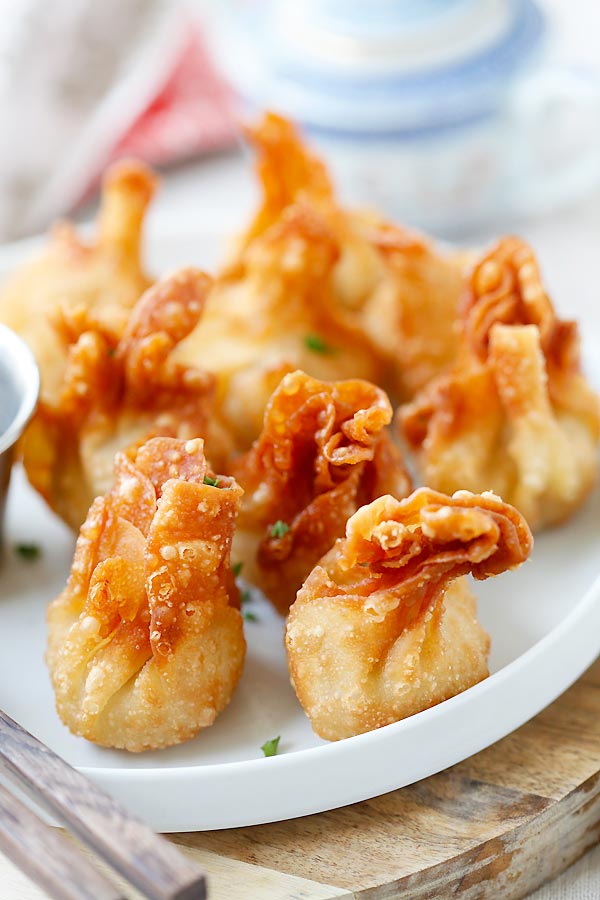 Onion Scallion Beef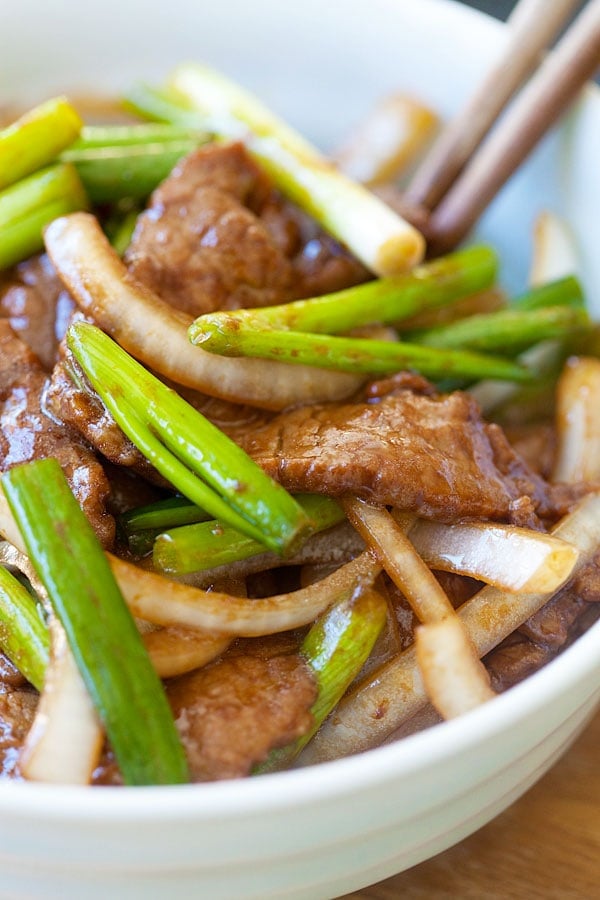 Thai Chicken Sate with Peanut Sauce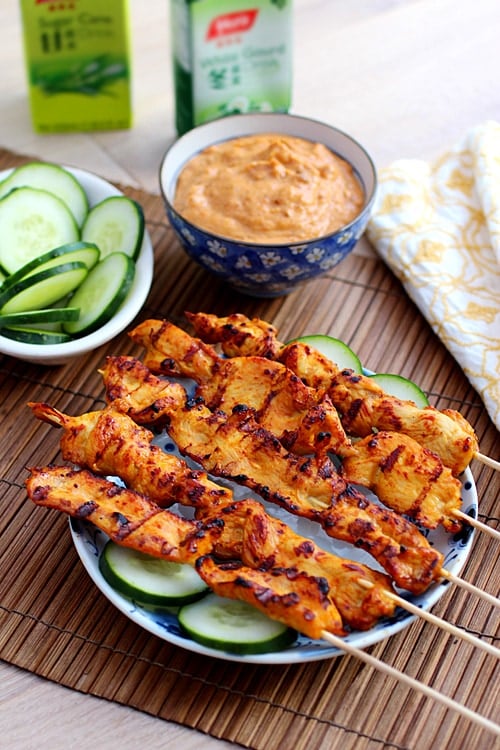 Thai Peanut Sauce