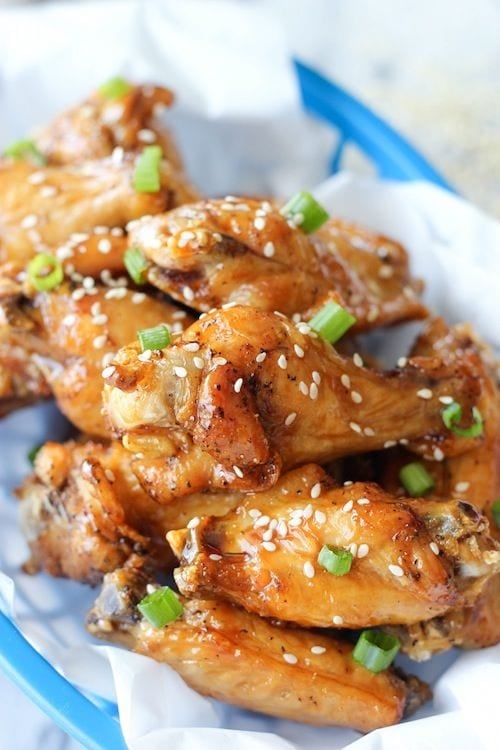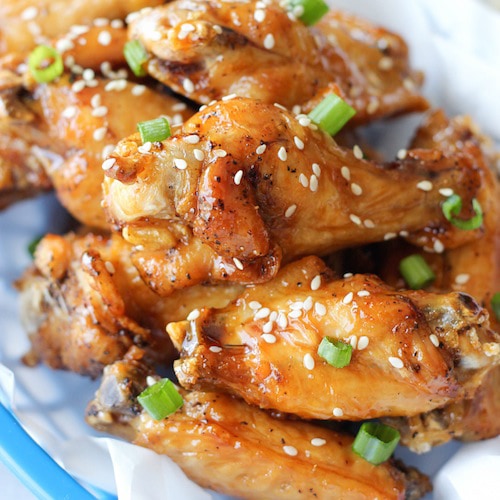 Sweet and Sticky Korean Fried Chicken
Easy, sweet and sticky Korean Fried Chicken recipe that takes only 3 key ingredients: chicken, soy sauce, and sugar. Recipe by Damn Delicious.
Makes3-4 servings
Ingredients:
2 cups vegetable oil
2 pounds chicken wings
Kosher salt and freshly ground black pepper, to taste
1/2 cup soy sauce
1/4 cup plus 2 tablespoons sugar
Method:
Heat vegetable oil in a Dutch oven or large pot over medium high heat to 350 degrees F.
Season chicken wings with salt and pepper, to taste.
Working in batches, add the chicken wings to the Dutch oven, 5 or 6 at a time, and fry until light brown, about 2-3 minutes. Transfer to a paper towel-lined plate.
Increase oil temperature to 400 degrees F. Add the chicken wings to the Dutch oven again and cook until golden brown and crispy, about 2 minutes on each side. Transfer to a paper towel-lined plate.
Heat soy sauce and sugar in a small saucepan over medium high heat. Bring to a boil; reduce heat to low and simmer, stirring occasionally, until sauce has thickened, about 2-3 minutes.
Serve wings immediately, tossed with soy sauce glaze.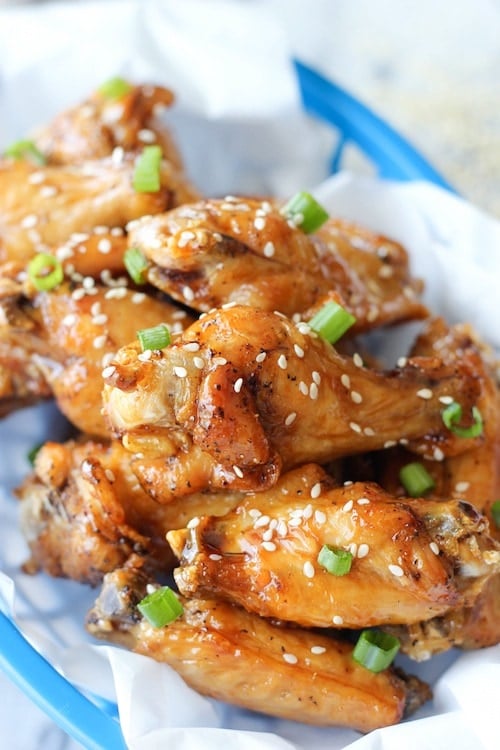 Great food blogs are meant to be discovered and shared. I met the young and very talented Chung-Ah from Damn Delicious at an event in Los Angeles and fell immediately in love with her work. Hop over to Damn Delicious and you will know what I mean. How can you not love a talented home cook who can bake and also cook (check out her recipe index) very well, plus her food photography are simply mouthwatering and irresistible!  Today, she is sharing a very popular Korean recipe with us: sweet and sticky Korean fried chicken wings. Please welcome her to Rasa Malaysia and don't forget to bookmark her site. 
Hi everyone – it's Chung-Ah from Damn Delicious! I am so incredibly thrilled to be here guest posting for Bee today. I had the amazing opportunity to meet her at a Glam event a couple months back and in all honesty, I was kind of nervous to be around her. After all, she's a foodie celebrity! But once we started talking, I immediately loved her. She's incredibly sweet and so down-to-earth, and she comes up with the best recipes! I've made a countless number of her recipes, from her honey walnut shrimp and her spam fried rice and they all never failed to deliver.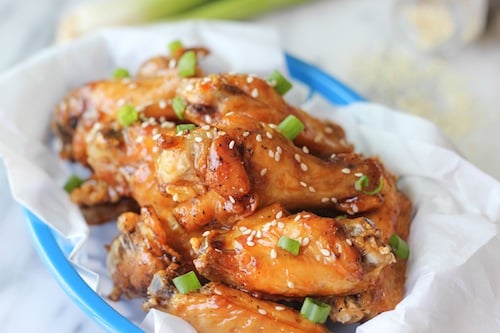 So when Bee asked me to guest post, I knew I just had to share one of my all-time favorite Korean recipes. It's actually the boyfriend's mom's recipe, one that she's been making for the past 20 years. And with just 3 ingredients of chicken wings, soy sauce and sugar, these chicken wings will rock your socks off. These babies are double-fried to the most crunchy, crisp texture and then slathered in a reduced soy sauce glaze, leaving these wings to be so incredibly sticky and sweet. I highly recommend doubling the batch for these wings because once you take a bite into the sticky goodness, you won't be able to stop!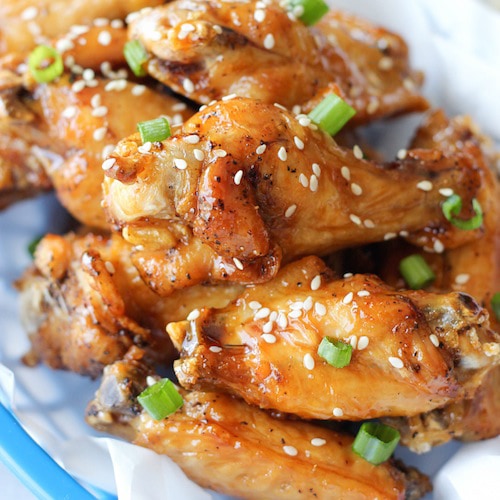 Rate This
Recipe Name
Sweet and Sticky Korean Fried Chicken
Average Rating

Based on 1 Review(s)