Sweet Potato Mantou (Steam Buns)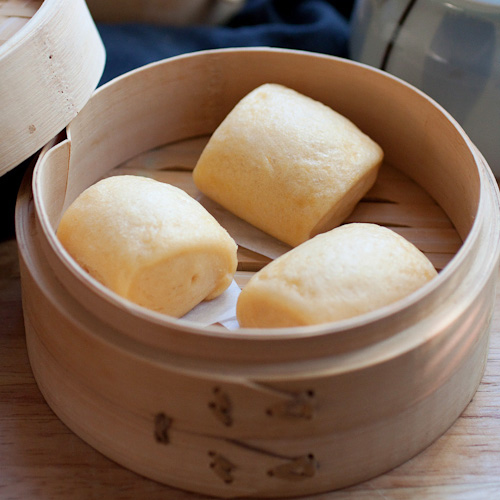 http://rasamalaysia.com/sweet-potato-mantou-steam-buns/
Sweet Potato Mantou (Steam Buns)
I have to confess again. I suck in the flour department, meaning when it comes to baking, or in this case, steaming, with ingredient that involves flour, I surrender. I am just not good. Period. So if you think that I am a super home cook or "chef" who can just whip up anything, let me just say it again, I am weak in that area, but I am learning.
Sweet potato mantou (番薯包) is one of my favorite bao (包) or Chinese steamed buns. Whenever I go back to Malaysia, I would always buy these warm, fluffy, sweet, and soft mantou from the various steamed bun vendors dotting the kopitiam (local coffee shops), markets, roadsides, gas stations, night markets, etc. They are absolutely delightful. My son loves it as a snack, too. Unfortunately, in the US, the only similar steamed buns that I can find here are the frozen and plain mantou in the Chinese grocery stores. There are no sweet potato mantou. I always miss them.
A couple of weeks ago, my friend posted her homemade sweet potato mantou recipe on her Facebook. I asked for the recipe immediately. She found the recipe online here and had success making them at home. I was so excited. Finally I can make some homemade sweet potato mantou that I have been craving for, with the Hong Kong flour or bao flour that I have brought back from Malaysia.
The first attempt failed miserably. I didn't read the instructions carefully and I also tried to cheat the steps. The sweet potato mantou—while tasted nice—didn't rise or proof. I blamed it on the yeast, as I didn't use warm water to activate the yeast. I used cold water. When I found out my mistake, I tried to salvage the misstep by putting the yeast and water mixture in the microwave to warm it up. Bad idea. The microwave probably just nuked out all the microorganisms in the yeast.
So, today, I have decided to follow the recipe precisely, and added a huge dose of patience, a virtue I simply don't have. And I think it was a success. Though the looks department could be improved significantly (which I am sure practice makes perfect), my sweet potato mantou were pretty good…soft, warm, and tasty. I love them, and I am sure my son will enjoy them as a snack before bedtime tonight!
Click Images Below for Similar Recipes:
LOVE THE RECIPE & PHOTOS? PLEASE SHARE:
Sign Up for Email Updates
Enter your email for new updates: recipes, giveaways, and more!