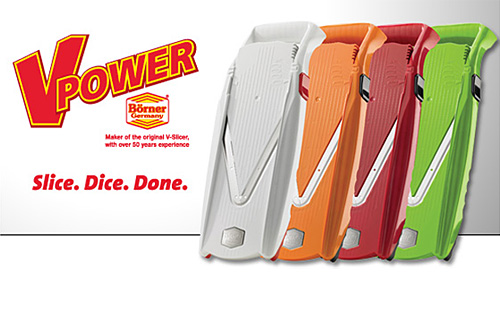 Update: The winner is Samantha F.
I am partnering with my friends at Swissmar to giveaway a V-Power Slicer. There will be one (1) winner whom will receive one (1) Swissmar V-Power Slicer. The total suggested retail value of the Swissmar V-Power Slicer is approximately US$55.
With over 50 years of experience and knowledge, the maker of the Original V-Slicer® has re-confirmed their position as the leader in the mandoline category. German made Börner V-slicers are world renowned for their durability, precision, quality and safety. These attributes remain true with the new and innovative VPower V-Slicer that provides 10 different cuts. It features a patented push button that allows size and thickness adjustment without removing the insert. Börner's patented safety setting provides worry free storage that is both convenient and compact. With four fresh colours available, the strength is in the design, the power to create healthy meals is yours!
V-Power Slicer Includes:
Insert holder for safe storage of blade inserts – also acts as a drying stand.
V-Slicer body with V-Blade crafted from surgical grade stainless steel, shown with slicing plane insert that provides 4 precision slice thicknesses. Set the plane slicing insert at "0" position when not in use or for storage, ensuring the V-Blade is not exposed.
7mm and 3.5mm inserts: Use these two inserts to achieve your desired julienne, shred or cube cuts.
Safety Holder is to be used at all times to ensure safe and easy use, as it completely guards your fingers. Stainless steel prongs pierce the food with a secure hold, allowing you to glide it along the V-Blade with very little pressure.
Eligibility: United States only. Closing Date: August 19, 2012, 11:59 pm PST. Winner will be randomly selected and contacted via email on August 20, 2012. The prize is proudly sponsored by Swissmar.
Other Amazing Prizes & Giveaways: