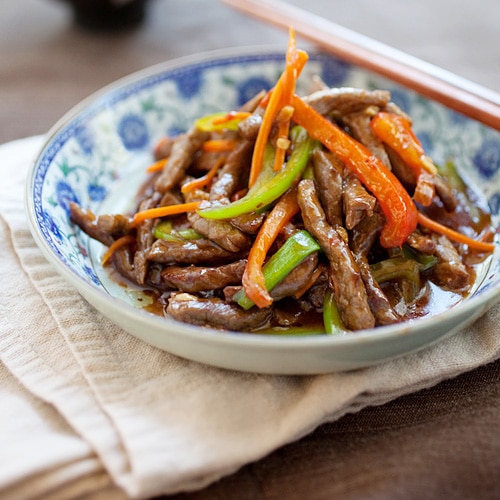 Szechuan Beef
Szechuan Beef – easy and delicious beef stir-fried with red and green bell peppers, in a mildy spicy savory sauce, so yummy!
Prep time:
Cook time:
Total Time:
Ingredients:
2 tablespoons oil
8 oz beef, cut into thin strips
2 cloves garlic, minced
1/4 small green bell pepper, cut into long strips
1/4 small red bell pepper, cut into long trips
1-2 baby carrots, cut into matchstick strips
1/2 teaspoon chili oil (bottled chili oil), optional
2 stalks scallions, cut into 2-inch strips
Marinade:
1 teaspoon cornstarch
1/2 teaspoon Shaoxing wine (Chinese rice wine)
1 teaspoon dark soy sauce
Sauce:
1/2 heaping tablespoon oyster sauce
1/2 tablespoon chili garlic sauce
1 1/2 teaspoons soy sauce
2 teaspoons sugar
2 tablespoons water
1/2 teaspoon chili oil
1/2 teaspoon sesame oil
Method:
Marinate the beef with all the ingredients in the Marinade, for 15 minutes.
Combine all the ingredients in the Sauce, stir and mix well, set aside.
Heat up a wok and add 1 tablespoon of oil. When the oil is fully heated, add the beef and do a few quick stirs, until the surface turns opaque and slightly charred. Transfer out and set aside.
Clean the wok and add the remaining 1 tablespoon of oil. When the oil is fully heated, add the garlic and stir-fry until aromatic. Add all the peppers and carrots and stir a few times before adding the beef back into the wok. Add the Sauce and stir to combine well. Stir in the scallion and chili oil, dish out and serve immediately with steamed rice.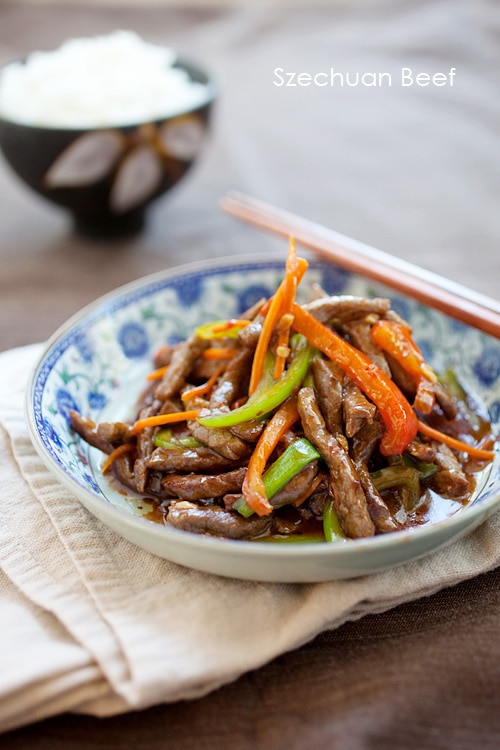 Over the years, many American readers have requested Szechuan beef recipe on Rasa Malaysia. For those who have been waiting for this popular American-Chinese dish, this is the recipe I developed specifically for you. The reason I said so is because I have never had American-style Szechuan beef until very recently.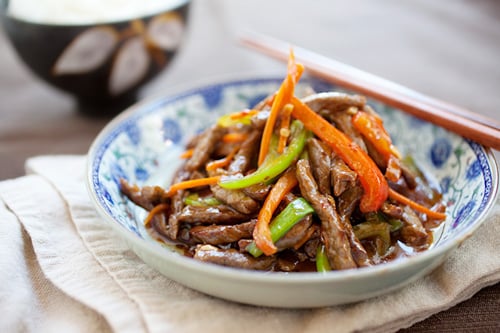 Szechuan beef, much like beef and broccoli, is not found in China. There is a Sichuan poached beef in a fiery chili-oil sauce, called 水煮牛肉, or literally "Water Cooked Beef" that looks like this picture. The Szechuan beef dishes found in in the US are mostly stir-fried beef in a mildly spicy sauce with assortment of vegetables. Every Chinese restaurant or Chinese buffets here has their own rendition of Szechuan beef.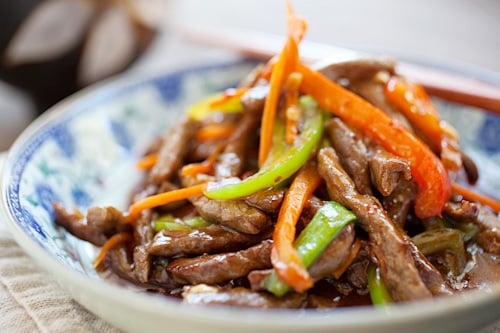 This Szechuan beef is my take on PF Chang's version. The beef is thinly sliced and marinated with cornstarch so as to achieve a velvety and tender texture, which is highly prized in Chinese cuisine. The sauce is a tad spicy, savory, and slightly sweet. The end result is good with steamed rice and I hope you will enjoy my concoction.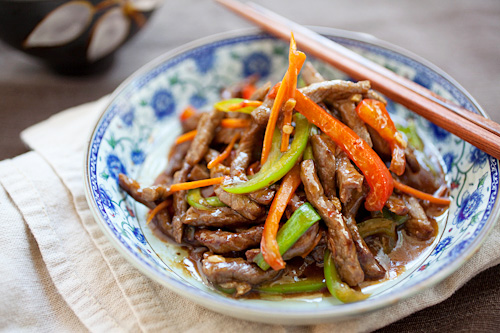 If you love American-Chinese food, I have a lot of popular Chinese recipes here on Rasa Malaysia, for example: sweet and sour pork, chow mein, egg drop soup, cashew chicken, Chinese honey chicken, egg foo young, and so much more. Click here to check out all my Chinese recipes.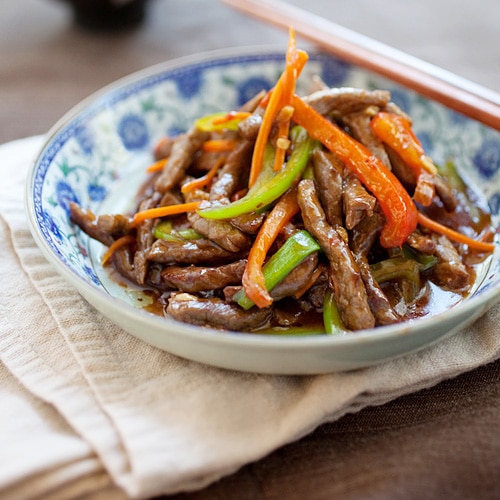 Rate This
Recipe Name
Preparation Time
Cook Time
Total Time
Average Rating

Based on 3 Review(s)