Indian cuisine is renowned far and wide for its rich flavors and generous use of bold spices. However there is one particular Indian dish that has gained prominence not just for its bold flavors but for its cooking method as well. And that is none other than the world-famous Tandoori Chicken. The name Tandoori Chicken is derived from the "Tandoor", which is a cylindrical clay oven that was traditionally used to cook the chicken in at very high temperatures.
This ingenious method of cooking is still widely practiced today. But of course with modern technological advances, gas and electric tandoori ovens are more efficient in getting the job done. However if you are preparing this dish in the comfort of your own home, you can still achieve amazing results with a BBQ grill or alternatively, broiling in a conventional oven. My personal preference is to pre-bake the chicken ahead of time to ensure it will be thoroughly cooked. Then give it a quick sear at high heat in the broiler for that charred taste and at the same time sealing in the flavor and tenderness.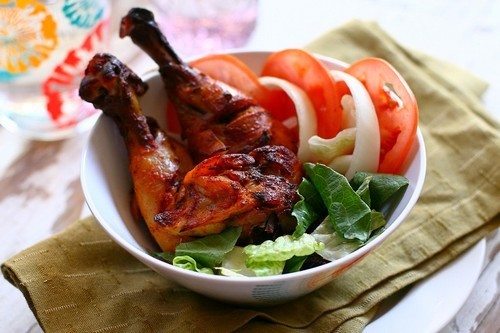 The other key factor to a truly amazing tasting Tandoori Chicken is the marination. The rich blend of spices gives the Tandoori Chicken its unique flavor but more importantly, it is the yogurt that helps to penetrate the spices into the meat and tenderize it at the same time. And the best part of it is, even when the meat hits the grill, it is the thick consistency of the yogurt that keeps the seasonings on the meat so no flavor is lost.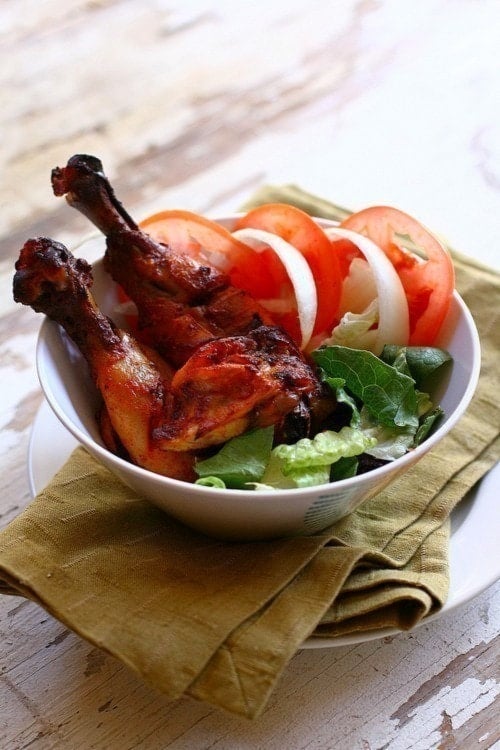 Tandoori Chicken Recipe
Ingredients:
4 lbs chicken whole legs (2 piece, with drumsticks and thighs), bone-in and skin removed
Tandoori Spice Blend
Yogurt Paste
onions, tomatoes, thinly sliced (optional)
romaine lettuce, cut into bite-size pieces (optional)
Tandoori Spice Blend Ingredients:
1/2 tablespoon garam masala (store bought)
3/4 teaspoon red chili powder or cayenne pepper (as per taste)
1/2 tablespoon paprika
1/2 teaspoon coriander powder
1/2 teaspoon cumin powder
1/4 teaspoon turmeric powder
Yogurt Paste:
2 cloves garlic, peeled and minced
1-inch ginger, peeled and minced
1/2 cup plain yogurt, lightly whipped
1/4 cup butter, ghee or oil (lightly warmed)
2 tablespoons rice vinegar or lemon juice
2 teaspoons salt (or as per taste)
pinch of red coloring or saffron (optional)
Method:
1. In a skillet, lightly toast the Spice Blend ingredients for a quick 2 minutes or until fragrant. In a large bowl, make the Yogurt Paste, add in all the toasted Spice Blend, mix well and set aside.
2. Clean and pat dry the chicken legs. With a knife, make 3-4 deep slits on parts of the chicken, front and back. Coat chicken with blended Tandoori Spice paste, making sure extra marination goes into the slits of the chicken. Marinade for 4-6 hours, preferably overnight.
3. Preheat oven to 375 degree Fahrenheit. Line the baking sheet with aluminum foil and place the broiler rack over it. Place the whole rack in the oven for 10 minutes.
4. Remove rack from the oven, place marinated chicken legs in the oven and bake for 45 minutes. Flip the chicken half way, and baste it with extra marinade and continue baking.  Reserve juice in the baking sheet, if any and pour juice over the chicken, cool down/refrigerate until ready for grill.
5. Turn broiler oven or grill to High for 5-10 minutes. Cut the whole legs into 8 equal pieces and arrange them onto the grilling rack. Broil for 5-7 minutes on each side until the chicken is lightly charred and completely cooked.
6. Remove from oven, and ready to serve with a bed of fresh salad, Naan bread or Raita.
Copyright © 2016 Rasa Malaysia. All rights reserved.